In today's ever-shrinking world, finding new ways to generate leads is becoming increasingly difficult. However, it may surprise you that LinkedIn has emerged as a powerful but unexplored way to generate B2B leads. Before delving deep into a successful LinkedIn marketing strategy, we first need to take a look at the numbers to see just how effective LinkedIn is as a marketing tool. According to a study conducted by Linked to Authority, over 50% of businesses acquired a B2C client through this social media platform. Other studies show that over 80% of B2B leads are generated through LinkedIn. What's even more startling is that LinkedIn is 277% more effective than Facebook or Twitter as a lead generation platform. Finally, almost 65% of all visits from social media platforms to business websites occurred because of LinkedIn. That's nothing to sneeze at!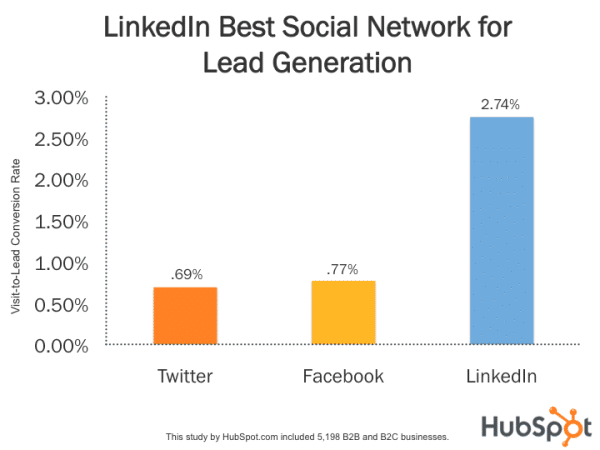 Alright, now let's see how to take full advantage of this incredible lead generating tool.
Profile For Your Business
Start out by creating a profile for your company and take the first step to tap into LinkedIn's pool of over 500 million active users. It's completely free to set up your own company page on LinkedIn. All you need is a LinkedIn account and a verified email address. LinkedIn will check if you're eligible to make a page on behalf of your business.
After you enter your company's name, you then upload an image to the website. But be careful because you shouldn't upload any old image. Upload an image that perfectly represents your brand. Avoid posting frivolous or unprofessional images.

After you've uploaded the image, you need to create an About Us section that will capture the essence of your brand and what your business represents. Just below this section, add your company's industry, company size, company type along with the company's URL.
You should add as much information as you can about your company because it will help you appear in searches done by others you are looking for a company that meets your profile. This allows visitors to get a quick summary of your business without diving deep into your copy.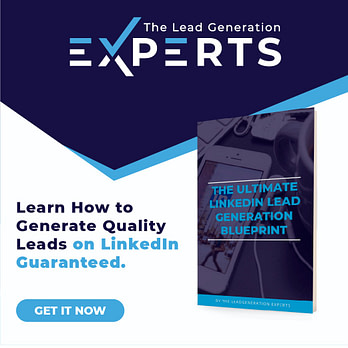 Additionally, when filling out the LinkedIn profile, keep in mind that your company profile should provide a window into your business through which prospects can learn more about your company, the employees and can easily engage with pertinent content. LinkedIn strongly suggests that you include keywords in this section.
Next add your physical location, which helps local businesses to stay in touch with you. Don't forget that referral from companies in your area can go a long way to build trust with other potential clients. Once you're done with this part, you should add links to your Company Profile. Add a link to your company's website and/or blog posts.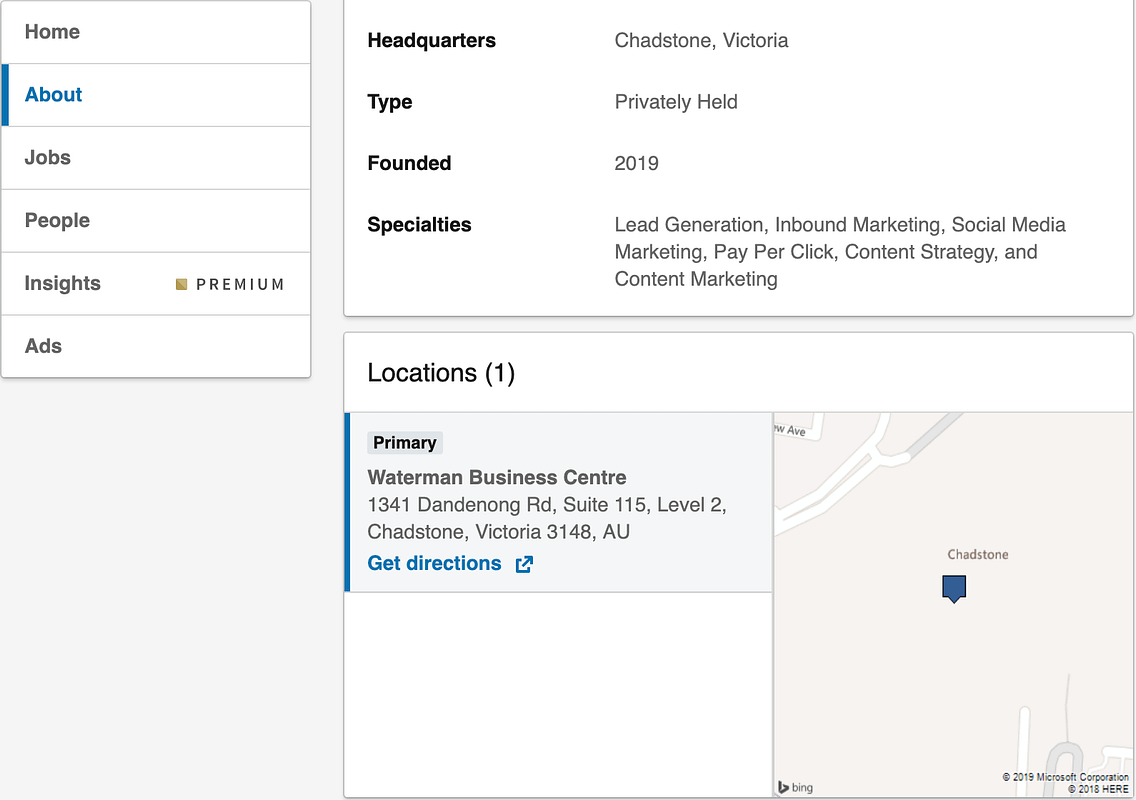 Get Colleagues And Employees Involved
A great way to boost your marketing results on LinkedIn is to have your coworkers help you. Try to convince them to engage with the content you post because it will go a long way in increasing the visibility of your company's profile on the platform. It will also increase the circulation of your content. To add additional credibility to the content that they share, encourage your coworkers to fill out their profiles fully. A business with employees that have profiles that are professional looking will enhance your company's authority.
Let Content Do The Marketing For You
Once your company's LinkedIn profile is set up, you should immediately start engaging in content marketing. Of all social media platforms, LinkedIn is best suited for a content marketing strategy since more than two-thirds of its users describe themselves as "news junkies". It is suggested by the world's most influential marketers that, ideally, you should be posting on LinkedIn two to three times a day. Also, be sure to spread out your posts by at least three hours per post. By doing so, you generate more engagement per post by giving users enough time to go through your content. It builds engagement, influencers and friends you are connected to. This will also generate more traffic to your website.
Also, don't hesitate to test out different post types.

LinkedIn provides you with different ways to share content, whether you wish to post an article, an image or upload a video. If you decide to write an article, you'll be taken to a user-friendly publishing tool where you can come up with a captivating title along with an appealing image that will complement well your engaging content.
A clever and effective way of posting content is by sharing only the first few paragraphs from your blog posts, check out our perfect list of blog post ideas for inspiration. Then add a link to the full post on your company's website. This way if a LinkedIn user reads your content and likes it, then they will go through even more of your content thereby increasing your brand's exposure.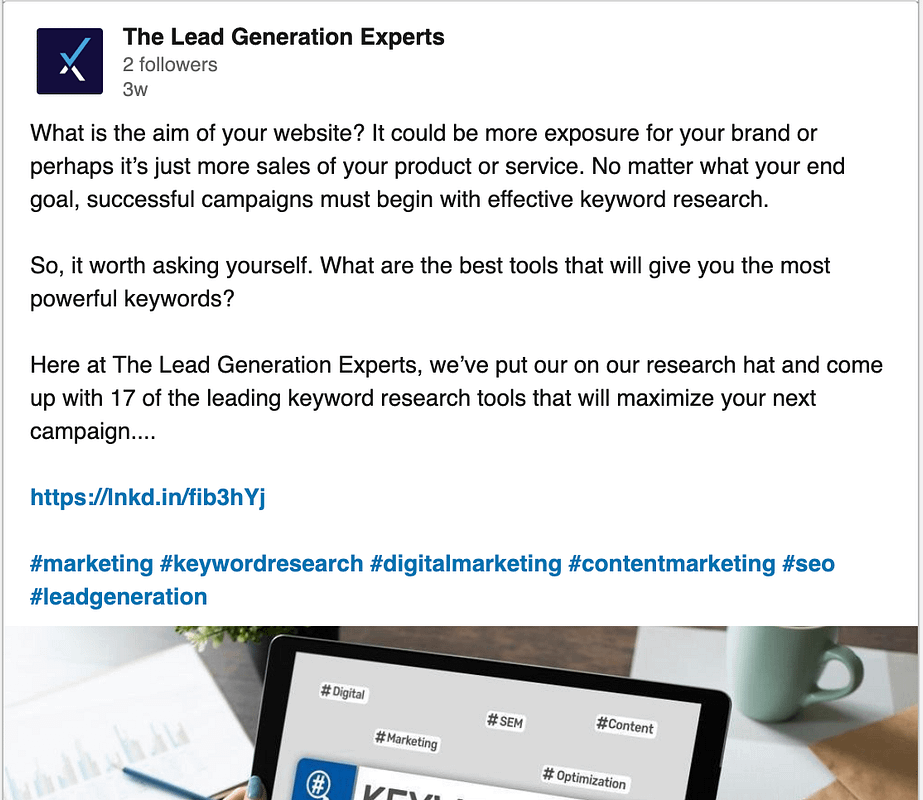 Don't be afraid to post inspirational content like an image or saying that will increase your company's brand awareness. Though, Linked to Authority suggests publishing at least a half a dozen to a dozen posts in order to ensure credibility with the community, you must be selective with the type of content you decide to post on your company's LinkedIn profile.
When creating content always keep in mind that your posts need to stand out from the 100,000 articles posted weekly on LinkedIn. Always thinking about your target audience and what they would find interesting and useful when posting content.
According to LinkedIn, customers consume a minimum of 10 pieces of content before they make a purchasing decision. The final thing to remember is that your visitors need to click before they can convert. The only way to do that is to use action words and increase interest in your content at the same time, i.e. sell the click.
For instance, you can intrigue your visitors by providing simple but useful questions that someone should have answers to in order for their business to be successful. At the end of the post, add a link to a blog post which explores those questions much deeper. Your visitor's curiosity will lead to clicks.
Stick To A Posting Schedule
If you want to quickly grow the number of followers on LinkedIn, then you have to post content at least once a month. Ideally, your target should be two posts a week to your Company Page. This way, your followers will engage with your page on a consistent basis. You can take posting on LinkedIn to another level by automating the process with the help of software. The company Buffer provides incredible tools to help you build your brand on LinkedIn.
Use LinkedIn's Ads to Grow Your Business
LinkedIn's ads are a phenomenal tool that can place your business in the sights of a discerning yet profitable audience. Much like other platforms, LinkedIn allows its users to create sponsored content and regular text ads. However, LinkedIn also gives its users the ability to use sponsored InMail in order to send targeted messages.
Another useful weapon that is part of LinkedIn's arsenal is Matched Audience. This powerful advertising tool retargets users who are already in your company's sales funnel.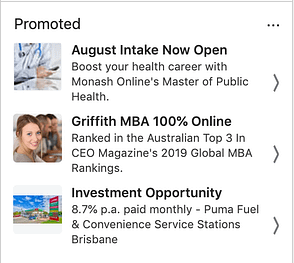 To illustrate the effectiveness of this tool, let's look at Facebook for a moment. Think of the time when you visited a website, and then after opening your Facebook newsfeed you see an ad for the thing that you viewed only moments ago. That's an example of a retargeting ad.
Retargeting ads were developed in order to single out people who have expressed an interest in a product or service by visiting a website offering those things. This form of advertising is extremely effective. Retargeting is extremely important because an overwhelming majority of visitors to your website will not convert on their first visit.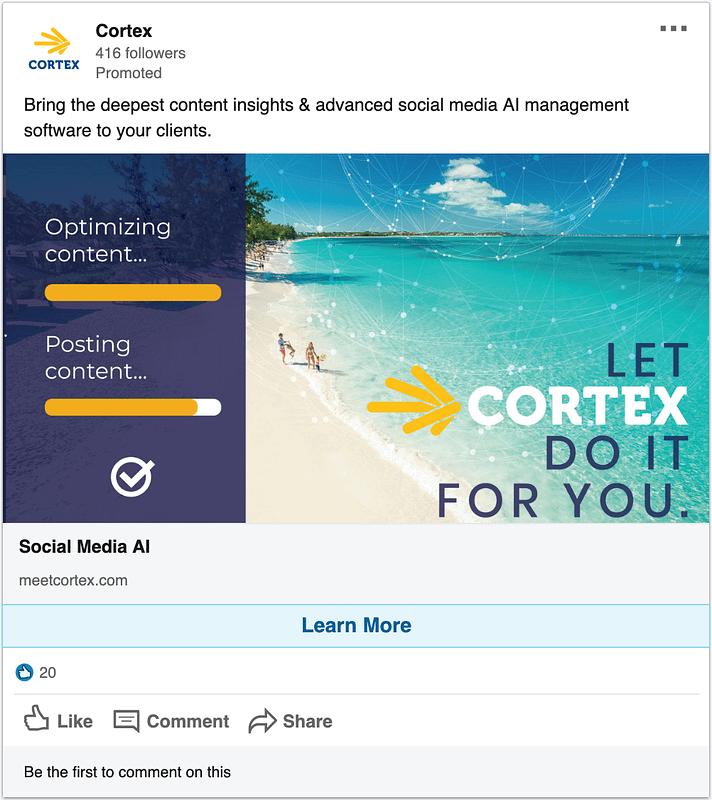 Now LinkedIn knows exactly what website you've visited because of this Matched Audience's feature. This feature allows you to identify these vistors in order to target them for advertising. Search engines send information to LinkedIn about the websites the user browsed along with a list of other people who might be receptive to your advertisements. As a result, both the marketer and the prospect come out on top. A win-win for both parties.
The Matched Audience tool is even more effective on LinkedIn because the majority of its users are professionals; your prospects are even more likely to purchase. This tool also helps you optimize your cost per click and conversions because you know precisely who you're targeting, making it great for account-based marketing.
Search For People
LinkedIn gives its users the ability to perform very accurate searches for individuals on its network. You can search for people by their location, mutual connections and their current employers. If you still need more criteria to make your searches, then you can use the All Filters tab feature that will make your searches extremely specific.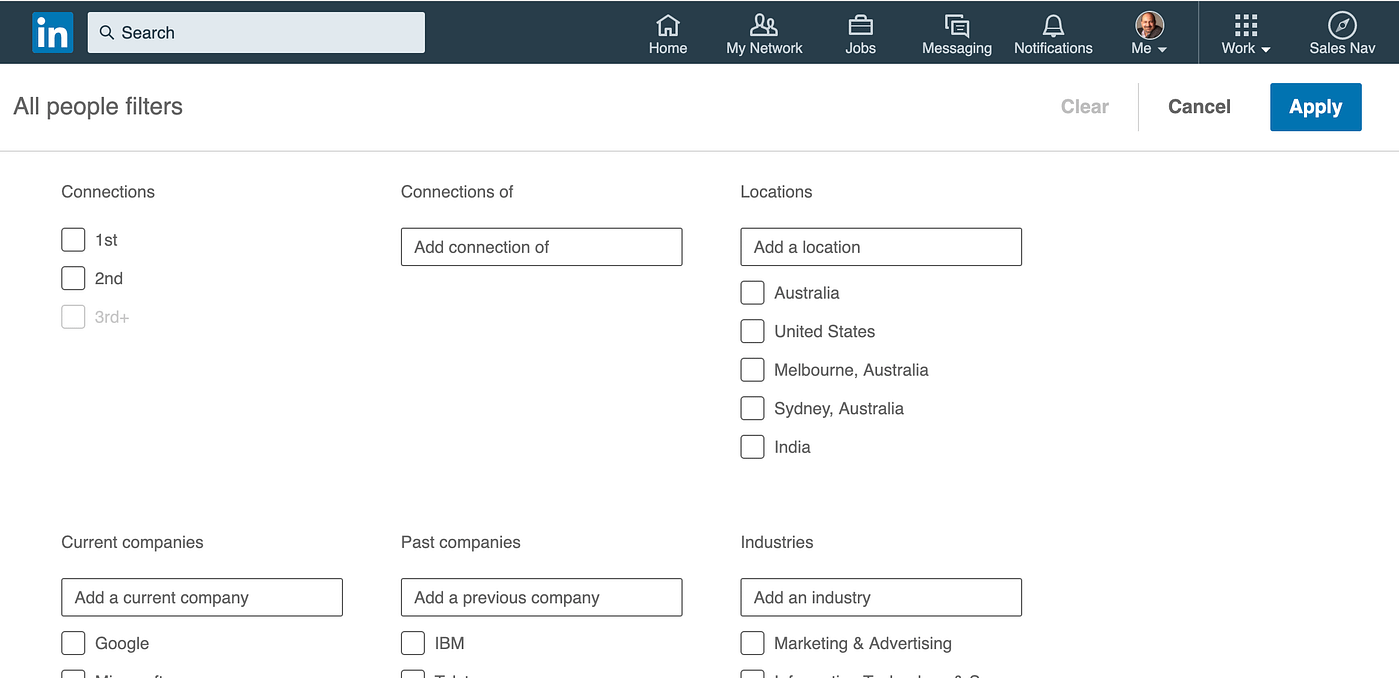 For instance, you can quite literally conduct a search so that you come up with a couple of individuals. You can find an individual in the United Kingdom who is self-employed and speaks English and Italian and who works in the IT sector. This is an incredible feature that comes at no cost!
All these features are perfectly suited to help you establish professional relationships with individuals and organizations around the globe. Finally, once you've located your intended target, you can establish a relationship with them via InMail which is a paid feature.
Search For Groups
LinkedIn Groups give you the possibility to interact with professionals in your field; you can create conversations and foster professional relationships with like-minded people. Individuals in these groups can exchange insights, opinions and find answers to their questions. You can discover various groups in your niche and send a request to join them. There are many Groups pages on LinkedIn which you can join. Each Groups page has a selection of highlights, which you can use to see which conversations have the largest number of active members.
Start Your Own Group
Creating your own group on LinkedIn is another great way to generate leads. You should start a group if there isn't one for your niche or if you want to inform your audience about your company's activities and gauge their reactions. Starting a group also portrays you as a leader in your field.
To start your own group, go to My Groups tab and click on Create group button. You will then see the following page in which you can add a title, upload a logo and add a description for your group. You want your description to be concise but interesting to attract new members. It is also prudent to inform potential members of some rules everyone should respect in your group.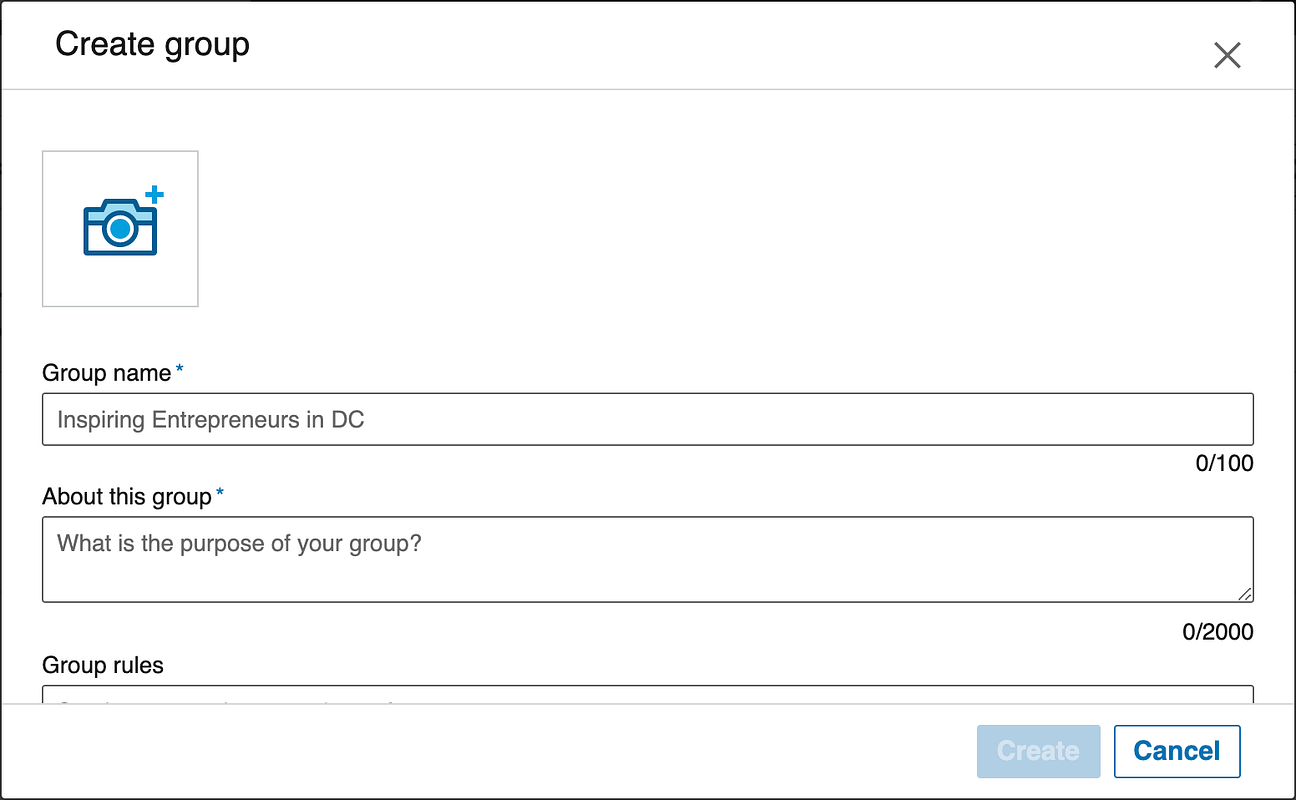 After, choose whether you want your group to be listed as Standard Group, which will appear in search results. Conversely, you can also select to Unlist your group, thereby making it an invite-only space. By doing so, you add a little prestige and exclusivity to your group which can make it a little more appealing.
InMail
InMail is a paid feature, but absolutely worth the investment of $79 per month. This feature lets you get in contact with any user on the platform! This amazing tool lets you establish a much closer relationship with potential prospects. And get this. The response rate of InMail is literally three times that of a traditional LinkedIn message. It also comes with analytics that will help you better craft your messages to potential clients or even influencers in your niche. The power and usefulness of this tool can't be stressed enough!
LinkedIn Marketing Blog
LinkedIn offers its users a collection of blog posts written specifically to help its users improve their marketing efforts on the social media platform. LinkedIn's marketing blog will let you know about updates and new features on the platform. Casually browsing through the blog will greatly assist you in improving your lead generation.

LinkedIn Sales Solutions
Sales Solutions is another paid feature offered by LinkedIn, but yet again it is worth the investment. This tool allows you to target, research and get in touch with potential clients in one fell swoop. This tool provides you with the necessary insight to anticipate the needs of your prospects.
According to LinkedIn, your company will be able to close 35% bigger deals and increase your business opportunities by over 30%. Perhaps the best endorsement of Sales Solutions comes from Microsoft who claim that their sales productivity spiked 38% when they started using this tool!
In Conclusion
LinkedIn should form the backbone of your lead generating activities when looking for prospects via social media platforms. Once you've created a stellar Company Page, take full advantage of LinkedIn's many features to effectively engage with potential prospects and successfully convert them into loyal clients. You must post useful, interesting and above all actionable content several times a day. Use LinkedIn's search filters to effectively find strong leads for your business. Above all else, use InMail to get in touch with the individuals and organizations on LinkedIn necessary to grow your business!