The foundation of any successful lead generation strategy is an effective lead magnet. A strong lead magnet can help catapult your marketing efforts through the roof! A lead magnet is an absolute necessity for customer acquisition. Lead magnets are a very important component of Inbound Marketing because they work so well.
But what is a lead magnet?
You offer a lead magnet to leads in exchange for their email address and other types of contact information such as names, age or even in some cases phone numbers. In other words, it's a form of bait or even a bribe! The ultimate goal of a lead magnet is to get the largest amount of targeted leads from your offer.
There are several criteria that make up a good lead magnet:
High Value: Your offer should be valuable in the eyes of your prospects. This is why many offers for free newsletter subscriptions are ineffective-they are not seen as offering anything of value.
Instant Gratification: If your offer can quickly provide a solution to a problem that's bothering your leads, then will be collecting target leads in an instant.
Showcases Your Unique Selling Proposition: You should weave your USP into your lead magnet. That way your prospects will persuade to make a purchase from you.
What Makes Lead Magnets So Effective?
Lead magnets address key issues of digital marketing-increasing awareness and building credibility. They are the ideal way of enticing prospects to give you their contact information in exchange for something of value.
There is another added advantage to lead magnets: they can assist you in qualifying your leads. By requesting that your prospects fill out a small form, you are able to qualify your leads.
As you can see, lead magnets make the jobs of marketers much easier and effective.
In the early days of the internet, people were all too willing to sign up for a free newsletter because email was still a novelty. Times have changed.
Therefore, getting a valid email address from a prospect today is a much more difficult task. By getting an email address from a lead, you are able to break the ice with a potential client. In other words, it gives you the chance to market your service/products to them.
Of course, people don't just give out email addresses willy-nilly. By offering an enticing offer, you'll not only get contact information, but you will raise their interest in your other paid products/services. It is absolutely crucial that your lead magnet is powerful.
If you opt for a mediocre lead magnet, then the effect will be negative.
Creating Your Lead Magnet
Now that you've seen the important role lead magnets play in lead generation, let's take an in depth look at the steps you should make the perfect lead magnet.
Create a Buyer Persona
Avoid trying to attract everyone with your lead magnet; if you choose to go down that road, you'll end up doing the exact opposite. Therefore, create a buyer persona for each type of lead you want to attract. Then, craft a lead magnet for every type of buyer persona you'll be targeting; the content you produce has to address the desires and challenges facing each buyer persona.
You can create several buyer personas, but attach single lead magnet for each one.
Go on Forums for Data
This is an often overlooked method of sourcing data about your leads or prospects. While properly constructed surveys can provide you with some insight, however there's nothing quite like a forum to feel the pulse of your leads.
When looking for a problem to solve with your lead magnet, head over to forums to see what sort of issues your leads are experiencing.
Most people on forums are honest and describe their problems matter-of-factly. Head over to Reddit and look at subreddits about niche subjects that your business addresses. By browsing forums you'll get valuable data on potential clients and you'll be able to design your lead magnets using their leads' exact jargon. This will get their attention immediately.
Comments Sections Can Hold Valuable Data
Another great way of sourcing data about your leads is by browsing the comments sections. Look at the most popular posts for a specific keyword and read the comments. The comments section is a gold mine for finding nagging problems people are dealing with. Read the comments sections to get incredible actionable data for creating your buyer personas.
What is Your Value Proposition?
Now that you have sketched out the type of prospects you want to attract, it's time to give them a reason to download your content. Typically, the best types of lead magnets are the ones that you know your lead wants; as opposed to trying to assume what they could possibly want.
Don't produce massive content that will take up a huge chunk of your prospect's time; be specific. Identify an issue that your buyer persona is dealing with, and offer a quick solution. The sooner they can solve their problem the better your lead magnet will work.
Your lead magnet must also show your unique value proposition. In other words, when a lead reads your lead magnet, they should be convinced of your expertise. This is very important in the future when you'll convert your leads into clients.
Name Your Lead Magnet
Once you've determined what you you'll offer and to whom, you should give your lead magnet a title. The same way you approach writing an eye-catching blog post, the name of your lead magnet draw attention to itself.
What Sort of Lead Magnet Will You Use?
When choosing what kind of lead magnet to use, keep in mind that there are a number of great choices that can beautifully present your value proposition:
Don't over-complicate: Keeping things simple will ensure that your lead magnet hits the mark. Your offer should be clear, crisp and concise so that the prospect can appreciate the value.
Highlight your strengths: Find your strengths and make them the centerpiece of your offer. If you're a natural in front of camera, then video content is what you should go for. If writing comes naturally to you, then go for an insightful eBook.
Focus on fast consumption: Your lead magnet should solve a problem for your prospect quickly and effortlessly. Whichever type of content you choose as your lead magnet, make sure that your lead will quickly consume and it get the promised reward. The "rule of thumb" for the perfect lead magnet is to generate value within 5 minutes. The sooner you solve their problem, the quicker they'll move down the funnel.
Related to the previous point, find a way for your lead magnet to be delivered almost instantaneously; nothing like instant gratification to get your leads' attention.
Types of Lead Magnets
There are endless options for you to pick and choose a lead magnet. However, most lead magnets can be classified under these categories:
Guide/Report
Toolkit/resource list
Video training
Free trial
Discount
Quiz
Sales material
These are some of the options available to you when picking a lead magnet.
Build Your Ideal Lead Magnet
As you're creating a lead magnet, always remember who the content is for, and what you're offering. As long as you pay attention to these points, you'll construct an effective lead magnet effortlessly.
Also, even though this should go without saying, but make sure that your lead magnet looks good. No one wants to read a blog post or an eBook with terrible pixelated images or inappropriate or awkward font. You're not going to get any leads from a poorly constructed lead magnet. Who would want to receive any sort of engagement from a business that produces shoddy content?
Let's take a look at HubSpot's tutorial on best practices of infographic design: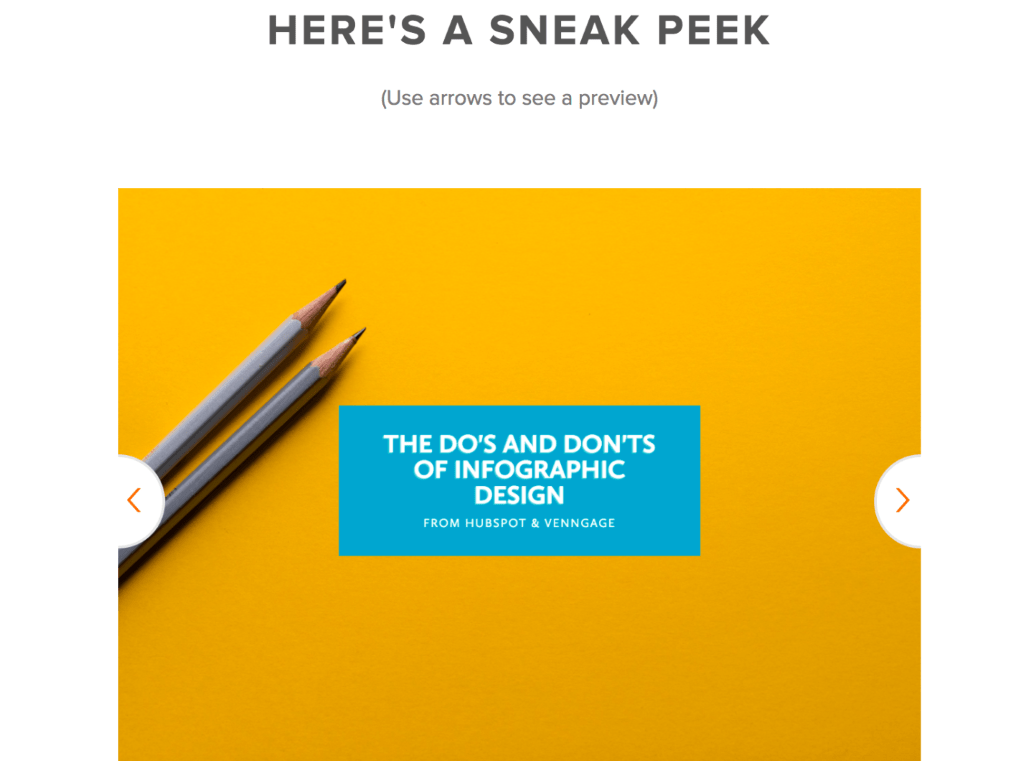 Notice the amount of detail HubSpot placed in their design. This lead magnet conveys value and professionalism. And it shows to your leads and customers that you care.
So, just like HubSpot, pay close attention to the way your content looks. If your business can't produce well designed content, then hire a reputable designer to it for you.
Take A Look At Some Popular Types of Lead Magnets
Guides/Reports
The preferred choice for lead magnet for most marketers is a guide or a report. However, just because most people use it doesn't mean it can't help you generate leads. The reason why it's so popular is because it works extremely well. Guides much like eBooks tend to be more time-consuming than other lead magnets.
Just like with all lead magnets, guides or reports have to be specific. Assign one specific goal for only one particular buyer persona.
Guides are extremely effective when used in the lead nurturing phase of your sales funnel, where you persuade people to make a purchase from you.
Take a look at this example from HubSpot: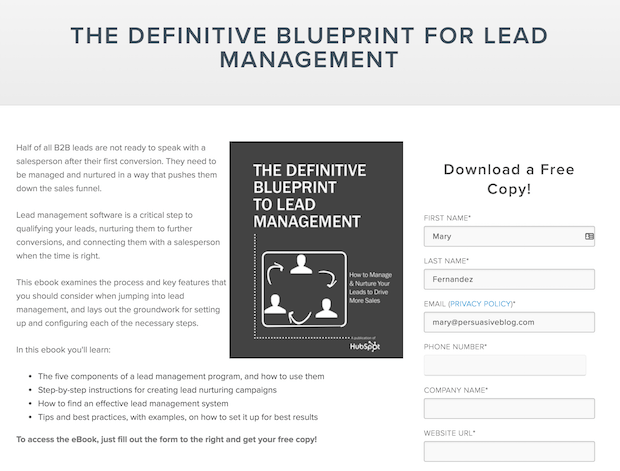 What makes this lead magnet great is that it provides comprehensive information about lead management, and it plugs HubSpot's service.
Toolkit/Resource List
These types of lead magnets are great for specific buyer personas. A toolkit or a resource list is a useful type of content which can be used repeatedly.
MindTools provides a time management toolkit, which can be used by businesses to log activity: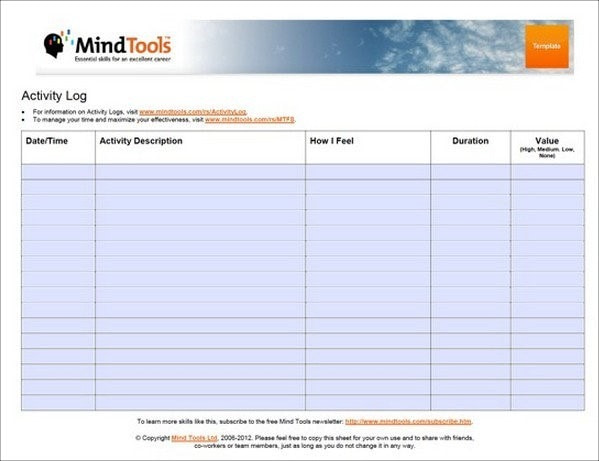 This lead magnet is a great way to showcase the services you offer to your leads.
Video Training
If you're a natural in front of a camera, then this is the perfect lead magnet for you. Make a video teaching a particular skill to your leads. You can send your leads a recording of a video.
Let's take a look at this great lead magnet from Podcaster's Paradise: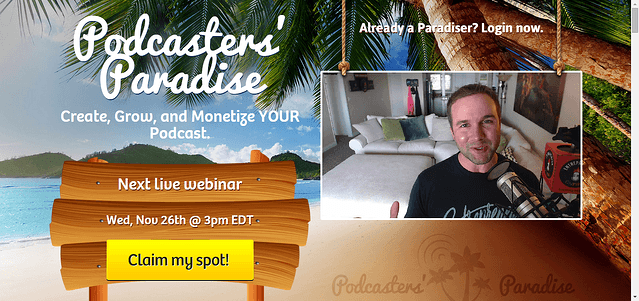 In this video, John Dumas talks about how a podcast can improve their business and outlines the basics to start podcasting.
At the end of the video, he offers his leads more detailed content about podcasting for a fee.
Many marketers make the mistake of not providing value and immediately go to the upsell. You must provide value in your video in order to demonstrate to your leads your unique value proposition. Otherwise, your video won't generate any leads.
Software Download/Free Trial
This type of lead magnet has been popularized by Netflix; the 30-day trial. When it comes to lead magnets, it truly doesn't get better than this. A free trial no strings attached will definitely get most peoples' attention because we love to try something out before we buy it.
However, these types of free trials don't just work well for software companies. Take a look at SnackNation's lead magnet: a free sample box of their product. No credit card required. All they ask in return is your email address. That's an incredible offer! How can you refuse?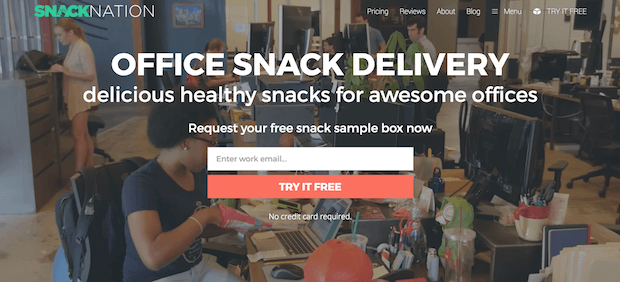 Discount
Offering a discount for a product or service will attract many leads because we all love to save money on things. This approach is best suited for businesses that sell physical products or get a lot of repeat business.
Southwest Airlines is famous for offering amazing discounts to its loyal passengers: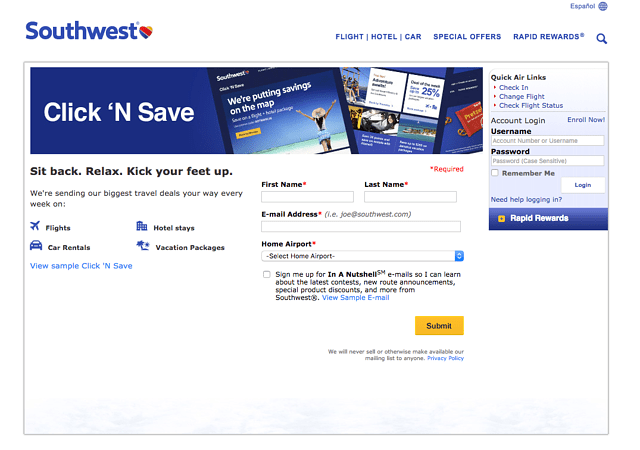 Quiz
Quizzes can be a fun activity and valuable activity for your leads and an effective lead magnet if done properly. Neutrogena gives their prospects a quick and fun quiz that'll help them improve their skin quality by identifying the right products offered by the business:
Notice how Neutrogena mentions a common pain point regarding acne and offers a solution, "Let's Solve It!"
Sales Material
This is one of the most common lead magnets. This type of lead magnet is designed for leads already interested in the product or service offered by your company. What they want to know is the price of your product/service. IKEA offers its digital catalog in exchange for contact information of its potential customer: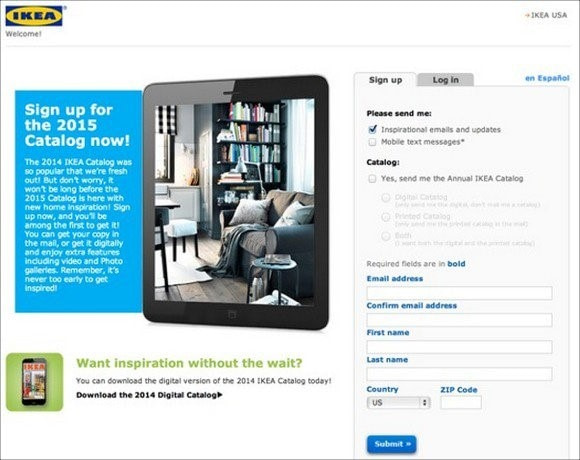 Delivering catalogs in digital format is preferable because it is cost-effective and generates fast consumption.
Conclusion
Now that you've seen some of the most popular and effective lead magnets used by businesses, it's time to create your very own magnet. To start off, choose one of these great lead magnet ideas, tinker with them and make them your own.
Always try to keep the lead magnet as short as possible (remember the 5-minute rule?), otherwise your conversion rate will take a hit.
Test to see if your content is specific enough, and that you are not promising too much to your leads.
Finally, head over to the forums and comments sections of popular posts for valuable insight into the minds of your prospects.