The essence of digital marketing lies in a process referred to as Customer Value Optimization. It is a challenge to keep track of all the fast changes in the digital marketing space without having a big-picture view. In other words, you have to understand how all the moving parts fit together in order to create a well-oiled marketing system.
This machine is engineered to continuously attract new prospects and convert them into customers while receiving the most amount of profit.
Customer Value Optimization
This marketing system is deployed by successful business of all levels: small, medium and enterprise.
Customer Value Optimization is used by successful multinational companies like McDonald's and Amazon.
It's also effective regardless of the type of product or service your business offers. This is because the methodology is rooted in Jay Abraham's understanding of business growth. Business can grow only if it increases the:
Number of customers
Number of transactions per customer
Average transaction value per customer
The Customer Value Optimization (CVO) channels these principles to lay the foundation of sustainable business growth.
Before we continue, be careful not to be seduced into narrowly focusing only on one aspect of digital marketing, like Instagram advertising or email marketing because they are only parts that form a whole.
Instead, you should know how to implement these strategies as a part of an overall Customer Value Optimization strategy.
CVO is composed of 7 steps:
Identify the Product
Pick a Traffic Source
Include a Lead Magnet
Provide a Tripwire
Offer a Main Product
Include a Profit Maximizer
Establish a Return Path
Identify the Product
The first step involves finding your customer. This means finding a way to take your customer from a "Before" to a better "After" state.
The customer is unhappy in some way in the "Before" state – there is an element in their life that is causing them distress. Life has improved in the "After" state and now the customer is able to enjoy life more fully.
The idea is that people don't buy a product or service, but rather a transformation between states. Therefore, a good offer will make a beneficial transformation possible, while a solid marketing campaign will effectively convey the transformation.
The upshot is that you need to articulate how your offer brings about the desired result.
Let's imagine how such an offer might look like for a marketing executive. You could describe the "Before" state in terms of being frustrated, exasperated and overwhelmed with your job. And the "After" state shows you feeling confident in meetings with the knowledge that your promotion is just around the corner.
How Much Does the Transformation Cost?
This is based on the distance between the 2 states – the longer the distance, the more value your offer will have.
A tic tac isn't expensive partly because the distance between the "bad taste in your mouth" to a "pleasant taste in your mouth" is not very long.
On the other hand, a car covers a much longer distance because it takes you from standing in an overcrowded bus, to traveling freely in comfort and privacy. As a result, a car is more valuable.
So if you want to set a higher price for your product or service, then aim for a longer distance between the 2 states.
This part is crucial for the success of CVO – if the customer doesn't understand how your offer brings about the desired outcome, then the system won't take off the ground.
The entire CVO system rests on having reliable prospects and customers.
Select the Channels
Once you've identified your market, you have to decide how you're going to reach them and bring them to your website.
There's one thing you should understand when it comes generating traffic to your website – you'll always have options. Google along with social media platforms like Facebook and YouTube are tried and tested ways of attracting people to your page. Here are some other traffic sources:
SEO
Email marketing
Content marketing
The only factor you need to consider is cost.
When determining the cost you have to measure the value of the traffic and how to get the most amount of value as soon as possible.
So for an example, imagine that you made $5 profit from each visit to your website. You can easily pay $5 to get visitors to your website and you wouldn't waste any money.
However, if you properly adopt the CVO method, you could pay even more than $5 to attract visitors, and still be able to generate profit. That's because you'll get more value from visitors using other methods.
Amazon is a great example of a successfully implemented CVO process. The company relies on the smallest margins in order to sell products on its website. They understand that getting more customers and then selling to them, and doing so frequently will grow the company exponentially.
This strategy is the bedrock of Amazon's success.
Let's circle back to what we talked about previously about learning all the different aspects of digital marketing. You can know all there is to email marketing or Google Ads, but unless you've mastered a way of putting in place a system that can extract profit from the traffic generated from these campaigns, you'll end up nowhere.
The reason is simple: the aim isn't to earn profit immediately, but instead you should place leads into your CVO funnel. You have to be patient because you won't immediately start to generate profit – that part comes later.
Therefore, don't simply jump from one source of traffic to another looking for a simple solution that will generate huge profits for your business. Rather, settle on one source of traffic and master it. Only after you've acquired a firm grasp of the source of traffic should you look for another stream.
Use a Lead Magnet
To grow their customer base, many successful businesses use lead magnets, which are extremely powerful tools in the world of marketing.
In a nutshell, lead magnets can be anything of value which you use to bribe your leads and prospects to get their contact information. Typically, this will be the first transaction with a lead or prospect.
The lead magnet you offer to potential customers must have a good amount of value to be effective – people aren't too willing to dole out their email addresses just to anyone.
Your lead magnet should be placed somewhere on an optimized landing page.
An effective lead magnet generates leads, which you in turn engage by placing them on the top of the CVO funnel. Since a lead magnet plays such a crucial role in your overall strategy, it's vital that you offer prospects something of tremendous value – it'll be worth it in the long-term.
The most effective lead magnet pages convert more than 50% of visitors. What exactly makes an effective lead magnet?
Great lead magnets are very specific.
A poorly designed lead magnet will be too general without giving a prospect an idea of what to expect:
Notice how the offer to "throw in a freebie for your effort" is so vague and confusing. What exactly are we getting if we give them our contact details? Visitors aren't going to be motivated to give up their information.
Also, avoid using calls to action like "subscribe to our newsletter". They just don't work.
Now let's a look at an effective lead magnet that solves a particular problem: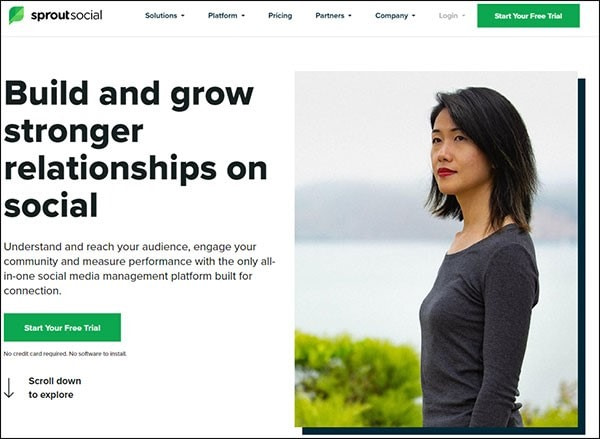 This offer tells visitors exactly what the benefits of the lead magnet are: you'll reach your audience and be able to monitor performance using a single social media management platform. The lead magnet in this case is a free trial for this great service.
Lead magnets can be anything: PDFs, videos, blogs and even free trials as is the case with this offer. Free trials are especially popular with SaaS businesses like Sprout Social.
Free shipping or discounts are a popular lead magnet with Ecommerce businesses like Williams Sonoma: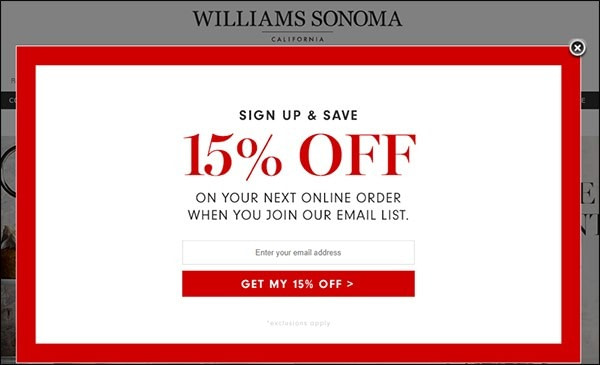 It doesn't matter what your niche is, your lead magnet needs to solve a specific issue faced by a part of your target audience.
Tripwire
Once you've started building a sizeable email list from all the contact information generated by your lead magnet, it's time to offer a tripwire. Since you are only acquiring prospects and not customers, you need to take the next step and start converting.
This is where a tripwire comes in. Tripwire is an offer that converts prospects. This offer has to be so enticing, that the prospect couldn't possibly resist. Tripwires come very cheap (relative to the industry). They typically cost between $1 and $20, but sometimes $300 can be considered cheap in some industries.
The key to an effective tripwire is to sell the product or service at cost, or even at a loss. Tripwires aren't designed to generate profit – remember, that comes later!
Generating a buyer's list is much more important than generating profit at this stage.
Let's take a look at a powerful example of a Tripwire: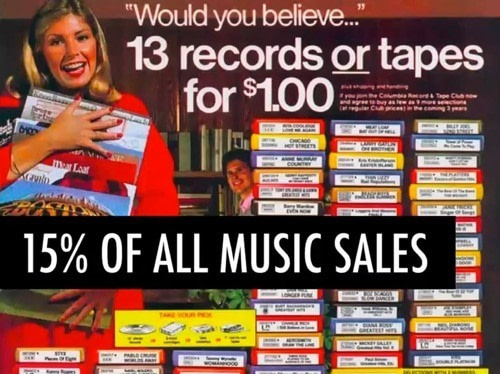 This tempting offer from Columbia Records helped cement the record label as the undisputed leader in the music business.
There are different types of tripwires. You can offer physical products to prospects like lighters:
or books:
If your business provides services, then your tripwire should offer huge discounts on pricey services. This is a particular popular tactic in the medial field.
The leading web hosting service provider, GoDaddy offers extremely rock-bottom prices for domain registration in order to get new customers: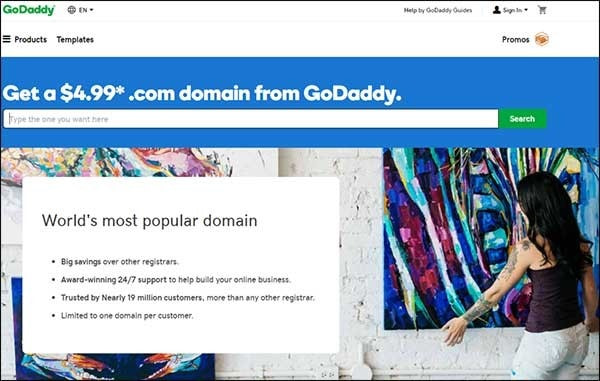 You must be willing to sacrifice profit when acquiring new customers because they will make you profit down the road if you use these 3 steps:
Main Offer
Increase Profit
Return Path
These 3 phases will turn your initial investment of acquiring new customers via tripwires extremely profitable. Let's see how.
Main Offer
You've now acquired an entirely new group of customers using great offers at low prices. Now is the time to sell them more expensive items. You do this with a main offer, which is typically your core product or service.
Many businesses offer their core product to prospects who aren't entirely familiar with the brand. And it rarely works because these types of offers tend be expensive. That's why a CVO system is important – it turns cold prospects into warm ones who then in turn become customers. And only your existing customers are in a position to buy more expensive products or services.
In some cases, offering an incredibly attractive lead magnet or tripwire will make your current customers interested in your core items.
Invest the profits from your main offer into lead magnets and tripwires, which will help you to acquire even more new customers – more customers than the competition. As a result, you'll end up with larger profits in the future. Some successful companies invest all of their revenue into lead magnets and tripwire and only become profitable in the next stage.
Increase Profits
In order to grow your business in a sustainable manner, you need to increase the value of each transaction per customer. Your business has to find ways to increase profits. One of the best ways of doing this is by adding products or services alongside your core offer that will generate additional profit.
For example, McDonald's doesn't make any profit on hamburgers, their core product. Instead, they get all the money from fries and soft drinks. This is also known as an immediate upsell.
Amazon uses a Cross-Sell offer that increase profits by displaying the famous, "People who bought this product, also bought this product", which frequently results in a larger basket value.
Businesses that rely on subscriptions generate additional profit by offering premium subscriptions for long-term plans: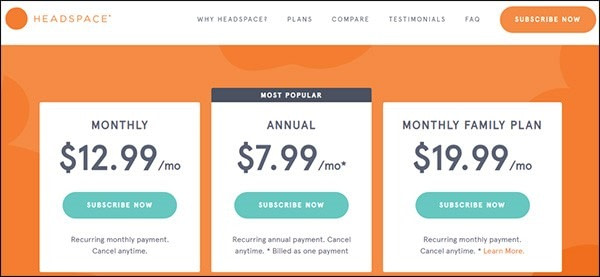 Typically, any offer after the first sale is designed to increase profits for the company. They maximize profits, and pay off all the initial investment in lead magnets and tripwires.
The most costly endeavor for a business is to acquire a customer; after that the focus is on increasing the value of this acquisition.
There is one other step that will help your business flourish.
Establish a Return Path
This stage focuses on increasing the amount of transactions per client. That means continually engaging your customers in order to motivate them to keep buying from you.
Offer lead magnets, tripwires, main offers and revenue maximizers that your customers didn't use previously to keep them warm and engaged. Again, you can use any of these tools to keep customers coming back:
Loyalty schemes
Content marketing
Email marketing
Social media ads
Ad retargeting
Sales calls
The Customer Value Optimization is a strategy employed by various successful companies: from small businesses to large enterprises alike. It provides a blueprint how to maximize profits by continuously acquiring new customers and then extracting the most amount of value from them. And the best part is, they'll be happy to do it!