The most effective landing pages are those that address directly your business's target audience. That means that if your landing page isn't tailored specifically to your potential customers, then you're throwing money out of the window. Your landing page is your wealth generator. The issue with creating high-converting landing pages is that there is no one-size-fits-all model.
While there are many useful suggestions to consider when designing your landing page, its success will come down to your own creativity and tinkering. In other words, we'll discuss useful tips and give you the tools that'll help you along the way, but ultimately it's down to you to decide how the final product should be designed. So, you have to be prepared to work on your landing page by testing out different versions until you find the ones that have the highest conversion rates.
What is a Landing Page?
There is often confusion between a landing page and a homepage, and many people believe that they are one and the same. It all boils down to reasons and ways that people find your page. Homepages are found via social media, but people come across landing pages using keywords and high-ranking search results. While a homepage can be a landing page, in most cases it's not. A homepage is typically used to inform and act as an entryway to the rest of the website.
The sole purpose of a landing page is to convert visitors to a particular action like subscribing to a newsletter, entering an email address or making a purchase. As a result, many landing pages are promoted via Google Adwords, or other comparable services. So, if a homepage is designed with only the goal in mind, then it can act as your landing page.
Landing Page Advantages
What sets landing pages apart from regular webpages is that they are constructed to bring about a certain goal. As a result, all other things that are not conducive to achieving that goal are eliminated so as to not distract from the ultimate aim.
Landing pages play several different roles in the "conversion optimization" aspects of digital marketing. They are typically used to do the following:
Create excitement around an upcoming event or product/service
Give newcomers to a website the ability to take the next step in the funnel
Split up offers according to target audiences and their needs and preferences
Determine the performance of particular keywords in paid ads
Now that you have a better understanding of the role that a landing page plays, let's take a look at the various kinds of landing pages. This list will help you determine which type of landing page is a best fit for your business.
Different Landing Pages
Once you've settled on what you want your visitors to do once they reach your landing page, you then need to plan out how to push them to do the needed action.
That means using any of the following landing pages to entice them.
Click-Through Landing Page
These types of landing pages are designed to draw visitors deeper into the website. Click-through landing pages are a good way of qualifying your visitors as much as possible in order to make the conversion process seamless. Many businesses make the mistake of immediately asking their visitors to convert when they land on a page. This can be counterproductive because a large percentage of visitors might be irritated at being asked to sign up for a membership from the start.
Therefore, click-through landing pages act as "intermediaries" that offers additional information and highlights the major selling points. This is usually done by asking a simple question to which your visitors would like to know the answer. It's typically an innocuous question that's easy to answer. Let's take a look at an example from bills.com: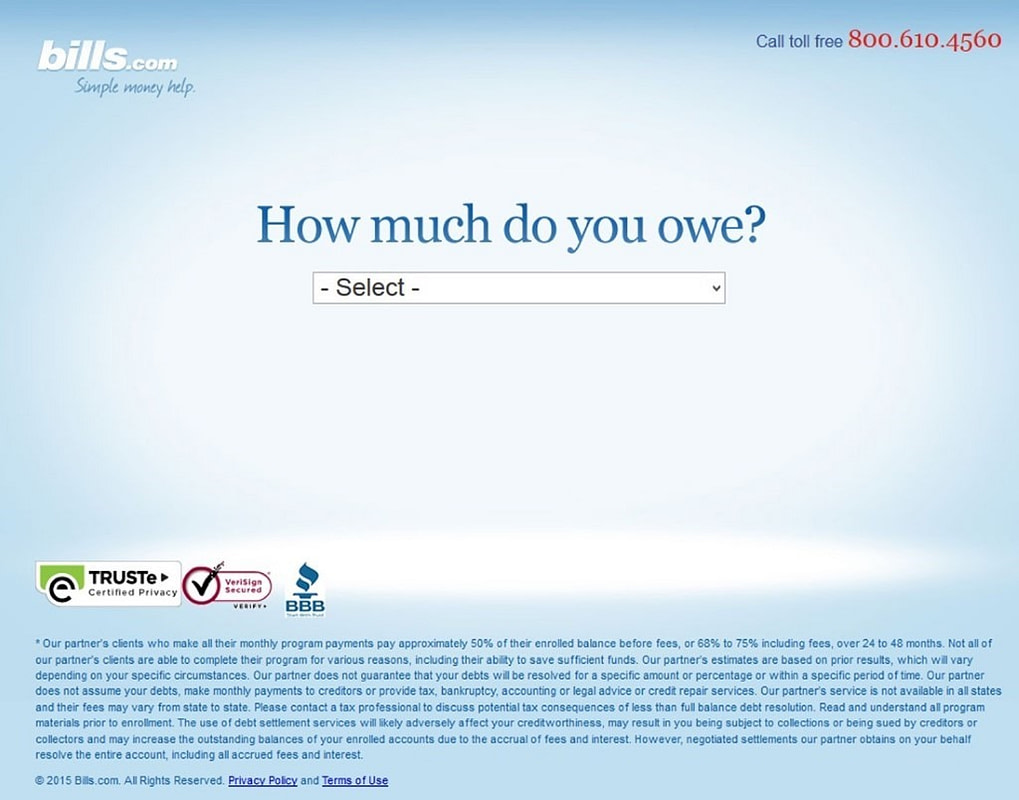 They entice you by asking a simple, yet useful question: how much do you owe? As you continue to find out more about your debt, you're taken deeper into the company's funnel. The company is then able to learn more about your needs and preferences. As a result, you receive a more personalized solution to help you with your financial issues – everyone wins!
The Lead Generation Landing Page
As the title implies, this type of landing page is designed to gather information on your leads or prospects. Before asking for personal information, there is often a pitch that emphasizes the advantages of the product or service. Obviously, these landing pages contain a form that collects your personal information quickly and easily.
A lead generation landing page offers a service or access to a product in exchange for users' information. For e.g. the Buffer website wants to collect emails of visitors in order to convert them at a later date. To do this, they offer access to eBooks to visitors willing to provide their email addresses: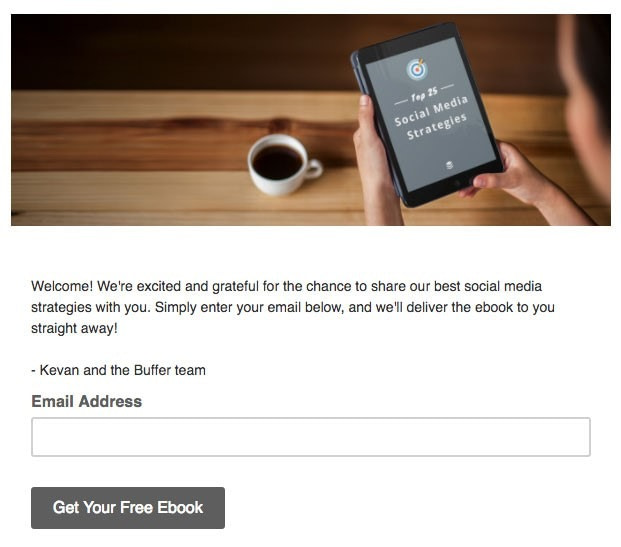 The Thank You Landing Page
If a "Thank You" landing page doesn't have a purpose, then you're making a serious mistake. Very often these types of landing pages simply confirm an action a visitor has taken: "Thank you for subscribing to our newsletter!" Not taking advantage of the fact that you have a highly interested visitor on your page will result in lower revenue generated. You have an amazing opportunity to either offer additional products or services or gather more information from someone who has expressed interest in your brand. Don't let that opportunity pass you by.
Let's take a look at a well-designed "Thank You" landing page from HubSpot.
Once you've downloaded a guide from their website, the "Thank You" landing page provides users another offer to get even more content that relates to the downloaded guide. However, in order to receive more free content, users need to fill out a form that asks for a different set of information that will give HubSpot the ability to make better suited offers in the future.
What to Look Out For When Designing a Landing Page
Now that you are aware of different types of landing pages, it's time to discuss important elements you should consider when designing and then optimizing your landing page.
Headlines
Your headline must grab the visitor's attention because it is the first thing they notice when they land on the page. A catchy headline will keep generate interest and keep them on your page. Your headline should hook your visitors and interest them enough to keep on reading.
Many brands use landing page headlines to restate the offer and subheadings to delve deeper into the unique selling points.
However, writing a headline is not as straightforward as it may seem at first – each powerful headline contains several aspects that make it catchy:
Your headline should contain information about your offer
It must be concise; avoid being wordy and state the point immediately. The headlines should be short and never longer than 20 words. Ideally, keep them at around 10 words.
The headline must be directly related to what brought the visitors to the landing page. That means if people are taken to the landing page by clicking on an ad, the content on the page should be relevant to what was advertised.
It should address your visitor's biggest pain points
Well-Written Copy
It goes without saying that the grammar on your landing page must be impeccable. That means going over the copy a couple of times, or having an editor take a look. It's always good practice to have a fresh pair of eyes look over the text. If the grammar is not perfect, then you run the risk of harming your brand's legitimacy. How can you expect someone to share their personal information on a poorly written webpage? Even a small, seemingly inconsequential grammar mistake will hurt your page's conversion rate.
Apart from the grammar, the overall flow of the sentences should make for an easy reading that effectively highlights the offer.
Include Images
Make sure that your landing page has an image because it'll help you communicate emotion. Also, a visual presentation of a product can show visitors how your product/service looks or functions.
Another added advantage of images is that they are much faster to process than text. The 2 main aspects of a landing page that hook your visitors are headlines and images. Therefore, if you get them both right, then you've designed an effective landing page.
Let's take a look at an example from Slack: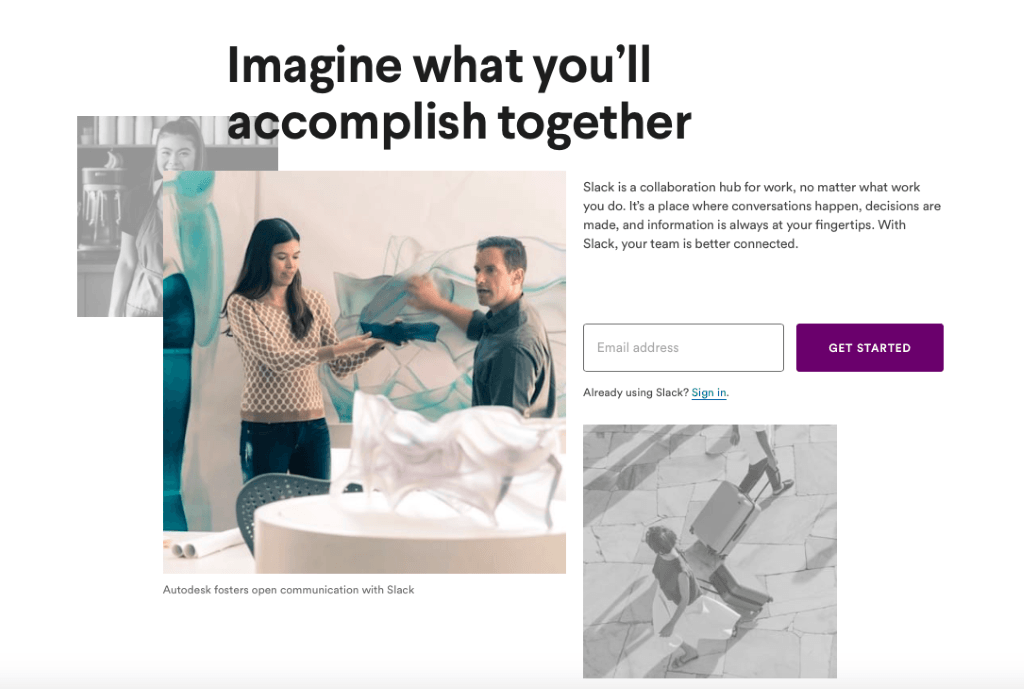 Slack is team collaboration tool used to enhance productivity of organizations. Therefore, the images they've selected highlight that feature. The main picture shows two individuals giving a confident presentation and working effectively side by side. That goes very well with the headline that emphasizes collaboration. Notice that Slack uses a large high-quality picture that is directly related to their main selling point: helping teams collaborate effectively.
Images are a great way of conveying ideas, and when you have a limited amount of space, you should take full advantage of them. Even though Slack didn't actually use an image of people using the app, they could've just as well gone down that route and it would have been just as effective.
Whichever type of image you choose, it should stress the benefits of your product or service.
Keep it Simple
Your landing page should have a simple design that is free from distractions and clutter and allows for simple navigation. So the page should only have the necessary elements that will convert customers, and nothing more.
If you use too much content, then your visitors can feel overwhelmed which can harm your conversion rates. Therefore, keep things simple and make sure that only vital information is included and that it is easily scannable. If your product/service has several benefits, then consider using concise bullet points that will effectively convey the main ideas.
Another good way of describing various advantages of an offer is through video landing pages. You can mention the most important points of your offer with copy, and then include a video that goes more into detail. This way it makes your offer more digestible.
Also, pay attention that the most important information is placed within the visitors direct line of vision, which is above the fold. Further information can be included lower on the page if the reader wants to learn more. A well-designed landing page will offer all the necessary information while providing an attractive visual presentation. One of the best ways of doing this is to use the below the fold space.
Include Social Proof
The best way to prove to prospects that your brand is trustworthy is by using recommendations from previous or current customers. If your product/service has generally received a positive reception, then add these trust signals to your landing page. Prospects will be swayed when they read about how satisfied people the people were when they signed up for the offer.
You can use customer testimonials and case studies or user number graphs to illustrate just how popular the product/service really is.
These trust signals are typically placed to the left of the main segment of the page in a vertical layout or at the bottom in a horizontal design and can act as a footer.
The UK financial technology company that provides banking services Revolut includes an entire paragraph describing how their service has benefited over a million people: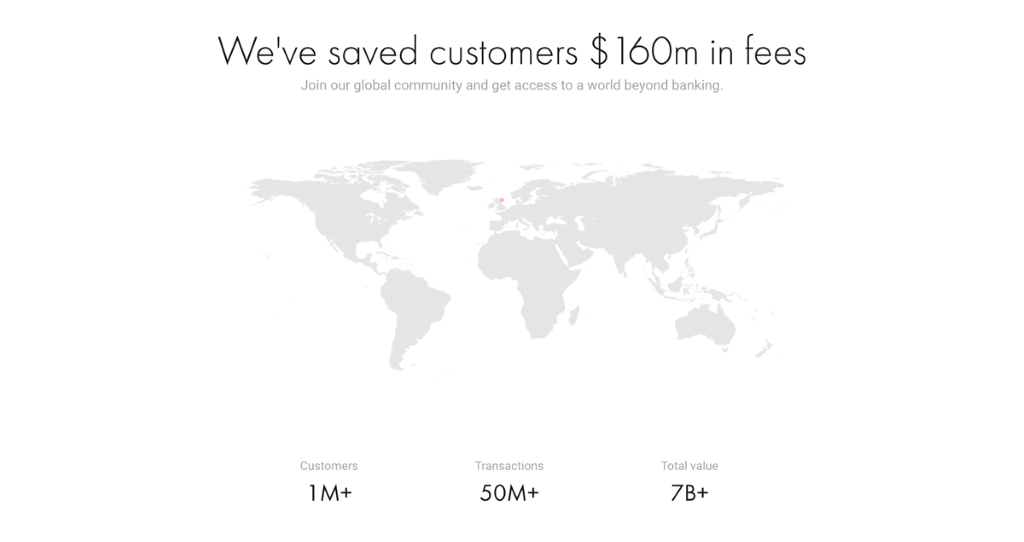 Use Short Forms
When it comes to crafting the perfect form for your landing page, make sure that there are as few fields to fill out as possible. The more time a visitor has to spend filling out the form, the higher the chances that they will abandon the webpage. Therefore, ask only for the absolutely crucial information. Remember what we said about "Thank You" landing pages? You can always ask for more information once the visitor has converted.
Ideally, only ask for the visitor's name and email address. Forget about asking for their phone number or other sensitive data. Studies have shown that conversion rates drop by 50% when you include these types of fields.
Final Thoughts on Landing Page Optimization
If your offer is enticing, then your visitors will be coming to your landing page from many different sources. Therefore, try to make your landing page suit each segment of your audience. For e.g. a landing page for visitors from Facebook or Instagram is not the same as the one made for visitors that come as a result of a PPC ad.
The tips outlined here will help you get started building a high converting landing page. However, you can't make a well-designed landing page without constantly testing and tracking the results. Just keep testing!