Video is not just one more aspect of a brand's marketing strategy- it's the heart of a brand's marketing efforts. Video marketing employs video to increase brand awareness, customer engagement and promote products/services.
This form of marketing has become extremely effective because consumers have come to expect video content from businesses. In fact, 90% of consumers report that they rely on videos to decide whether to make a purchase.
Social media platforms reflect this tendency perfectly. On Facebook, 500 million users watch videos on a daily basis. On Snapchat, the number is 10 billion videos a day! And over 80% of users on Twitter watch videos on the platform.
Most marketers understand this and have either created or are in the process of creating a video marketing strategy. According to a HubSpot, 45% of marketers aim to incorporate YouTube into their overall strategy. Video marketing is powerful and you can't afford not to have a strategy.
Videos have many different use cases. For example, including a video on a landing page boosts conversion rates by 80%. And email marketers know that including the word "video" in the subject line increases open rates almost 20%!
In 2018, over 90% of brands acquired a new customer using video on social media. And for the final incredible stat, social videos get 1200% more shares than posts that only have images and text. So, yes, video is king.
While a couple of decades ago video marketing might would have been an expensive and time-consuming undertaking, marketers today have lucked out.
Consumers value authentic brands, and in video marketing authenticity is best conveyed through unpolished and somewhat coarse scenes. So, effective video marketing lets you project authenticity without breaking the bank.
However, even producing high-quality videos today doesn't cost too much money – you can shoot great looking videos on your smartphone. While videos are the simplest medium to consume, if you are clueless about video marketing, then your brand is going to take a hit.
So, there's a lot more to video marketing than sharing a clip on your social media account. This guide takes a detailed look at all the important pieces that contribute to an effective video marketing strategy.
Marketing Videos
Let's first take a quick look at the most popular types of videos you can produce. There's a particular type of video for every marketing goal.
Brand Videos
These types of videos are an introduction to your business. Brands talk about their mission statement, their values and product/service. Brand videos are intended to increase brand awareness and get your audience excited about your solution(s).
Demonstration Videos
One of the most common types, demo videos are great for showing how a product/service functions. Teaching prospects and customers how to properly use your product/service will improve customer experience.
Event Videos
If your brand is hosting or attending an industry-related event, then this type of videos can show interesting parts of the event. For example, you can include interesting segments of a presentation at a conference.
Interviews
A proven way to build authority in your brand is by interviewing movers and shakers of your industry. Don't fret if they don't all share your opinions on some topics, the key is to get them in front of your camera.
Animations
This format is ideally suited for businesses that have a complex product or service. Many software development companies use animated videos to explain how their service solves a problem experienced by their target audience. There's something about animated videos that makes the content more accessible to the audience.
You can use animated videos as educational videos, which is a format designed to explain why your prospects should buy your product/service. Educational videos rely on a hypothetical experience of the company's target prospect who finds a solution to a problem by using the brand's product/service.
Testimonials
One of the most crucial types of video content for business, testimonials are irreplaceable when it comes to building trust with prospects. As they're deciding between different solutions, prospects want to see which offer will solve their problem. Filming satisfied customers talk about the problems they faced and how your product/service provided an effective solution is great promotion. Remember, happy customers are enthusiastic advocates; leverage that with testimonial videos.
Consumers want to watch videos that show how people just like us had the same problems as us and solved them using a particular product/service. Keep in mind when making testimonials to put the focus on the customer and not on the brand.
What I mean is that they should be the "hero" in their story who overcame an obstacle, and your brand "helped from the sidelines" to accomplish their goals. Marketing videos in which the brand plays the role of a mentor that helps customers achieve their success do extremely well.
Behind-the Scenes Videos
If your goal is to increase brand authenticity, then live videos are one of your best options. Live videos give viewers a glimpse into what the day-to-day looks like in your company. This format is generally longer than others and keeps users engaged. To take full advantage of live videos, ask questions to viewers during the live-stream and respond to their comments.
Personal Videos
The final type to consider is the video specifically made to respond to someone or address a question commonly asked about your business. Show both your prospects and customers that you care by engaging with them directly. You can't go wrong with making people feel important. These videos are great for drawing prospects further down your conversion funnel.
The Important Technical Aspects
Once you have an idea for a video, you have to follow several steps before you get to the final product. Let's take a closer look at the technical details to consider as you're preparing to film the video.
Come Up With a Plan
Yes, it sounds obvious. And everybody knows that you must have a plan. But it's crucial that you plan out your video before you spend resources on its production.
Write down what the goal of the video is. What do you want to achieve with this video? These are important questions to answer because everything you do as you're filming has to address the purpose of the video.
Without a clear objective, you will end up wasting resources re-editing or re-shooting the video and the end product will seem disjointed.
So, get together with the team and make sure that everyone's on the same page by coming to a consensus on the following points:
Who are you targeting with video: ideally, you should have a customer avatar of the section of the audience for whom you're making the video.
The objective of the video: all of the stakeholders should be in agreement as to the steps the viewer should take after watching the video. Do you want to build trust with prospects? Or are you demonstrating how to properly use your upcoming product/service? You have to be specific. Also, while it's great to be ambitious, you have to agree on realistic goals from the video.
Where are you going to upload the video: pick one place where you will initially host the video. It can be YouTube or a page on your website. Whatever the case may be, choose one location before you think about sharing it on other platforms
Timeline & Budget: Like we mentioned in the introduction, videos don't have to be pricey. However, a budget will help your team set realistic expectations of how the video should turn out. Also,deciding on a date for the video's launch is important because videos that are due soon don't have the creative potential as ones that are needed several months from now. And of course, the budget differs depending on the due date.
KPI's: How will you determine the success of the video? Is it the number of times people watch the video? Pick a few metrics to gauge the success of the video.
Understanding video metrics will help you to properly measure the success of the videos you make.
Most Useful Metrics
Most associate the number of views a video gets as the only metric that you need. Number of views or reach is an insightful metric when you're trying to boost brand recognition.
Pro-tip: Not all view counts are created equal. For instance, YouTube measures a view after 30 seconds, whereas Facebook waits only 3 seconds.
While this is very important, it is not the only metric you should be paying attention. Listed below are all the other metrics you need to pay attention to:
Play rate tells you how much your viewers enjoyed the video. It's the percentage of viewers who clicked the play button divided by the number of times it was shown to people. So if a video is displayed to 2,000 people, but only 40 choose to watch it, then you need to improve how you produce videos.
Entire Video Watched is another insightful (more so than the number of views) metric that shows you how many people watched the whole video.
Completion Rate is calculated by taking the number of views who watched the video in its entirety divided by the number of people who clicked play. This metric is so useful because not only does it tell you whether your audience likes your content, but it can help you improve your videos. If your completion rate is low, look at what parts of the video viewers stop watching and figure out why.
CTA Rate is the amount of viewers who performed the action you expected from them after watching the video. For example, how many viewers signed up to receive a newsletter about your offer after watching a video? A related metric is CTR (click-through rate) which tells you whether your video is effective at converting visitors. It's calculated by dividing the number of times people convert by the time it's shown.
Bounce Rate is the dreaded metric of marketers, but one on which we all need to keep an eye. Measure how long people stay on a page without including video content, and then do the same after you've put up a video. If your video is engaging, then the page visitors should spend more time on the page.
Write a Script
It's imperative to write a script for every video you make for your brand. Just like with planning, if you overlook writing a script, then you run the risk of wasting time and energy redoing everything and producing a confusing video that will destroy your conversion rates.
Similar to writing blogs, you want to hook the audience as soon as possible – your viewers aren't going to wait 5 minutes before they learn what the goal of the video is.
Also, the videos you make will be informal and conversational. That means using simple and clear sentence structures but avoiding annoying buzzwords.
Your scripts are not going to be long – a script containing 350 to 400 words usually translates into a two-minute video.
Pro-tip: Read the script out loud with the team because words sound differently when spoken. Read the script out loud before filming so that you can change awkward sounding phrases and make the lines sound natural.
Necessary Equipment
Tripod is a must. It'll help you get steady and professional looking scenes. Tripods come at varying price points, which means that you can get one at a reasonable price. Typically, the more expensive the camera you're using, the more the tripod costs.
Audio
You need to buy a microphone. If you're filming inside a conference room then use a shotgun microphone because they carry the voice in a natural way and incorporate the background noise seamlessly. It's well worth the investment because you'll be using it for your videos for many years to come.
However, if you don't want to buy a shotgun microphone, then consider getting a Rode VideoMic, which is a cost-effective solution that plugs into a camera.
Lighting
Finally, the lighting is last piece of the puzzle. We recommend using the 3-point lighting setup. It's made up of 3 light sources placed which present the subject in favorable manner.
There's the key light, which is the main source, which sets the look of the entire shoot. Then, the fill light shines on the subject but with more gentle light. Finally, the back light creates a border between the subject and the background by shining a light around the subject.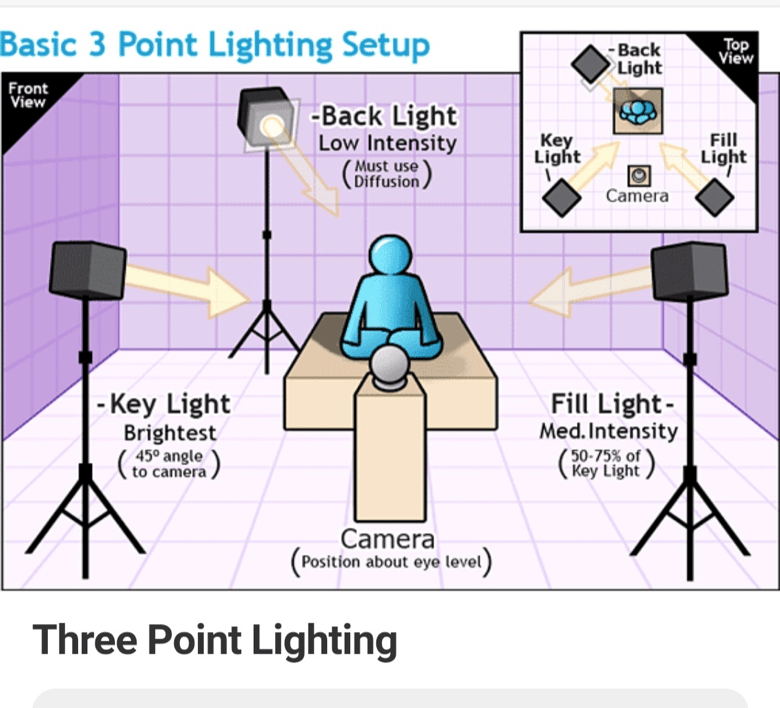 Start Filming
Making videos can seem daunting initially, especially if you don't have any experience with video marketing. But now you have a firm grasp of the many pieces that come together to produce a compelling business video. Don't worry if your first video isn't a masterpiece, as you make videos you'll get the hang of making videos your audience will enjoy watching.
One final pro-tip before I let you go: almost half of all videos are viewed on a smartphone, so make sure that you optimize your video content for mobile.