As every SEO marketer knows, your website won't rank well organically without backlinks. Sometimes referred to as inbound links, backlinks are websites that link back to yours. In a sense, they act as a "vote of confidence" from other websites, which signals to Google that you are source of valuable content.
But not all backlinks are created equal: some backlinks are more valuable. If you want to leapfrog the competition in the results page, then you also need to target high-quality backlinks, which come from popular and trustworthy websites and are hundreds of times more valuable than lower-quality ones.
Therefore, the more high-quality backlinks your website earns, the more its ranking will improve on Google's search results page. Google has made countless changes to the way it ranks websites, but backlinks still remain one of the most crucial ranking factors for the search engine.
Among the hundreds of ranking factors, backlinks are at the very top of list.
However, there's a catch: earning backlinks is not easy. After all, backlinks are a recommendation from someone who holds you in high regard – they rely on you for information.
So, you see why earning this sort of endorsement is not easy.
Even though it may take time and energy to earn high-quality backlinks, it is necessary to improve your brand's SEO ranking. This is why I've written an in-depth guide about the most effective tactics you can use to get in front people who are looking for what you are selling.
Get Proper Link Attribution
We will start off with a small and effortless step. You want to make sure that people link to your website when they mention you. This entails going through blogs and the news and keeping an eye out on who is talking about your business.
The most thorough way of doing this is by using tools such as BuzzSumo or Ahrefs Content Explorer. One of the many useful things you'll get from these tools is a better understanding of the types of websites that mention your brand.
When discussing your product/service, sometimes content writers forget to include a link to your website. All it takes is a quick message asking them to link back to your website, which will not only earn you a backlink, but also a provide readers with the opportunity to learn more about your brand.
Repair Broken Links
Somewhat related to the previous tactic, this one relies on identifying websites with broken (outbound) links. See if any of the content you have can replace the missing outbound link. If you do, and provided that your content is both relevant and useful, reach out to the website and suggest that they link to you.
By doing so you're providing a mutual benefit. The webmasters can now fix an error, which will be beneficial to readers, while you earn a backlink.
Of course, finding broken links that you can use is difficult and time-consuming. Luckily, there are a couple of things you can do to make this tactic work for you.
One option is to search for pages with broken outbound links and offer your content as a source of information. The other option is find a 404 page (dead) that used to have many backlinks, and then redo the content with relevant data. Once you've updated the page, you then send a message to those who linked to the original content.
Whichever route you choose, you'll need to use SEO tools to find broken outbound links. If you have a limited budget, then Siteliner is the best option which is free of charge for 250 pages.
Ahrefs has powerful link building tools but they are not free. However, investing in their tool is a great investment. Ahrefs also put together an exhaustive tutorial on how to use their tool.
Don't forget to craft your messages in a supportive way so that you don't come off as salesy or that you're only looking for a backlink.
Content Bait
This refers to engaging content created grab attention and capture backlinks. While anything can qualify as content bait, the most successful types of content bait are typically infographics, provocative content or useful and detailed guides.
Content bait is necessary tactic of every SEO strategy, because an overwhelming amount of content gets almost no links.
After analysing 1 million pieces of content, BuzzSumo concluded that 75% of the content earned no backlinks. That also holds true for high-quality pieces. Even though valuable is great for social shares, it won't get you a large number of backlinks.
For example, publishing a step-by-step case study about how your business grew your Facebook page in 21 days is useful, but you won't find many websites linking to it.
Instead, what you need is to provide content that will attract links.
These are some of the things you need to include in your content to make it attractive:
Include Visual Content
While it's not an absolute necessity, you should try to give your content bait a visual component. Visual content is typically image-based: pictures, screenshots, chart, and pictures. This is because visual content tends to attract more views than non-visual.
One of the best types of visual content to use is to earn backlinks is infographics:
However, content dominated by text can also successfully bait readers. The idea is to make your content look good in order to grab people's attention. For example: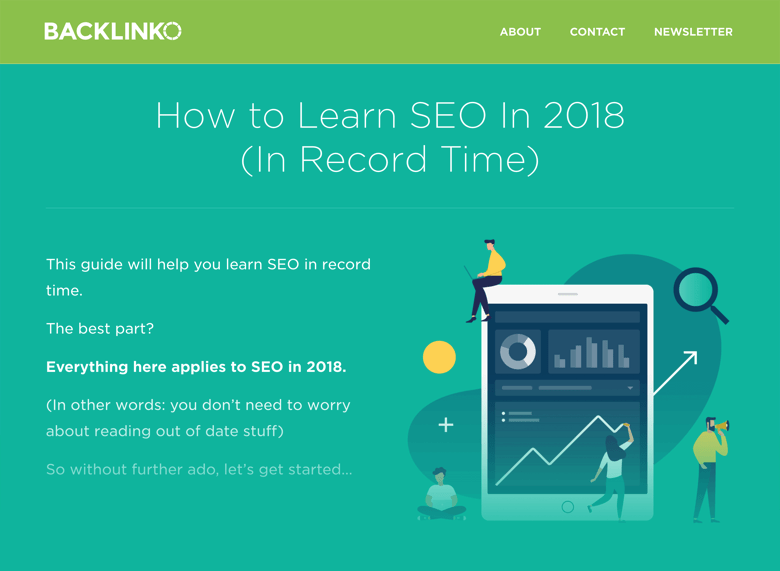 While the content isn't dominated by visuals, it is put together well which will attract.
Publish Ultimate Content
Nothing attracts links quite like comprehensive guides to a relevant topic in the industry. It's worth investing resources in creating definitive guides on various topics. These guides contain all the necessary information, so that the readers don't have to seek out others. I know, doing so is easier said than done. But without this form of content, your link building strategy will not reach its full potential.
Of course, your ultimate content doesn't have to be in the form of a guide – as long as it contains all the information on the subject, then it will serve as content bait.
The Prestige Bait
This type of bait targets influencers who can help you build backlinks. If you have the resources, consider setting up an annual award like Saveur does for food bloggers: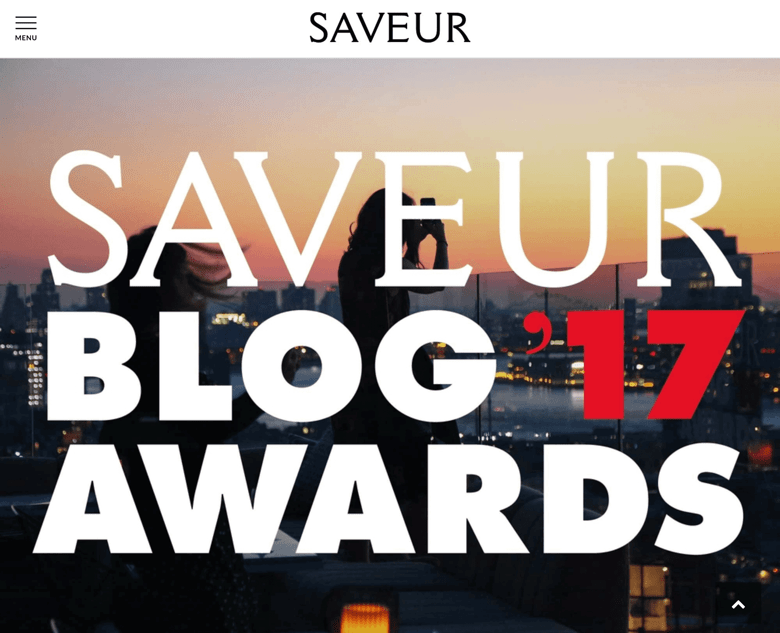 Just like the rest of us, influencers love recognition. That's why this tactic work so well in building backlinks because bloggers want to show their audience the awards they've won by linking back to your website.
If running annual awards isn't feasible for your business, there are still other ways of getting the attention of influencers or industry leaders:
Write an article about what you learned from a particular influencer/industry leader: "The 5 Valuable Business Lessons from Person X that Grew my Business"
Create a listicle with the best articles on a particular subject: "Top 10 Digital Marketing Blogs"
Conduct an interview with an influential person in your field and politely ask them to share
Make sure that your reviews of influencers/blogs are insightful and fair. It will take some time, but it is well worth it.
Become an Authority
What publishing useful and complete content on particular topics does is establish you or your brand as an authority. If you can produce insightful content that uses unique data, then you are able to become a source for other people in the field.
As a result, other websites will link back to you when they reference your content. Also, in the process you can attract referral traffic to your site, which will boost brand awareness.
This is why it's important to invest in high-quality content.
The first step is to subscribe to HARO, which introduces bloggers or journalists to expert sources free of charge. You will receive questions about your niche from content creators. It is then up to you to quickly respond to ones which you find interesting. I stress the word quickly.
This is because writers are typically inundated with many submissions. So, if you act quickly, you increase your chances of being selected and included in the final version that will go up. Also, don't forget to include your credentials in your response.
If all goes well and you find a news source willing to include you in their piece, it typically takes around four weeks for an article to be uploaded. Even if you don't receive a response, keep an eye out on the piece because your take might be included in the final piece.
If your response is well thought-out, you are looking at a 20% success rate on average. However, there's no reason to let the answers that didn't get selected to go to waste.
Look for questions on LinkedIn or on Quora and similar forums that you answer.
Get in Touch With Journalists
Journalists and bloggers are frequently overwhelmed by emails that push information that is of very little value to their audience. As a result, generic outreach emails don't perform well.
However, the team from digital marketing agency Aira explains how they are able to leverage this tactic. They ask a key figure in a client's business to give their opinion on a certain topic.
The tricky part is coming up with a topic: it should fall within the field of expertise of the company while at the same time being interesting and newsworthy. Think along the lines of "What will the effects of GDPR be on Digital Marketing" or "The Future of Industry X after Brexit".
By addressing issues widely discussed by the media, journalists will be willing to include your client's opinion(s) on relevant and topically issues in their content. Typically, they will link to client's website or profile page.
Another effective pitching method is to use video in your email. Most cold outreach emails use generic email templates, which only serve to annoy the recipients.
What works best is including a brief introductory video about your business and how your content can benefit their target audience. This approach adds a human touch which will be more effective than using a generic email template.
Refresh Old Content
This is applicable only if you have evergreen content, or content that has earned a large number of backlinks over a period of time.
If you happen to have a piece of content that performed well, don't discard just because it contains some irrelevant data. Go ahead and update the content, include recent numbers and make it relevant again.
Take note of all the websites that linked to that content and reach out to them. Let them know that you've updated the piece with more relevant data.
Generally, it will take several days or maybe a couple of weeks before results start to show. Also, getting in touch with journalists is a strong way of building relationships which could lead to future collaboration. That's why it's important that you invest time and energy in generating high-quality content.
Build Links with a Resource Page
This final tactic relies on using pages that link externally to high-quality websities. This is effective in getting links because when your link is listed on a website it increases the quality of the website.
The whole idea of a resource page is to contain links to valuable resources. Again, any SEO strategy (or marketing strategy for that matter) can't work without useful content.
So, if you have content that is relevant for a resource page, you're pretty much set! A well-written outreach email is sufficient.
This is what a resource page tends to look like:
The best way to find resources pages relevant to your field is using search strings. Find a keyword that's related to your field and type in your browser any of the following:
Keyword inurl:resources
Keyword "best resources"
Keyword "helpful resource"
So, let's say you run a foodie blog. You could type "cooking inurl:resources" and get a ton of resources pages in the SERP. And most are high-quality pages.
Start Building
Earning backlinks isn't as challenging as most believe. Don't expect to see results overnight, but if you set aside a few hours a week to implement these tactics, you will see your SEO improve.