Every generation has a different story about how they kept in touch with friends and their loved ones. Several decades ago, pagers were all the rage, and then voicemail hit the stage. After that, email played an important role in our social lives, but it succumbed to spam and promotional content that piled on top of messages we cared about.
This was followed by instant messenger and SMS texts. Finally, today we arrived in the era of live chat. With every new technological development, the accepted response time drastically decreases. People are communicating instantaneously; we make plans faster, we receive up-to-date information within seconds, and brands respond to our questions immediately.
Customers are impatient and have been conditioned to engage in conversations when, how and where they wish. For a business this fact may seem a little nerve-wracking in the beginning. Luckily for marketers, it's not as difficult as it may seem at first glance. As long as conversations customers have with your business are empathetic, beneficial and personal then you are properly engaging with your target audience.
Get the Ball Rolling
Conversational marketing is using conversation to reach your target audience and then convert them. The basis of this type of marketing is the ability to have individual conversations across all the different platforms and channels. That means that conversational marketing goes beyond just chatting via live chat with prospects or customers-you have Facebook Messenger, email, phone and calls, text messages, and much more at the your disposal. You can communicate with your target audience however they choose.
Perhaps you're wondering where the novelty with this type of marketing strategy is. After all, your brand is most probably active across all the different channels. Well, let's take a look at what conversational marketing brings to your strategy.
You Talk When the Customer Wants to Talk
You have to be prepared to engage your customers when they prefer. This could be right after they finish work, before they turn in for the night or even real time. Being able to talk with your clients in real time is just as important as chatting with them during their preferred hours. This could be as last as 9:30 pm when your customer has put their kids to sleep. You center your marketing strategy whenever is convenient for your client.
Make Sure That Conversations Are Scalable
Chat bots are a great way to ensure the scalability of your conversations with customers. Since they are available 24/7, and can give answers to common questions. As a result, your customers will always have easy and fast access to information regardless of your company's manpower.
Always Add Context to Conversations
You must be aware of each customer's particular conversation with your business. Think back to a time when you called customer support, and had to explain your issue again from the beginning to a sale representative. That's incredibly frustrating. It is only natural that customers expect that your representatives are aware of their previous conversations. Customer relationship management plays a vital role in your conversational strategy because it provides context. That means collecting, storing and making accessible customer data, which will make your conversations with customers more helpful and seamless.
The type of data can include everything from recent purchases to job status and emails sent to the company.
Find Your Customers
Engage your customers on platforms where they are most active-whether it be via Facebook Messenger, over the phone or a chat bot. Thanks to mass adoption of new technological tools, your customers are spread out across a digital universe.
Ideally, as Brian Bagdasarian the leading conversational marketer claims, your business should send the right message, at the right time, to the right customer with all the relevant information using the right platform.
Live Chat Doesn't Equal Conversational Marketing
This is a common misconception among marketers that live chat is be-all and end-all of conversational marketing. However, there is much more to using conversation as a marketing strategy than live chat.
The Advantages of Conversational Marketing
The first benefit of conversational marketing is that your customers prefer to have their questions answered in a more approachable and personal way. As a result, consumers use mobile to research and make purchases. Increasingly consumers are using mobile as their primary device to consume social and video content.
Messaging apps and even email are perfectly tailored for mobile devices. For instance, instant messaging apps make it possible for consumers to quickly explain the issues they're having, so that businesses can provide rapid personalized responses.
Conversational marketing is an effective way of gaining valuable information about your customers. By having a conversation, customers will tell you about their needs, desires and challenges. This is much more effective than any survey or ad.
The feedback you get from customers can be scaled. Messaging apps are particularly good for this. Chat apps can gather data that can be then used to improve customer engagement, product/service upgrades, better content, etc.
Sephora used a chatbot on the messaging app Kik to gather more useful information about their target audience. The multinational chain of personal care and beauty stores asked their target market to take part in a quick quiz/survey about their beauty habits.
Participants gave information about their age, makeup preferences and products like the most. As a result, the app was able to provide relevant how-to videos and product reviews based on the customer's responses.
Chatbots are an effective tool that help customers find the products they need while at the same time allowing human employees to focus on other tasks.
The consumer information that is collected can help companies forecast trends and make more insightful decisions. It can also provide quick feedback about certain technological drawbacks. For e.g., imagine a business launched a new website. If a prospect or a customer has difficulty in navigating the webpage, then they can simply live chat with a representative to receive instructions on how to get to where they want to be.
Not only will this ensure that the user actually stays on the website, but the business will also receive valuable feedback on how to improve the outlay of the page. By being always accessible to your prospects and customers, you can identify and tackle your prospects' and customers' pain points and save money in the process.
Having direct access to your customer also provides your sales representatives the perfect opportunity to up-sell. While chatting with the customer, the rep can point out other products or services other customers bought based on previous interactions.
Conversational Marketing Builds Relationships
The cornerstone of any successful business is the relationship built on trust between the brand and customers. Social media and messaging apps give businesses the opportunity to reach their target audience. Therefore, conversational marketing can increase lead generation by reaching new audiences across different platforms, or by giving customers easy access to the brand.
For e.g., messaging apps establish a flowing conversation between customers and businesses. This allows for natural communication and for the opportunities to, "cross-sell, encourage sharing, solicit input, and flow seamlessly between commerce and support".
Companies can leverage chatbots to collect information without being pushy. So instead of giving your customers a long list of questions, companies can use chatbots to collect consumer data in bits. In other words, businesses can collect small bits of information over the course of several conversations.
Your company will show off its personality by engaging your customers in conversation. Use images, videos, emojis and copywriting to give your interactions personality. Giving your brand some personality will also make your conversations with prospects and clients more enjoyable and friendly-your business will come off as approachable.
Social Media Is The Place For Conversation
Every brand is trying to find ways to use social media to acquire potential clients. However, if your business is just making a presence on social media, then you should focus on growing your target audience.
But how to begin?
Firstly, start following popular bloggers, webpages or news channels that produce content about your niche. The idea is to consume the same content as your target audience. As you're browsing through your feed, repost content from various popular sources with your own comment or question. You can even ask for some feedback from your target audience.
It's important to focus on the latest industry news. By making the topic of your conversations on social media related to your industry, you'll be certain that you're talking to potential customers.
Create Fun Conversation Starters
It certainly sounds like an implausible marketing tactic to "ask a silly question", but these sorts of unexpected propositions can grab people's attention. As a result, you'll be able to increase the number of followers and extend your brand's reach.
Don't believe me?
The online shoe and clothing retailer from Las Vegas, Zappos launched an Ask a Stupid Question Day:
The company welcomed all sorts of questions-even ones not related to their business. People started engaging not only with Zappo's staff, but with each other. The initiative created a buzz around the brand. By adding an image, users were able to generate shares, comments and likes for the company.
You don't have to go all out like Zappo's did with their initiative, but there are some common questions that can ignite a conversation:
What is your biggest challenge in [industry]?
What's the best [industry] blog post you read this month?
What are your favorite [industry] websites?
What are some things you wished you knew when you started working in [industry]?
Start A Conversation With A Debate
Pick out a recent story or development in your industry, and provide a link to a blog post or article. Then, give your opinion or opinions. Take a look at how Social Media Today generated a discussion with their post: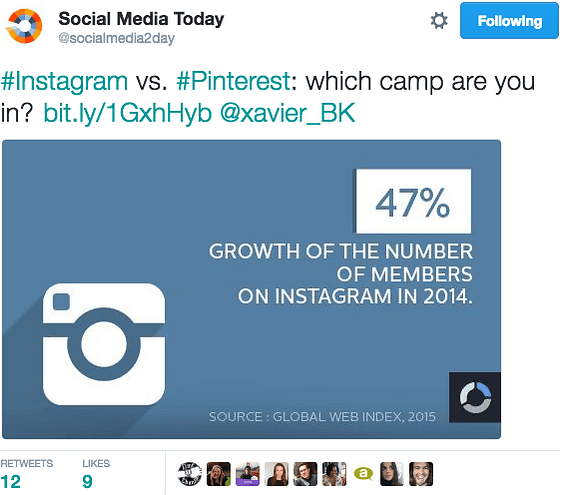 Show Gratitude 
As you start posting content, you will get new followers constantly. The first thing you should do when you get a new follower is to reply a short "thanks for following [their first name]. Try to mention something specific about their profile. This strategy is very effective on Twitter.
By thanking your new followers, you'll give your business a personal and human touch. As a result, users will be more willing to check out your posts and webpage. Also ask your followers what they think about the content you're posting-this will help the conversation to keep flowing.
Know What Others Are Saying About You
You can use HubSpot to follow what people are saying about your brand. This will allow you to respond to people mentioning your brand and start a conversation.
For e.g., it's very common for brands to monitor social media because this is where many customers choose to voice issues they're having with a product or service. Also, by following social media, you'll be able to join ongoing conversations that are related to your product or service.
Create a Community For Your Brand
There are many social platforms – Facebook, Instagram and Reddit to name a few- where you can have conversations with customers. Get visitors to your website to sign up for newsletters, and add social follow buttons so that you offer them every possible way to start conversations with you.
Once you've laid the groundwork, start building a community. The great thing about communities is that you are not the only one responsible for keeping the conversations flowing. Typically, community members will take necessary steps to ensure that the tone, topic and behavior are in line with online etiquette.
By building a community, you've helped gather people interested in your business in one place where they'll happily post content. And your business should be there engaging them.
Key Takeaway
Conversational marketing seeks to include businesses into conversations which people are already having. Your conversational marketing strategy should take place on platforms and channels where your customers are active. And the conversations you have with your target audience should be personal and serve a purpose.
Technology has made it possible for customers to connect to businesses and talk in an informal and friendly manner. Incorporate the power of conversation into your inbound marketing strategy and start engaging your customers the way they like.