The Customer Value Journey refers to the path along which a prospect is converted into a customer. It describes the building of trust between the prospect and the business, which then leads to a business relationship. Digital marketing is a multi-step process; in fact, there are 8 stages that make up the journey.
There are other outlines available out there, however, none of them offers a detailed layout of the journey that leads to success. The Customer Value Journey (CVJ) shows you the way to attract and convert prospects while retaining your top clients. It is the foundation developed by Digital Marketer, upon which all other marketing strategies and tactics rest. The premise behind the CVJ reflects the goals of marketing as a discipline: to move prospects through each stage of the journey. Therefore, if your business adopts the CVJ into its model, then you'll seamlessly move prospects along the different phases of the journey.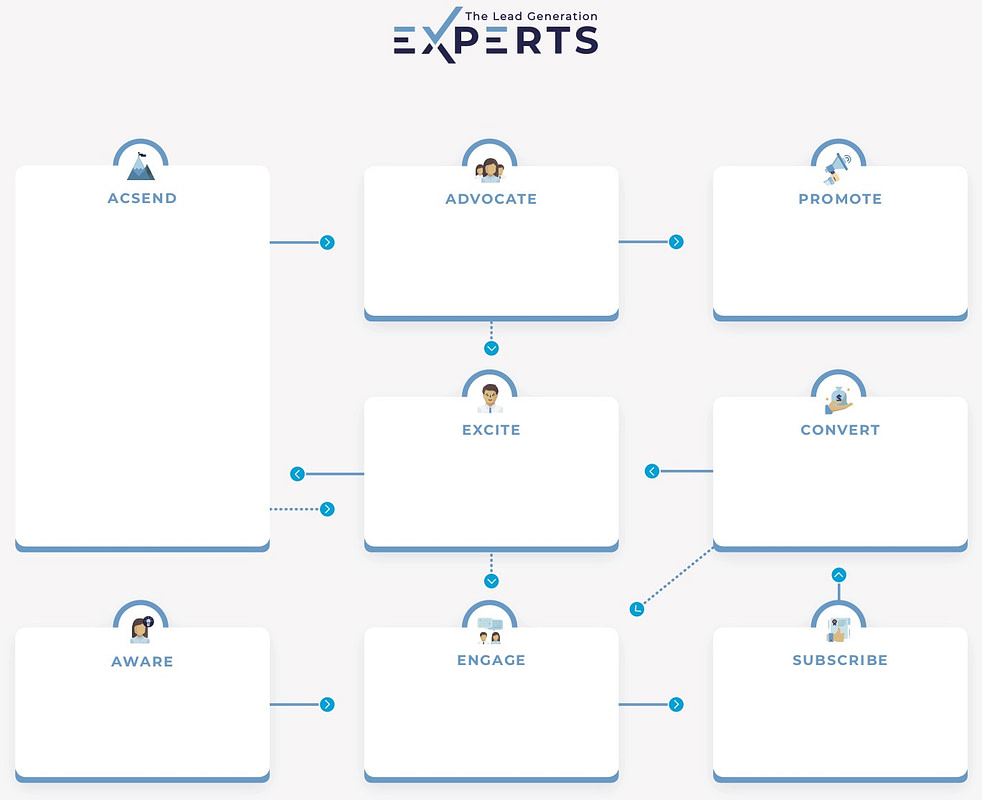 Let's take an in-depth view of how you can implement the CVJ into your business and watch the conversion rates soar!
Customer Value Journey
What does the journey look like exactly? Below is the 8-step journey engineered to convert your prospects into loyal customers and raving fans!
It's important to stress that very few people can finish the CVJ by themselves – they'll usually wander off-trail or forget that they were ever on the journey. Therefore, to avoid losing your customers along the way, you'll build a strategy that guides your prospects along every stage. The strategy acts as a guide or a coach who gives the prospect or customer encouragement if they get stuck along the path. Let's look at the different stages of the CVJ.
Awareness
This stage of the CVJ is pretty clear. Before you can convert a prospect into a customer, they need to be aware of you and your business. At this step of the journey, you should rely on as many different channels and platforms as possible; social media posts and ads, blogs or events to name only a few. The goal is to inform potential customers about your brand with entertaining and engaging content.
Let's look at an example of how you would go about raising awareness about your brand.
Pura Vida is a bracelet manufacturer that cooperates with artisan communities in Costa Rica. As a way to increase their brand awareness, they relied on an engaging and interactive Facebook ad.
By using a carousel ad, the brand was able to showcase several different ads within that one ad, thereby increasing their exposure. There are many effective ways to build up your brand online-social media marketing is just one strong example. Other great ways of increasing awareness of your brand online include content marketing and search marketing.
Engagement
What should you do once your prospect is familiar with your brand? Well, your relationship with the prospect is still in its beginning stages-they don't know whether you're trustworthy or not. Are you a credible business? You need to give answers to these questions to the prospect before you can continue along the CVJ. In other words, now you need to develop your relationship.
The way you win their trust is by engaging them. However, don't think that engagement is a one-off thing. You'll be engaging your prospect throughout the journey. So, how exactly do you engage your prospect? You start by talking with prospects, and by offering exciting content that is both educational and entertaining. The aim at this stage is to try to get the prospect emotionally involved with your brand.
This stage starts right after your first interaction with the prospect, and it continues all across different channels- blog, customer support, videos, email and much more. Let's take a look at an example from Johnson & Johnson. They filmed a YouTube video for new mothers showing them how to bath their babies safely and easily. This is a great example of informative and beneficial content that will certainly appeal to their target audience. When brands offer relevant and useful content to their prospects, they are building trust and interest in their business.
Let's look at another example. Suppose you're the proud owner of a wine store. A good way to engage your potential customers would be to join a Facebook group or community for wine retailers. This will help you zero in on your target audience, which will make your engagement with them much more fruitful.
Again, much like in the previous stage use all the different avenues available to you to effectively engage with your prospects such as social media, email and content marketing.
Subscribe
As the relationship with your prospect grows, so does their trust in your brand. However, if by this stage you haven't gotten your prospects personal information, then you probably won't ever. Since people are swamped with content online, they have short attention spans. In other words, if a prospect has read a blog post on your website, that doesn't mean they will visit your website ever again. Therefore, you need to be proactive at this stage. When you reach this stage, you should gently ask for a small commitment from your prospect-ask them to subscribe to your email list for instance.
It's not that easy to get personal information from people; people are wary of giving their email addresses. For your prospects to be willing to give you their email addresses, you have to offer something of value in return. Think about offering free tutorials, reports or the first few parts of a webinar. This is known as an "ethical bribe"- you offer them valuable content, but you don't ask for money. Crucial for the success of this stage is to offer something valuable to your prospect.
Let's consider an example. Let's say that you have a skincare business. A young professional woman fills out a form on your blog to receive a free sample of your skincare products. Once the form is filled out, your company sends the prospect a free sample in the mail.
Convert
If you've offered your prospects valuable content in the previous stages that solves their problems, then they will typically want to cultivate the relationship with your business. They place more trust in your brand, and they're willing to make a stronger commitment. They are ready to invest either their time or money. And you have to provide them with a way of doing so.
This stage can be somewhat frustrating for many companies because they are unsure of how to act properly. The key is to use an "entry-point offer". These types of offers provide incredible value at a very low cost. So the prospect doesn't feel like they're putting too much on the line.
If you were to ask for a substantial contribution, your prospect will most likely feel overwhelmed. After all, your relationship is still in its early phase.
The best thing to do at this stage is to offer them a highly valuable offer with little risk involved for the prospect. This offer is not meant to generate profit. Instead, by making a small purchase, your prospect will try some of your products or services. Therefore, the cost should be somewhere between $5-50. Simply try to make an offer that covers your costs in customer acquisition. Don't fret if you end up losing money in this stage; making a profit is not your primary aim at this stage of the CVJ. Profits come at a later stage.
At this stage, you are trying to convert prospects into paying customers; i.e. customer acquisition. Acquiring customers is the most expensive part of a marketing campaign. That's why HostGator offers plans starting from $2.75 a month-their aim is to first get customers.
There are 2 major kinds of entry-point offers: the ones that involve time, and those that involve money. Let's take a look at a couple of examples:
A CEO of a small company buys an expensive business consultant's book for only $10 on the consultant's webpage.
A woman takes her friend to a newly opened cafe and takes advantage of 2 for the price of 1 offer.
The key is to get the customer through the door so to speak. You want them to experience your product or service with the expectation that they'll be impressed. It is only after you've acquired customers that you can then work to deepen the relationship. Even though customer acquisition is costly work, however, once you've attained your customers you don't have to spend resources to acquire them again.
Get Them Excited
It's scientifically proven that making purchases gives us a rush. Therefore, your focus at this stage is to ensure that the experience that your customer has with your business is great. If the customer doesn't feel like they received something valuable from their transaction with you, then you can bet that they won't purchase anything else from you! Your goal is to channel the customer's excitement in having made a purchase into trust.
The most important thing at this stage is that your product or service is outstanding! No amount of marketing can make up for a subpar product. As a result, the customer should feel like they got great value from your business. This will in return generate excitement not only about product or service but about the overall experience they had with your company.
If your customer is excited with their experience and with your business, then it makes it that much easier for them to continue being a paying customer. The key to success is excitement!
To recap, your customer must feel like they received something of value each and every time they buy a product from you, or sign up to a webinar, etc.
Evernote is a great example of a business that generates excitement with customers:
Evernote is a note-taking app based on the cloud that lets users sync notes between their computer, phone and tablet. Since the app has a lot of helpful features, Evernote understands that users must know how to take advantage of the features to get hooked. Therefore, every new user gets fun educational emails that contain great tips for users to get the most out of the app.
Ascend
It's time for your business to focus on profits! Now that your customers are excited about your business, it's time to make them buy from you repeatedly. The Convert stage was engineered for conversions, and the Ascend stage is made for profits. The customer believes fully in the brand and is willing to spend more money more frequently on your products or services.
At the Ascend stage, you offer valuable add-ons to the purchase. So, for instance, Tiger Airlines understands the Ascend stage perfectly: With every ticket purchase, the customer can pay an additional $3 to be first to board and avoid frantic boarding.
Let the People Know
At this stage, ask your satisfied customers to share their great experience with your business. Customers love to share their positive experiences, and by doing so, they'll turn into loyal customers of your business. You're trying to turn your customers into "passive promoters" or advocates of your brand by writing glowing reviews of your products or services. So don't be afraid to ask your happy customers to share their experiences with your brand!
Some marketers make the mistake of not paying enough attention to this stage. However, you're building trust among a wider audience by asking your customers to talk about their experience with your business.
Promote
Promoters actively try to spread the message about your brand as opposed to advocates who only do so passively. Promoters share stories and your offers because they believe in your brand. A referral program is a great example of active promotion. Dropbox beautifully illustrates this stage of the CVJ.
Dropbox offered their customers the ability to increase their storage space if they invited other people to sign up to Dropbox. The company acquired thousands of new users via this promotional method and grew to into a software giant!
End of the Journey
You want people to move quickly and effortlessly along all the stages of the CVJ. However, always be on the lookout for gaps in the journey. And focus on optimizing each stage, so that your customers can get excited about their experience with your brand.