Inbound marketing focuses on solving the most important aspect of any thriving business; how to convert strangers into clients?
Broadly defined, inbound marketing is a way of leading potential customers to specific products or services with the help of content, social media marketing, search engine optimisation and search engine marketing. Inbound marketing describes the journey along which the prospect becomes your customer.
If done properly, this type of marketing can add many benefits to your business, including:
building strong brand awareness,
enabling customers to interact with your brand at the different stages, of the customer value journey,
and generate far more qualified leads for less money than if you relied on traditional forms of marketing.
To understand the need and efficacy of inbound marketing, we must first understand the world in which we live. We are constantly bombarded with a great amount of information which leads to attention deficiency. IBM estimates that 2.5 quintillion bytes of data are created on a daily basis.
On top of that, buyers are empowered today like never before. The internet offers the buyer instant information about specs, pricing and reviews of products and services with a few clicks.
Additionally, social media platforms push buyers to share and make comparisons. According to Inbound and SEO Marketing Consultant Joshua Gill, inbound marketing is so effective specifically because it offers the customer all the answers for which they are searching for at the precise point that they need it.
This form of marketing successfully creates trust, reputation and authority in whatever industry it is deployed.
An increasing number of businesses are relying on inbound marketing to build brand awareness and foster relationships that will ultimately lead to leads and sales. Perhaps one of the most underrated aspects of inbound marketing is that it gets to your prospects in the early stages of their decision-making process. Hence, it establishes a much more powerful influence on their decision-forming process.
The "inbound" in the inbound marketing methodology is the process of attracting, engaging and making people happy in order to expand a business. It must offer value and build trust. Inbound marketing is part of a global business movement that looks to find a more effective way to do marketing. The thought process behind this marketing approach is what is good for the customer is also good for the business. As a result, your business achieves sustainable growth over a long period of time.
The underlying methodology behind inbound marketing is to draw in prospects and potential customers to your website through exciting content. You can no longer interrupt individuals who are in the middle of doing something completely unrelated to your business or brand. Some might argue that form of marketing should go the way of the dodo. The most glaring problem with this form of outbound marketing such as television commercials, direct mail and radio ads is that it be might be communicating with the wrong people. To say nothing of the annoying interruption.
Once they land on your page, then you further entice them with engaging email, chat and additional valuable content. With inbound marketing, you don't have to worry about the potential client's attention because your content does that for you! You attract relevant prospects by publishing compelling content which offers solutions to issues facing your ideal clients. This simply means solving common problems and responding to any potential concerns or questions your prospect may ask.
Inbound marketing is composed of four key stages: attract, engage, convert and delight. Each step is designed to offer value to your client's journey. Also, each leg of the journey comes with a group of tactics and metrics to gauge the results. From a commercial viewpoint, this approach provides growth to your business with satisfied customers being the energy that contributes to growth. Your customers grow your business either directly when they buy from you or indirectly when they promote your product to others in their space. On the flip side, if you target people who are not interested in what you are selling or if you don't deliver on your promises then you create unhappy customers. Unhappy customers will slow business growth or kill it altogether. Therefore, pay close attention when running inbound marketing campaigns.
Each member of your team must be on board to provide a satisfying all-encompassing experience to your customer. Each stage of the buying journey needs to be seamlessly tied to the stage before it and to the stage after it. The inbound process works perfectly with technology to keep them ready to respond to the changing needs of the market. There are countless software tools that can help you streamline your inbound marketing campaigns.
Let's now take a closer look at the four stages of Inbound Marketing:
Attract
Convert
Close
Delight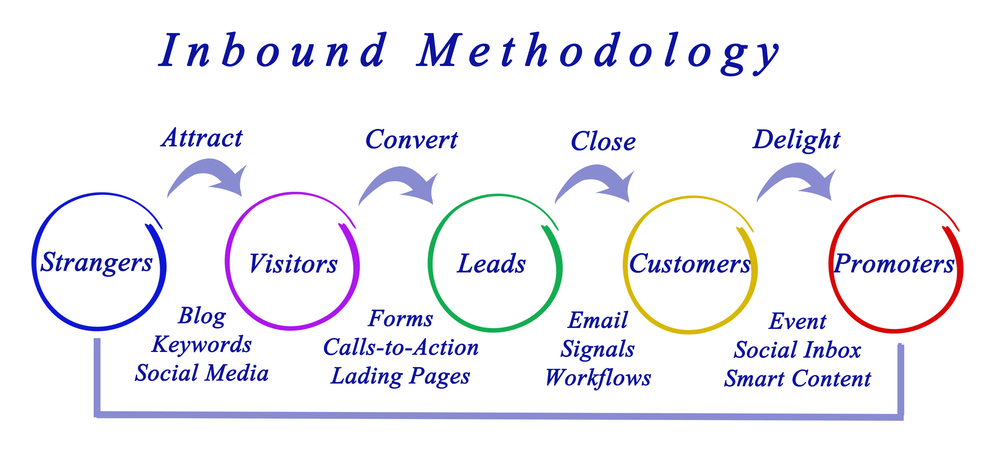 Attract Potential Customers
The first goal of the process is to raise awareness of your business and introduce prospects to the things that you offer. You must engage with the prospects that you have attracted with your content, and make them happy. Now, you should be specific about who you want to attract to your website. Ultimately, you want the individuals who are most likely to become your future clients. The best way to attract them is with relevant content posted exactly when they are searching for it. Post your written or video content on all the social media networks your business uses. Build your reputation in search and rank for the topics which your prospects care about the most, using content strategy tools. Use ads to raise awareness of your brand among your potential customers. Naturally, throughout each stage of the process, you will be analysing the efficacy of your work. This way you'll know what's working and what needs tweaking, tinkering and improvement.
When targeting your ideal group of customers, you should build what is known as buyer personas. A buyer persona is an imaginary customer who has all the characteristics of the type of client you want to attract. A buyer persona represents the right type of person you want to visit your website; it is your ideal customer. And as such, you should take into account the aspirations, goals, worries and challenges facing these type of customers. It should also include the type of information to which these individuals might have access to. By keeping the buyer persona in the forefront of your mind when making content, you are able to attract your target audience and acquaint them with your brand and business. If you want to market to luxury watch dealers in the New York area, then you probably shouldn't rely on getting prospects from a guest post on Wired. Instead, you should use highly optimized content on Hodinkee.
What sort of content might you put out to attract potential customers? There are numerous industry specific topics that you can use to attract your target audience. If you sell watches, for instance, then discuss new technological developments in the watchmaking world, new brands coming out along with reviews of classic models.
The key takeaway from this stage is to produce relevant and engaging content that is optimized for search and distributed in specific places where your target audience can come across it.
Convert Visitors Into Leads
Once you have successfully executed the first stage of the process, it is now to convert your qualified traffic into leads. This is the tricky part of the journey where you have to be very creative. The first thing you should do at the Convert stage is to get the contact information of your website's visitors. That includes their email address, phone number and perhaps even their social media account information. Basically, any means that will allow you to get in touch with them. Once you have accomplished that, now you have a fully-fledged marketing qualified lead. This process demands taking good care and nurturing your lead.
The tricky part is obtaining the necessary information. As we all know, people are not going to just give you their personal information because you asked for it (even if you do it politely). Naturally, folks want to avoid being spammed, which is why almost everyone is reluctant to give away their email address so easily. The key to unlocking access to their contact information is to make them an interesting and useful offer in exchange. This is known as a lead magnet. There are numerous offers that you could make. For instance, you could offer your prospect a free 30-minute consulting session. But don't only rely on this. Think about offering free but useful content, something along the lines of eBooks, blog posts or webinars. Pretty much anything that your target audience members will find valuable.
You should always keep in touch with your target audience members. Conversations are the best way of establishing fruitful and long relationships with prospects on the networks they use. Again, technology is your friend so use email, conversational bots, live chat and various social media platforms to keep in touch with your prospects. Also if you take full advantage of CTA's, forms and leads, then you will be able to obtain vital information about the prospects that are visiting your website. To add a personal touch, use all the information you've got to personalize their website experience through smart content. This will also help you establish brand recognition and loyalty among your prospects.
By offering exciting and valuable content made specifically for your prospects and buyer personas, you have a great chance of turning complete strangers into loyal clients! Don't limit yourself to only these examples since there are many offers that will turn prospects into leads. Often times there are offers that are only industry specific and can only be used for certain businesses.
Don't forget to make use of a handful of tools that will make this task much easier and effective:
Calls-to-Action (CTA's)
Contact Tracking
Inbound Marketing should always be done together with automation. Marketing tools like automation give inbound marketers the efficient resources to convert strangers, fans and followers into a loyal customer base. What automation does is help your business cultivate relationships with prospects which have yet to buy through targeted email campaigns. Automation comes in handy when you want to separate qualified leads from unqualified ones. Last but not least, if you connect your marketing automation to your CRM (Customer Relationship Management) system, then you can be certain that you won't lose sight of any of your leads.
Close The Leads
Now we reach the critical stage of the journey when we can enjoy the fruits of our labour. However, even though we have reached the part when we turn our leads into paying customers we still need to be careful. You need to give your leads the correct amount of attention; if you overdo it then you come off as spammy. Too little and you won't even be an afterthought. Always provide them with value in advance and while you are doing so nudge them into converting into a customer.
Converting a lead into a paying customer can be a long process and it can take up to 13 touches before a lead is converted into a sale. There are many techniques to help you close. But you must always provide compelling content to all your leads as they're going through their buying process. Always know at what stage your prospect is at so that you can deliver relevant content at the right time and place. The right nurturing content for your particular lead is even more important than the number of times you send them your engaging content. For closing leads, you should rely on CRM software, which will help you determine if your leads are converting into sales.
Delight Your Customers
Ensuring your customers' happiness is vital to your bottom line. Reward them with attention for choosing your business via newsletters, surveys and personalized product offers. Another creative way to keep in touch with them is to write a blog specifically for your customer base. But it goes without saying; don't forget to keep in touch with them on social media! Using social media can help you reconnect with them at the right time; if your customer's business is moving to bigger office space, then they might need more of your products or services. Just because you closed a lead doesn't mean that you should ignore them.
Ignoring this part of the stage could cost a lot of money! This stage is necessary to secure referrals and increase the volume and frequency of sales with existing customers. Every business needs these to continue growing. By engaging with your customers, you also create willing promoters of your business.