LinkedIn started out in 2002 as a way of keeping track of your previous and current coworkers and business partners. However, after Microsoft acquired the platform in 2016 for a cool $26.2 billion, it has expanded its professional services.
Today, LinkedIn contains the world's largest database of professionals which makes it a powerful networking tool. Its users can find and research potential employees and keep track of industry trends. Most Fortune 500 key players use their spare time to browse LinkedIn. Also, over 40% of millionaires are on LinkedIn.
This is why LinkedIn is referred to as the "professional social networking site". As a social media platform, it also allows its users to create, post, and share content.
As a result, marketers have an unprecedented opportunity to establish relationships with professionals all over the world in one place. Marketers can now join the conversation with their prospects and customers and become part of their education on LinkedIn.
LinkedIn has over 560 million users from over 200 countries. What's even more impressive is the behavior of these users. A study from the 2nd quarter from 2017 showed that almost half of LinkedIn users actively check the platform several times a week.
What sets it apart from other social media platforms is its user basis which is made up of qualified professionals who are constantly looking for new business opportunities. That means that people are investing their time when they log on to LinkedIn.
Users on LinkedIn are on a constant lookout for valuable content that will give their business a competitive edge and a new source of revenue. This is what should excite every B2B marketer about LinkedIn. People are actively seeking your type of content. Experienced B2B marketers know this all too well, which is why 94% of them use the platform to distribute content. Therefore, it should come as no surprise that in 50% of the time, LinkedIn is the source of traffic to B2B blogs and webpages.
LinkedIn has estimated that businesses typically consume 10 pieces of content before making a purchase. And they're heading over to LinkedIn to conduct their research that will help them along the purchasing journey.
A quick bonus tip: when sharing valuable content on LinkedIn, it's much better to post "How- to articles" rather than simply including a question in the title. It's proven that they get twice as many views than the question articles.
Despite having less active users than other social media websites, it is far more effective at converting visitors. In fact, LinkedIn by far has the best visitor-to-lead conversion rate: it converts at a rate of 2.74%, with Facebook trailing far behind at only 0.77% and Twitter at 0.69%.
We will take a deep dive into LinkedIn by analyzing statistics put together by leading companies that will help you optimize your marketing strategy.
This article is intended to contain all the important information about LinkedIn and is your primary resource for this networking tool for professionals. Bookmark it so that you can get back to it quickly and easily.
Large Number of Active Users
Daily users make up 40% of the entire user base. That means that over 100 million professionals are active on LinkedIn every single day. Remember, these users are not going to LinkedIn to waste time between breaks, but instead are looking for valuable content related to their industry.
Mobile Users are Flocking to LinkedIn
People are increasingly using their phones to get on LinkedIn. The platform enjoys 63 million unique users a month and growing. This means that users can easily use their phone to log onto the platform and get in touch with people. As a marketer, this means that you can easily place your content in front of your prospects.
The Right Demographic is on LinkedIn
Millennials are increasingly becoming the most influential and important generation today. And 87 million of them are on LinkedIn. Out of the 87 million, around 11 million occupy key positions in many large global companies. As a result, you'll have access to them without using other social media apps, like Instagram or Snapchat that are popular among Millennials.
Millennials expect their brands to offer value instead of empty buzzwords and unrealistic promises. Therefore, use your carefully crafted content to engage Millennial prospects on LinkedIn.
LinkedIn is the Place to Go for High-Quality Content
When it comes to finding valuable content, LinkedIn blows the competition out of the water. LinkedIn is the source of quality content for 91% of marketing executives. The movers and shakers are flocking to LinkedIn for first class content. You should already be there ready to provide them with it.
Converting Leads with LinkedIn is Cost-Effective
LinkedIn offers lead gen forms that are a powerful advertising solution. The platform came up with this option as a way of helping marketers to boost traffic coming to their webpage and capturing leads. 90% of B2B marketers report decreasing their costs per lead by using LinkedIn's lead gen forms.
InMail is More Powerful than Email
Marketers understand better than anyone the power of email marketing. Still, most decision makers and executives have an overflowing email inbox with messages they'll never read. This is why LinkedIn's messaging tool InMail is such an amazing asset. Executives who are bombarded daily with emails and messages typically receive only a couple of InMail messages. As a result, LinkedIn allows you to get in touch with your target audience without worrying whether your message will be lost in an endless pile of messages.
Marketers have an option to pay for Sponsored InMails which are exceptionally useful because they let you get in touch directly with your target audience. LinkedIn claims that people can only receive one Sponsored InMail message every 45 days. So more likely than not, your prospects will see your message.
Replicon, which is an SaaS company claims that their response rate increased 11 times when they used InMail compared to when they relied on traditional email alone. LinkedIn has developed a powerful way of starting a conversation with your leads and prospects.
There's Value in Publishing
The number of users posting articles on LinkedIn is increasing steadily. In 2014, a mere 1000 articles were published per month. That number increased to 80,000 the following year and reached 130,000 articles published on a monthly basis in 2016. This shows that users are seeing benefits to posting content on the platform.
You Still Have a Chance to Be Noticed
However, despite the growing trend of users publishing content on LinkedIn, you still have a chance to find your place under the sun. Out of the hundreds of millions of users on LinkedIn, only a mere 3 million share content on a weekly basis. That's only a little over 1% of the 250 million active monthly users on the platform. This statistic should be music to every B2B marketer's ears.
In other words, this is your chance to get your content in front of the decision makers without having to worry about being drowned in the noise. Content marketing is still an untapped resource on LinkedIn.
Few Users are Publishing Content
Around 0.2% of LinkedIn's users have used the app's publisher's platform to post an article. This is hard to believe because the benefits of using LinkedIn's publisher platform are immense: simply reposting an article on LinkedIn will give your content a boost in the future.
A quick bonus tip: LinkedIn's algorithm gives native posts a strong boost, than those containing external links. So, use LinkedIn as your primary publishing platform.
LinkedIn Has 9 Billion Content Impressions Weekly
The LinkedIn feed is viewed 9 billion times a week, which amounts to 468 billion impressions per year. This only shows what an incredible chance LinkedIn gives you to be seen provided that you post on a regular basis.
LinkedIn Prefers Long-Form Content
Since most users on LinkedIn are searching for content that will provide value, they are willing to invest time to read longer posts. According to the website Okdork.com, an article containing just fewer than 2000 words gets the most shares. This means that while you longer content does get better results, you shouldn't go overboard. Aim to publish content between 1700 – 2100 words for optimal results.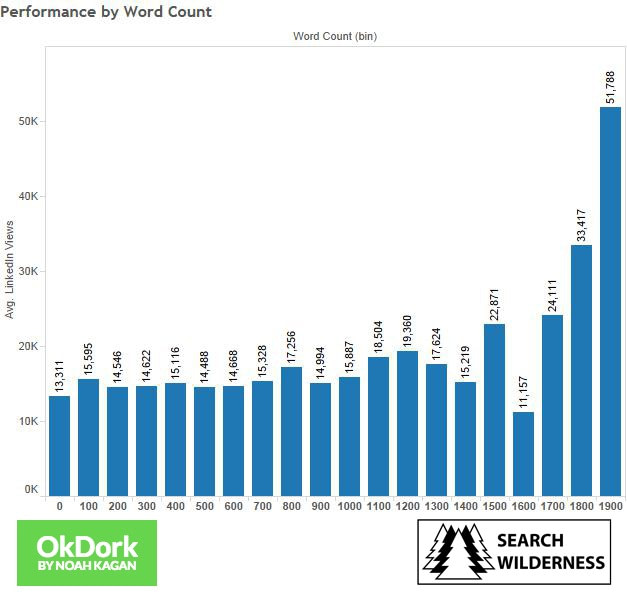 Articles Should Include Several Subheadings
Since most users on LinkedIn are searching for content that will provide value, they are willing to invest time to read longer posts. According to the website Okdork.com, an article containing just fewer than 2000 words gets the most shares. This means that while you longer content does get better results, you shouldn't go overboard. Aim to publish content between 1700 – 2100 words for optimal results. Many marketers make the mistake of not formatting their content properly. A poorly formatted article makes it difficult for people to read, which increases its bounce rate. Even if your content is interesting useful, if it's presented in a single chunk of text, nobody will want to spend time go through it.
Therefore, split your content into several subheadings. Preferably, try to split it into an odd number of subheadings: 5, 7, 9. The rule of thumb is to divide your post into an odd number of subheadings because consumers respond well to odd numbers.
List Your Points
This piece of information is related to the previous section. Since you want your content to be easy to read, you should break it down into lists. Apparently, LinkedIn users like to get their information through lists. According to the Content Marketing Institute, out of 500 most shared posts on LinkedIn, 30 of them contained 5-10 item lists. Obviously, you can't digest every piece of content into a list. But whenever you can, try to show your points in a list containing an odd number of items.
Most Viral Posts Aren't Written by Influencers
Yes, you read that right. Much like Facebook or Instagram, LinkedIn also has its influencers. The great news for those trying to publish popular content on LinkedIn is that you don't to be Gary Vaynerchuck or Richard Branson to have your content noticed.
From 2012, only 6% of posts that went viral were published by influencers. This means that you have an opportunity to create content that will go viral on the platform.
Titles Also Matter
Another insightful statistic from Okdork.com shows that you should aim for a title containing anywhere between 30-50 characters. Ideally, the sweet spot is 40 characters.
Images and Video Strengthen Your Content
Include relevant images in your posts to better illustrate the points your content is making. No one really knows why, but the LinkedIn algorithm prefers posts with images. Also, content with video has five times the engagement than those that only contain text. Therefore, make sure that your posts are multi-media rich.
Google Ranks LinkedIn Extremely Well
LinkedIn dominates Google search rankings with a perfect score on Moz's domain authority. That means that Google puts LinkedIn on the top of its results page. So, as a result, every piece of content that you post on the platform will not only be indexed by Google but it will surpass other content that is ranking for the keywords.
Posts Should be a Certain Length
Look to make your posts around 40 words. So, aim for creating posts that are both clear and concise for the best conversion rates.
Ambitious Plans Revealed
The reason why we at LeadGenerationExperts are excited about LinkedIn is that they are continuing to grow at breakneck speed. Their stated goal is to be the go-to resource for all the professionals the world over. LinkedIn also wants be the platform where every job post for the 70 million companies across the globe. This amounts to 3 billion people.
Tap into the Power of LinkedIn
Now that you have a detailed understanding of just how powerful this platform really is, you should learn how to harness the advantages of LinkedIn properly. This is why we've produced a step-by-step guide to optimize your LinkedIn profile so that you're making the impactful connections that will grow your business.
According to data straight out of LinkedIn's Marketing Solutions Blog, there are 40 million decision-makers on the platform.
Click here to learn how to get their attention and increase your conversion rates quickly.