Businesses around the globe are offering online options as a part of their sales and marketing strategy. Over a half of purchases that take place in a brick-and-mortar store are the result of digital commerce strategies.
It's projected that e-commerce US sales will reach $4.9 trillion in 2023.
Marketers use social media platforms, email, and search engine optimization to attract prospects to companies that sell products/services online.
It boils down to:
Attract visitors to your digital store
Convert visitors into leads
Convert leads into customers
E-commerce marketing strategies follow the well-known practice of moving top-of-funnel traffic down into the conversion stage.
While ecommerce marketers rely on many of the same digital marketing strategies, they don't approach prospects in the same manner a content marketer or an established business would.
So, while your brand might have a user-friendly and responsive website, the job is only half done. If your online business is to be sustainable, it needs a well-thought out marketing strategy that will reach out to potential customers and generate revenue.
Therefore, in this blog post, we'll take a closer look at the most effective marketing strategies for ecommerce companies that you can adopt to grow your online business.
Social Media
One of the first things businesses do is set up a page on popular social media platforms to reach both their prospects and customers. Marketers in the ecommerce space also launch pages for their businesses, but the type of campaign they run might not be the same. Also, marketers need to understand that not every social media platform is suited for every type of business.
Since ecommerce businesses need to visually present their products to visitors, the social media campaigns they run have to be visually attractive to grab attention and drive visitors to the landing page.
Instagram is a great choice for ecommerce businesses because the platform is image based and lets you upload crystal clear pictures. Instagram also allows marketers to include content that lets visitors to make a purchase immediately. You can create this seamless buying experience by adding tags that take users to the checkout page.
Finally, Facebook Business Page is the ideal place for businesses that have an established satisfied customer base to promote the product via positive customer reviews. Consumers are increasingly becoming suspicious of disingenuous marketing tricks from businesses, which is why many respond well to word-of-mouth marketing.
Reviews are an extremely effective word-of-mouth marketing strategy. The importance of reviews can't be stressed enough. Over 80% of consumers trust online reviews as much as friends. On top of that, almost 90% of consumers take reviews into account when deciding whether to make a purchase. Therefore, reviews should make up an important part of your ecommerce marketing strategy.
Search Marketing
While search engine optimization (SEO) is an integral part of virtually every company's marketing strategy, it is especially effective when paired with search engine marketing (SEM). SEM uses both SEO and paid advertising to place your business at the top of results page, right in front of your prospects.
Pay-per-click Google campaigns display a link to your business's page when prospects search for terms closely related to the campaign you're running. This paid form of advertising ensures that your business is displayed to potential customers when they are looking for solutions that you offer. As a result, your product/service is advertised at the right time – when people are actively looking for it.
Content Marketing
Do ecommerce businesses really need to use content marketing to promote themselves? Will blogs or video content help you increase sales? Of course! You need to rank for related keywords and consumers need to trust in your brand.
One of the most difficult challenges facing ecommerce marketers is getting their brands to rank well when competing with companies with huge budgets. Here's how to give your business a boost by optimizing your ecommerce search engine optimization.
Product Pages
Make sure that each product page is optimized for search engine optimization. That means using title tags, headers, meta-descriptions that contain the right keywords. Also, it's important that you use image alt tags and internal links that help visitors to navigate your website more easily.
Get Rid of Duplicates
Another advantage to having customer reviews on your page is that it improves keyword uniqueness and will be crawled by Google more often because of the regular updates.
However, since ecommerce pages frequently include product specifications and descriptions, they tend to be subjected to duplicate penalties from Google and other search engines. This is why reviews are important: they will help you avoid duplicate strikes by providing your page with fresh content.
Research the Competition
Look at the competition's websites, and find out what keywords they're ranking for, and come up with long-tail terms that don't have strong competition. Even though the long-tail keywords don't have a high monthly search volume, they'll help you laser target your core audience. Also, they are relatively easier to rank for than other more competitive keywords.
So for example, if you have an online t-shirt business, then your long-tail keywords could be "funny ironic t-shirts".
Set Up a Blog Section
Blogs are a phenomenal way of increasing your brand's reach. For instance, if you sell cosmetics online, then you could write posts about "what shades go best for different types of skin tone". This type of post can attract a wide spectrum of visitors who are interested in cosmetics.
As people continue to read your content, you can start driving them down the funnel with blog posts like "how to choose the right eyeliner" and convert them into leads with lead magnets.
Guest Posts
If you publish compelling content, then posting it on high-quality websites and publications will help build brand awareness and domain authority because search engines will register you as a valuable source of information.
Again, you'll need to do research and look for websites that rank for your keywords associated with your niche. Don't get discouraged if you discover that a website has already published an article on your topic – you can make a contribution by expanding on it. For example, you include related stats that further strengthen the main points of the article and linking to your website.
Decrease Cart Abandonment
The best way to lower cart abandonment rates is by ensuring that customers have a seamless buying experience on your website. Your business has invested a good amount of resources to build trust with consumers and convert leads. The checkout process should be a continuation of the trust building process.
There are several elements that go into producing a frictionless checkout experience. Here is how successful businesses make buying from them a delightful experience.
Streamline Everything
It's preferable to have only one page dedicated to the checkout process. If that's not possible, then you have to tie all the pages together into one coherent experience. For instance, you could add a progress bar that will show customers how much is left before they can click "pay now".
Or, if you want to create several pages, then create a logical checkout journey:
First page: shipping details
Second page: billing information
Third and Final page: review before the purchase is made
Also, the layout of the checkout page(s) has to be intuitive and the elements like buttons have to be conspicuous. Remember, you're creating a seamless buying experience. If the customer has to spend time and study your page to figure out how to continue with the checkout process, then they'll quickly become annoyed and leave.
One common mistake ecommerce businesses make that infuriates customers is not making the shipping costs visible. Imagine a customer who selects a product and then goes through all the trouble of entering shipping and payment information only to learn in the end that the shipping cost is enormous.
Therefore, try to include shipping costs for products at the beginning of the checkout process or use a flat shipping rate. If that's not feasible, then add a shipping section on your website where you outline in great detail the costs and time of delivery of items. The idea is to be honest with your customers so that they have a clear understanding of when they can expect to receive their products and at what cost.
It's good practice to inform your customers beforehand what forms of payment your business accepts. Typically, ecommerce companies display logos of the credit cards customers can use, which puts them at ease and builds trust. Also, adding security logos during the checkout process will put customer completely at ease since they'll know that their private information is secure. It can also make the process more pleasant for the customers.
I'll finish this section off with a pro-tip. Many ecommerce businesses use messaging apps like Facebook Messenger to send a receipt once a customer makes a purchase. This way customers can keep a record of their purchases. Think of ways to make purchasing and returning products as smooth as possible. A frictionless customer experience will increase the odds that people will be coming back.
Retargeting Strategy
The vast majority of visitors don't convert the first time they land on your website. Therefore, most ecommerce businesses employ retargeting strategies to convert visitors to their website. While there are numerous effective retargeting strategies, the most common one is displaying ads on different websites. This is when a visitor leaves a website without converting and then sees ads for that brand on other pages. Most of us have been retargeted by brands in this way.
Another common retargeting tactic relies on email. This strategy targets customers who have started the checkout process but for some reason decided to leave without completing the order. Retargeting emails are designed to remind you about the item you wished to purchase and to nudge you into completing the order. For example, this is how the American clothing retailer Anthrologie uses retargeting emails: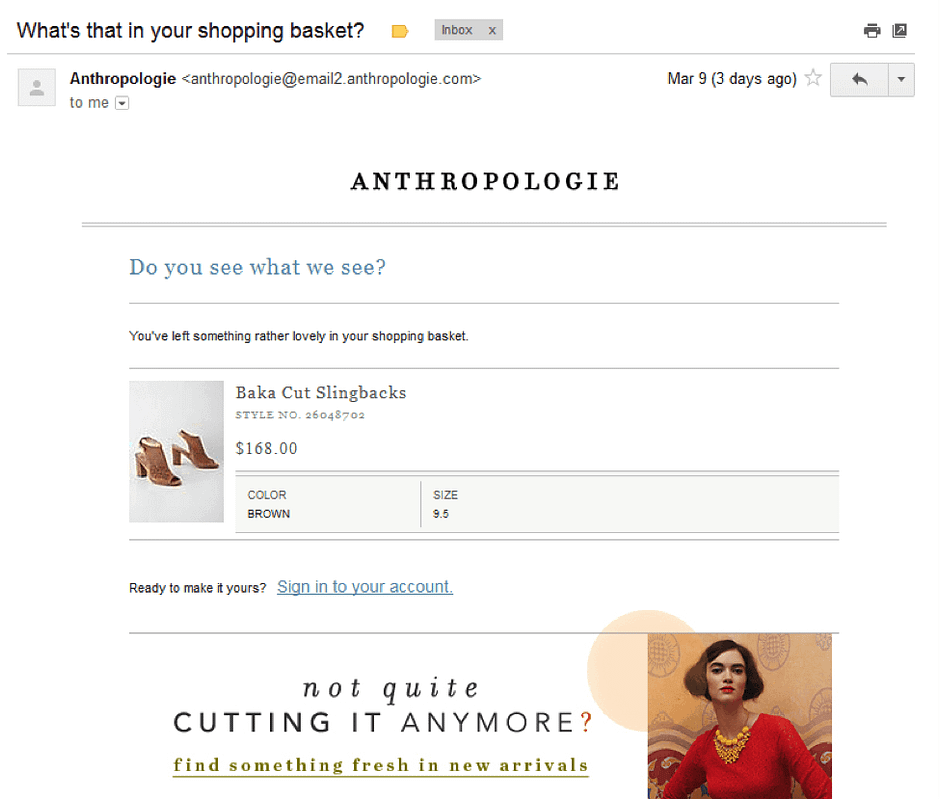 If you'd like to learn more about retargeting and how to use it to increase sales, read my article on retargeting.
Keep Customers Engaged and Interested
As the customer is going through the checkout process, give them a choice to continue shopping. Oftentimes people want to look for other items that might have grabbed their attention as they were browsing through your website.
The customer experience is seriously hampered if they have to make a purchase and then continue looking for other items. Luckily, all you have to do is add a "continue shopping" button on the checkout page.
The relationship between a customer and the ecommerce business doesn't end once the purchase has been made. A user who has bought something from you and has agreed to receive emails shouldn't have to wait long to hear from the business. For example, some ecommerce businesses send an email to the user several days after delivery and ask for feedback in form a rating system. Or you could kindly ask the customer to write a review or learn more about a forthcoming product/service.
The goal is to show customers that you see them as being more than just dollar signs: you want the customers to achieve their goals with the help of your product/service. By engaging with customers in this manner, you'll not only build trust but you'll also get a better understanding of your audience.
Get Creative
We've covered the common tactics that produce results. However, the number of ways of reaching potential customers is virtually limitless. Let's finish this blog by looking at how Coca-Cola creatively creates a buzz around its brand.
Coca-Cola relies on User-Generated Content (UGC) to encourage consumers to promote the brand. When done properly, UGC attracts visitors to your website and creates actual fans of your product/service.
"Share a Coke" was a successful campaign that relied on UGC. It produced customized bottles containing people's names. People loved taking pictures of a bottle with their name on the label, and sharing them on social media.
Ecommerce marketing requires out-of-the box thinking because that is how your brand can get an edge on the competition. Always remember, test out different campaigns, study the feedback and improve your messaging. That's how you get ahead in digital marketing.