Google introduces new features on a regular basis, which makes keeping up with the latest developments a challenge. However, getting traffic from Google entails keeping up-to-date with all of the search engine's features.
The most coveted position on the search engine results page is not the first. The place that every business wants to have is #0 – the featured snippet of text that appears at the very top of the page.
Many SEO strategies aim to have their website into the first position on the first page. That should be the goal, right? If your content is displayed as a featured snippet, then you're ranking above the first place! So, the best position is actual zero.
Google has given the results page a new aspect – the featured snippet, which is the first thing that appears when users type a keyword or phrase. This feature is popular because it provides answers to question in an accessible way. The reader doesn't have to click and go through an entire article to find what they're looking for.
However, featured snippets serve as a powerful marketing tool as well: businesses can drastically improve their conversions and attract more visitors to their website.
In short, featured snippets give brands a competitive edge. The great part is that your brand doesn't have to be a leader in the field to get to position zero. Your brand doesn't necessarily have to pay for advertising to earn the best spot on the results page either!
According to Getstat, 70% of featured snippets are not sourced from websites that have a top-ranking position. In other words, even if your brand isn't ranking at the very top, it can still earn a featured snippet.
Also, if you happen to work in health, finance or do-it-yourself fields, then your content has a strong chance of ranking for featured snippets.
However, there's no secret formula out there that will guarantee your content will be displayed as a featured snippet: Google doesn't have a formal procedure for ranking before the first spot.
But that doesn't mean that you shouldn't take steps to optimize your pages to boost your chances. Snippets were created to help users find the information they need conveniently. So if organize your content in a helpful way, then you have a strong chance of getting a snippet.
In this post, we take a close look at the importance of featured snippets (or Position Zero as they're known affectionately by some).
Continue reading to learn what steps it takes to increase the likelihood your content ranking in Position Zero.
Google's Featured Snippets
Snippets appear typically when a user types in a query in a question format. The featured text comes from one of the pages ranking on the first page that answers the question precisely.
Google recognizes that the user typed in a question and then scours the internet until it finds the answer and displays it at the top of the SERP.
For example, if we type into Google, "how to cook rice", the following featured snippet shows up:
Typically, a featured snippet can be presented in the following formats:
Paragraph: A 40-60 block of text that succinctly answers the query
Table: Contains data, like a conversion table for kilograms to pounds
List: A numbered list like the above example that explains the query
Image: Some featured snippets include an image
A featured snippet can also respond to your query with a concise paragraph. This block of text is the answer to the question "what is pmi and how does it work":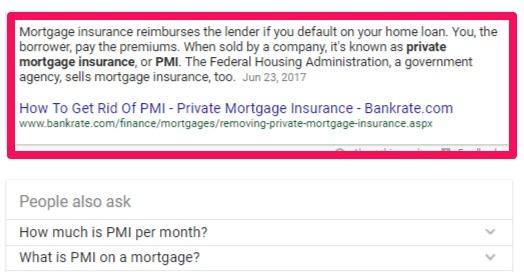 Google's algorithm provides the response to a search query by finding relevant webpages that have the answer. As you'll notice from the example, a featured snippet also includes a URL and title of the webpage with the information.
Pro-tip: you will increase your chances of ranking on #0 if you include the following in your query:
Recipe
Best
Vs
Make
Definition
Can
Here's a top 39 list of the most common words in queries with featured snippets according to Ahrefs:
The Importance of Featured Snippets
If your content is the first thing to pop up on a results page, it will undoubtedly lead to more traffic to your website and potential customers. Initially, brands worried that quick and easy responses to users' questions will diminish the amount of traffic going to websites.
However, the opposite is true: a compelling snippet will dramatically increase your website's click-through rates.
In 2016, HubSpot conducted a comprehensive analysis of high-volume keywords and concluded that featured snippets (or #0 position) increased the click-through rate by 114%! The increase happened in cases when they were ranking in first place organically. Even though this analysis may not be applicable to every business, it goes to show position zero can draw in more organic traffic.
But other reasons are there for marketers to optimize content for featured snippets?
Firstly, your brand takes up more space than the competition if it comes up as a featured snippet. Searchers will have to scroll down to find more content because your snippet has pushed the competitors down the page. Let's take a closer look at how featured snippets push other results further down.
If we carry out a commercial query and search for "hdmi cable", then we get the following: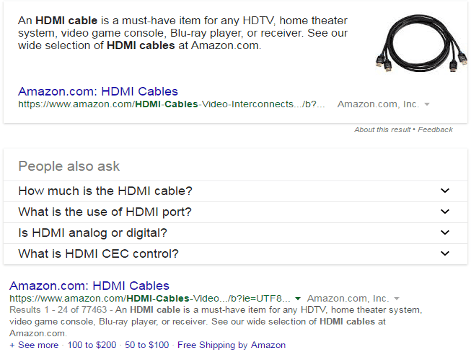 Notice that the feature snippet is shown before the conventional organic results. However, the result is displayed below the "People also ask" section. Therefore, the first organic result in reality occupies the third spot on this result page.
And what's more, the Amazon link is shown twice (it gets the #0 spot and #1 spot). While your featured snippet won't always come from the first organic result, you will be shown twice on the first page of results.
Secondly, featured snippets play a vital role in voice search. This form of querying is becoming more popular and accounts for almost half of all searches on the internet. Therefore, you need to optimize for voice search.
Thirdly and finally, featured snippets are becoming more common: 12% of queries have featured snippets. So, even if your SEO strategy has boosted your rankings to first place, you can't afford to be complacent. If you fail to optimize for featured snippets, the competition certainly will. And they will leapfrog you in the SERP.
Before We Get Started
Digital marketers have a tendency to work themselves into a frenzy whenever Google introduces a new feature or there is some alteration with SEO.
Remember, as long you're creating compelling and high-quality content, then you don't have to be concerned too much.
You may have to tinker with some things, but you won't have to overhaul your entire marketing strategy. If you create valuable content that helps people, then you will rank well on Google. That's the bottom line.
Optimizing for Position Zero
Now that we've covered what position zero is and why it's important for your brand, let's look at what tactics you can employ to reach this coveted spot.
Study the Competition
When starting out, you need to look at the competition's featured snippets. One of the best analytic tools to use is SEMrush. Discover which featured snippets the competition is ranking for by performing a simple domain search:
This tool is also great for learning whether you've earned a featured snippet ranking. Once you find out which snippets other brands are earning, create and optimize content for the same keywords.
Google Possible Snippets
As many search marketers know, you constantly have to think just like your target audience. Ask yourself what problems are they experiencing and how would they go about searching for solutions on Google.
For example, if someone is learning about digital marketing, they might want to know what "CTA" stands for. So, they might type "what is a cta in marketing" into Google:
As you can see, the featured snippet is presented as a paragraph. To learn more about the type of content users want, read the "People also ask" section:
Click on each question to expand and read the responses:
This is a good way of discovering both who your competition is and potential topic ideas for your content. Use their featured snippets as a template for your content – they've shown you how to create and structure content to earn position zero.
Quality Content for the Win
You won't be able reach position zero without producing valuable content. Optimizing content for search engines can be demanding, since there are so many factors to consider. Here are a few crucial tips that increase the likelihood of earning a featured snippet:
Long form: Try to create content that doesn't have less than 2,000 words.
Timeless: Pick a topic that will remain relevant in the foreseeable future. Don't invest your resources into producing content won't help anyone two weeks from now. Timeless or evergreen topics might need a little sprucing up now and then, but nothing major.
Go into detail: Assume that your reader knows very little about the topic. This way you'll be sure to explain carefully all the different aspects of your topic.
Demonstrate deep understanding: As you probably know, stuffing your content with keywords isn't going to get you far in SEO because Google's algorithm knows how words relate to each other. Therefore, use synonyms that provide context and show extensive knowledge of the subject matter.
Cast your bait: This is crucial. You need to come up with content that could potentially be used as a featured snippet. That means publishing content that answers a question head on and is presented in one of the common formats: paragraph, table or list.
While most of these tips may seem obvious, it always pays to double check that your content meets the above criteria.
Structure & Word Count
When creating content, try to make every section a potential featured snippet. So, make your sections succinct and clear so that Google can easily pluck them and place them on position zero.
Keep paragraphs, lists, and tables separate instead of grouping them all together in one section.
Pay attention to the following when structuring your content:
The HTML code should be simple enough to include optimized content for earning featured snippets.
Use simple sentences to construct your paragraphs, which should be between 40 and 50 words. Make sure that the paragraphs aren't shorter than 40 words.
Break up sections with headers. Make sure that they contain proper formatting.
When creating lists, use the <li> anchor tag for each item instead of headers.
Try to include a hook or a link within the content which you're optimizing for a featured snippet, so that people can head to your website and read other content.
Create Content with Many Answers
When a page reaches position zero, it becomes more probable that it will show up as a featured snippet in other similar queries.
This is why creating detailed and extensive content is important – it increases the likelihood that it will appear as a featured snippet again. Therefore, it's better if you write a blog that answers several questions instead of writing individual blogs that focus only on one topic.
Add a How-to Section
This should be obvious given everything you know about featured snippets. Many brands are redesigning their websites to include "how-to" sections which directly answer common questions in order to increase the odds of earning featured snippets.
You can also simply add an FAQ section where you answer frequent questions about your product/service and niche.
Conclusion
Remember that featured snippets are meant to answer directly a question a user has. Featured snippets provide answers to the following:
Keep these questions in mind when creating content. If it can provide a concise answer these questions, then you have a strong chance to earn a featured snippet.
One final note before we wrap up. As you're putting together a list or writing a paragraph, be sure to add clear and visually appealing images.
Adding a high-quality image to each stage will help you in explaining your points. It doesn't have to be difficult. Simply head over to Canva and upload or use one of their images to add shapes, text, icons and many more interactive elements. Images will make your content much more helpful to users, and that's something that Google loves.