The best way of finding out if advertising on LinkedIn is for is to give it a try. It's pretty simple to create an ad. See if you'll be able to reach your target audience with it, and gauge the response.
However, if your company is selling low-cost products or services, like $10 eBooks, then LinkedIn ads are not the best way to increase brand awareness. They make more sense for larger businesses.
While cost-per-click on LinkedIn is more expensive than Google ads, you have to factor in the type of people who are seeing your ads. The users on LinkedIn are willing to do business and have a sizable budget to boot. On the other hand, even though ads on Google are cheaper, the majority of people you're reaching are not ready or able to buy from you. Even Facebook ads are cheaper than LinkedIn, but they will also convert at much lower rates.
Think about it this way. LinkedIn ads attract the type of people who eat at fine dining establishments. They know what they prefer and have the money to pay for it. Those who click on Facebook or Google ads are a lot like those who eat regularly at McDonald's. While they may know what they want, they don't have the money to afford it.
So, it boils down to a simple question. Which of these two types of clients do you want to attract?
Advertising on LinkedIn has matured since the platform launched in 2012 and is continually improving. When Google released Adwords at the beginning of the 21st century, it wasn't exactly perfect. While LinkedIn comes with great advertising services, it still hasn't reached the level of sophistication of Adwords. The social media platform soon plans on introducing powerful features like conversion tracking and retargeting.
In this blog post, we'll show you what works and what doesn't on LinkedIn, so that you'll get the best possible results from your advertising.
LinkedIn's Sponsored Updates
This service was introduced in 2013 and has proven to be effective. Sponsored Updates make it possible for brands to advertise any post from a LinkedIn company page to a particular group of individuals in their news feed. This option is only possible if you already have the company's profile on the platform. They work the same way as Sponsored Posts on Facebook – they are designed to seem like organic content and people click on them without realizing that fact. They integrate seamlessly into peoples' newsfeed.
This is an effective example Sponsored Update from Google with 419 likes and 16 comments. As an astute marketer, you should pay attention to successful ads, and implement important elements into your own.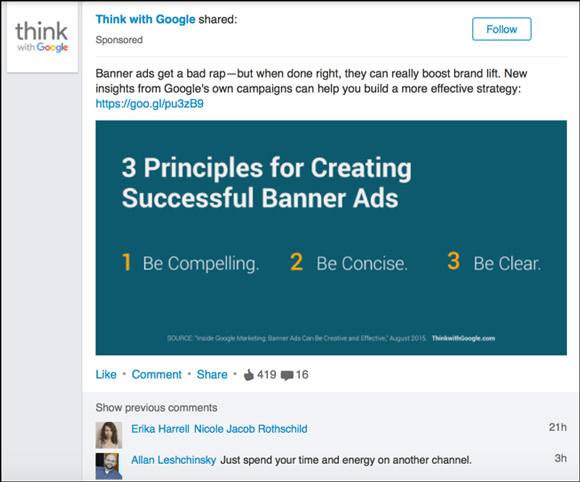 Sponsored Updates are tailored to spread news about your company's updates, which should in turn bring in more followers. This feature will display your message to your target audience across all the devices – desktop, tablet and smartphone. As a result, you'll be able to build relationships with potential clients by sharing your company's content.
Let's take a look at the different things you should bear in mind when launching Sponsored Updates.
Optimize Content
You need to know who you're addressing with your message. That means knowing why your target audience should care about your post. In this example, the ad is talking to digital marketers who are constantly looking to get an edge over the competition by discovering new tips.
Next, you can't be wordy. Your intro and headlines must be concise while drawing your prospects' attention at the same time. Again, Google's ad does just that in the first line by mentioning how despite having a bad reputation, banner ads can still be a powerful marketing tool. The target audience – the online marketer – is immediately drawn because it discusses an important facet of digital marketing. By asking compelling questions, the ad draws the target audience to continue reading.
One of the most important aspects of digital marketing is solving relevant problems of your prospects in order to engage and place them into your sales funnel. You can do all of this in your ad campaign.
Let's take a look at how BrightRoll does this with their simple, yet effective ad. It helps people interested in getting started with video advertising by providing great content from a successful company.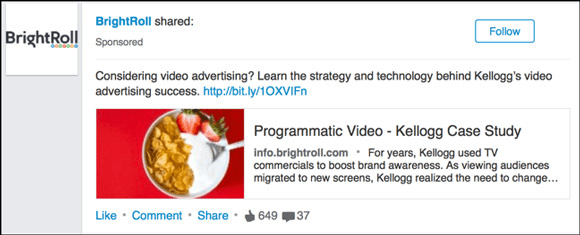 Finally, you need to include a clear call-to-action. Otherwise, what's the point of producing all this optimized content? In BrightRoll's ad, they include a link to learn more about Kellogg's strategy.
Don't forget that your landing pages for LinkedIn should be optimized for mobile versions because most of the traffic is from smartphone devices. When you click on the provided link, you're taken to a landing page that is responsive, clear and easy to fill out with only one click. LinkedIn's Sponsored Updates include the one-click feature that makes providing contact information a breeze.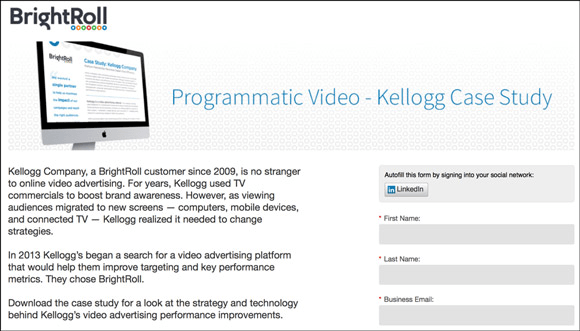 Manage your Sponsored Updates
The first thing you should do is set up a schedule of planned posts that will ensure that you're sharing relevant posts in a timely manner. Don't forget about the holidays – prepare for holidays and other special occasions so that you'll increase your engagement with valuable content.
Just like with any other social media platform, respond to comments or questions quickly and in a friendly and constructive manner. This is especially important if unhappy clients vent their frustration in the comment section of your update. Responding swiftly, professionally and in a cordial way will help with damage control.
You also want to keep your content in the forefront of people's minds. Since businesses across the globe are on LinkedIn, ensure that your ads are shown 24/7 365 days a year.
Finally, much like with everything else marketing related, split test the ads. Run a few ads with different headlines and text. Look at your best performing ads, and take note of the issues they're addressing. You'll be able to refine your message, and also create content that relates to your prospects' main pain points.
Improve your Visuals
Your copy is not the only part of your update that should be interesting and eye-catching – don't forget to include an engaging picture, video or presentation. Make sure that your ad isn't only text – a visual element complements perfectly a well-written piece of copy. The image or video that you include should be closely related to the content, obviously. Note that sponsored ads are not customizable. This means that images you use must be a standard thumbnail size.
The worst thing you can do for your ad campaign is to engage in bait and switch. If an image gets people to click on the ad, then make sure that the landing page is relevant. Otherwise, you're deceiving your prospects and your business will suffer. In fact, it's best to use related visuals. You can also use the same image in both the ad and landing page the way LinkedIn does in this example: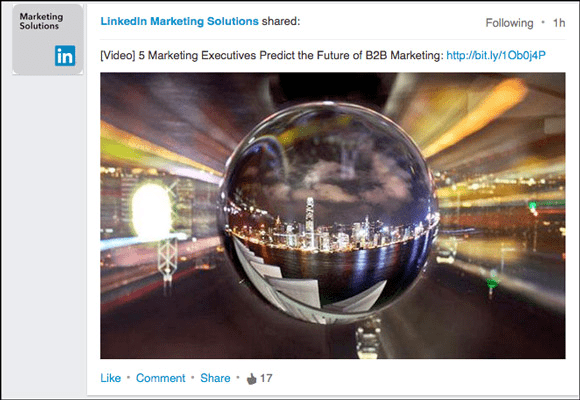 The person who clicks is then taken to this landing page: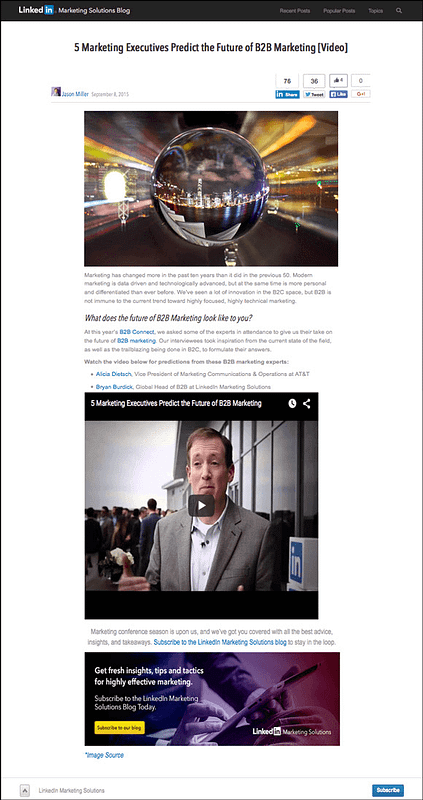 The discussion deepens on the landing page, which will ensure that people continue reading and converting.
For maximum effect, try to make your company's Sponsored Updates look like exciting content with an appealing image, which sends them to a landing page containing even more useful content. This is how your conversion rates will significantly increase.
How to Get Started with Sponsored Updates
The first thing you should do is set up a company page on LinkedIn. Once you've done that, head over to the LinkedIn home page and click on "Advertising" which appears below the "Business Services" button. From there, follow LinkedIn's instruction to get your first campaign up and running.
You have two ways to set up Sponsored Updates:
Simply write a new post on your company's page and then sponsor it
Generate a Direct Sponsored post, similar to a Facebook Dark Post. This content will not appear on your company's page in the form of a post.
Since updates are treated like native ads, they should include valuable content that will entice people to click on them – the post has to be so good to make the ad indistinguishable from real content.
Go to your advertising campaign and create a campaign group: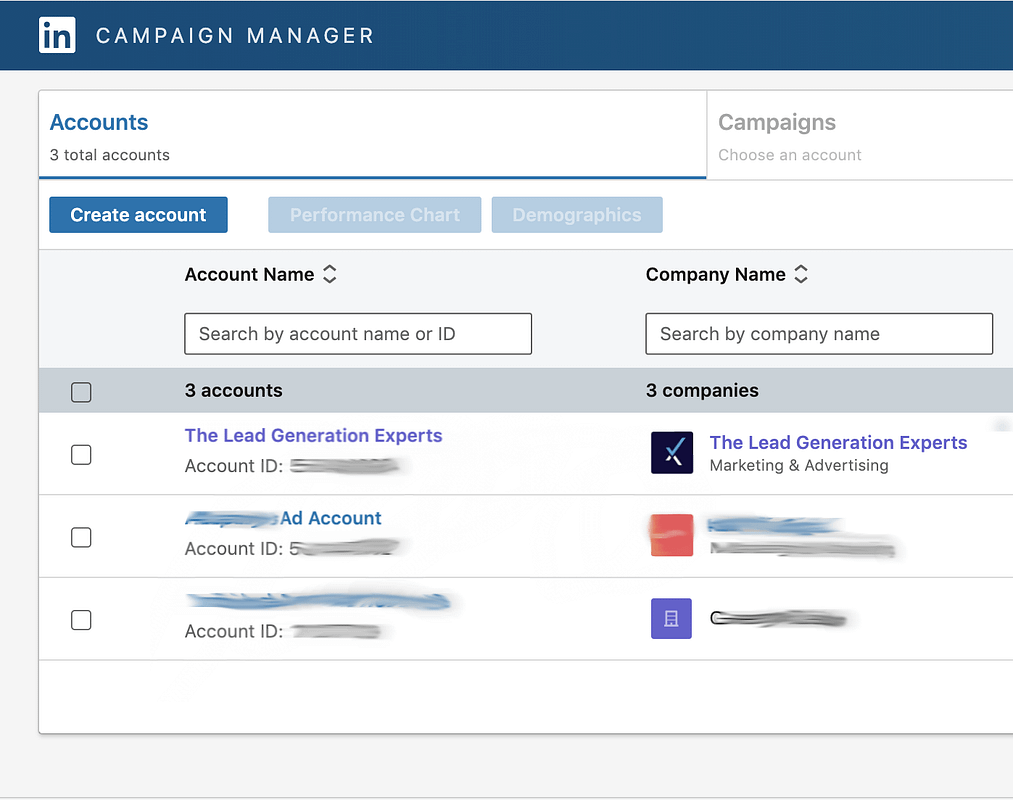 Then create a campaign: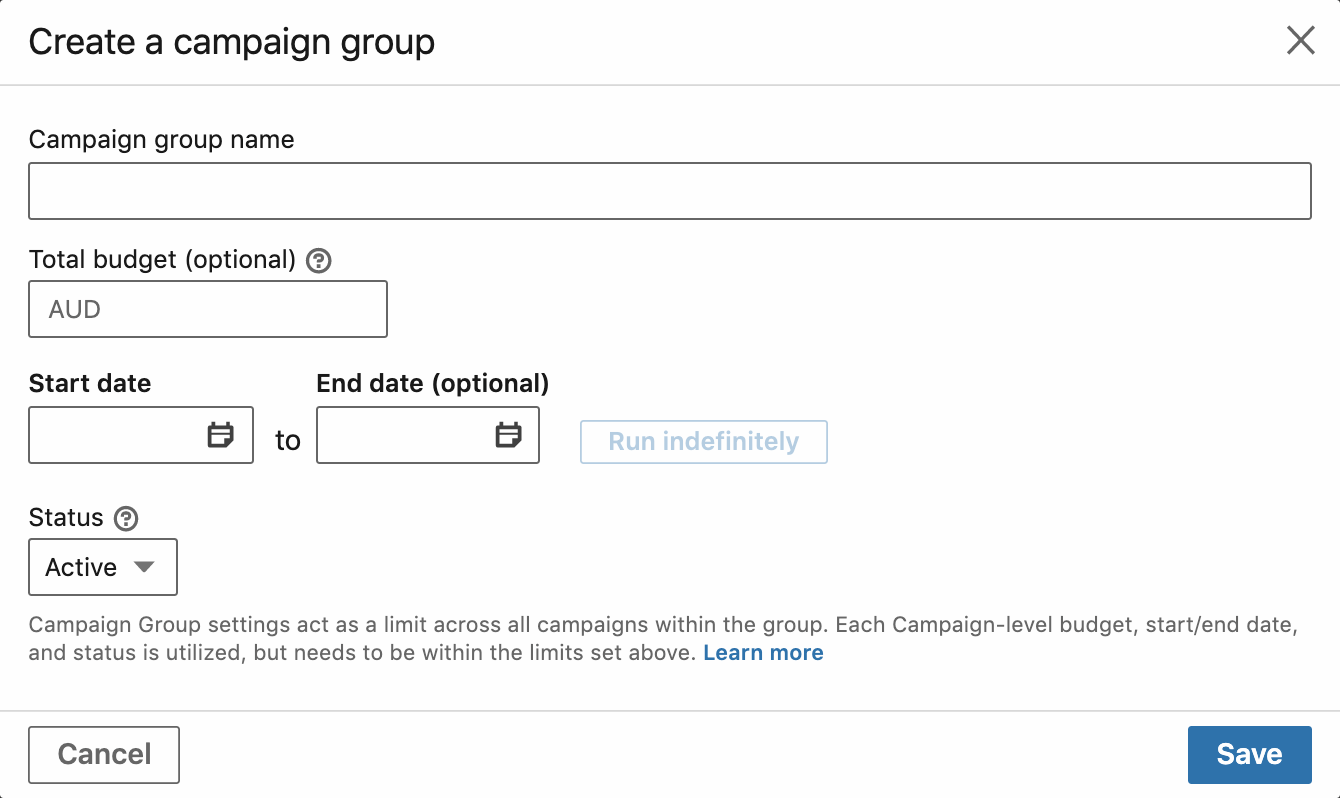 Select your campaign objectives, audience etc, then select your ad format. For your ad format to look like a native post of LinkedIn, use either Single image ad or Video ad: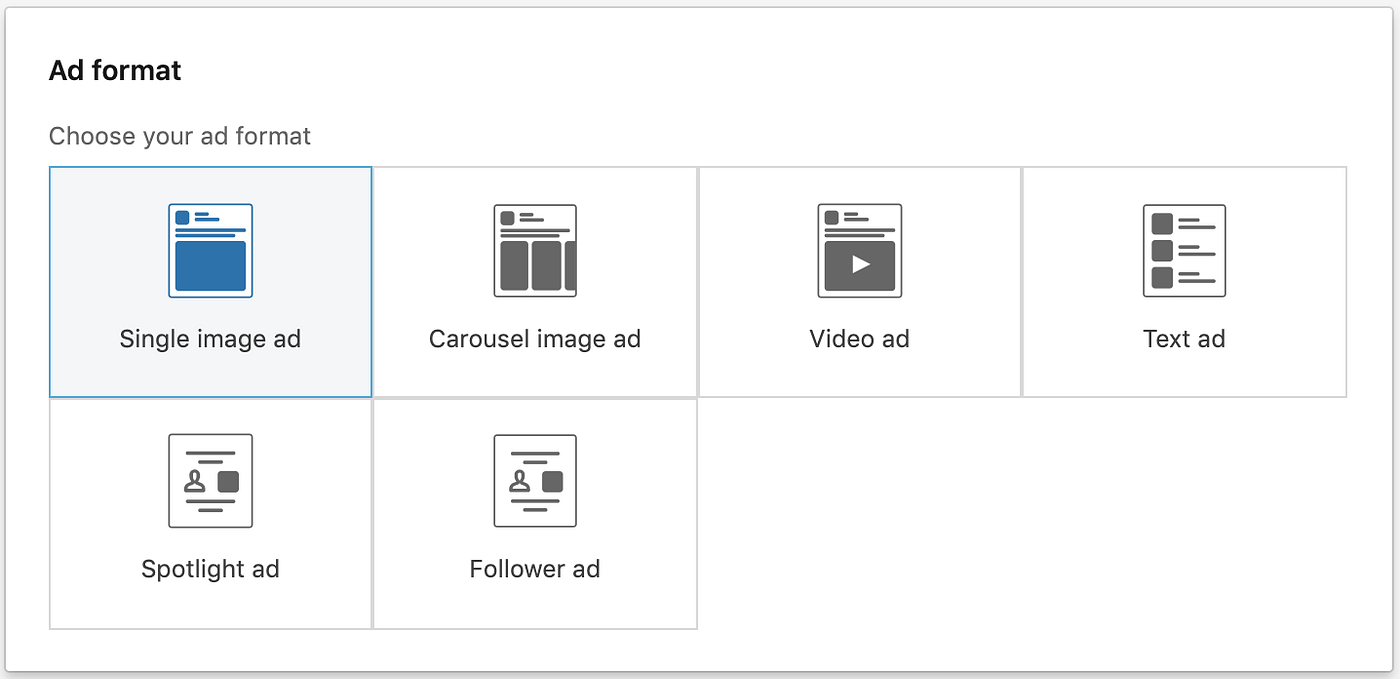 Under Step 2, Setup Ads, either you browse existing content to boost or create a new ad. The limit is 600 characters: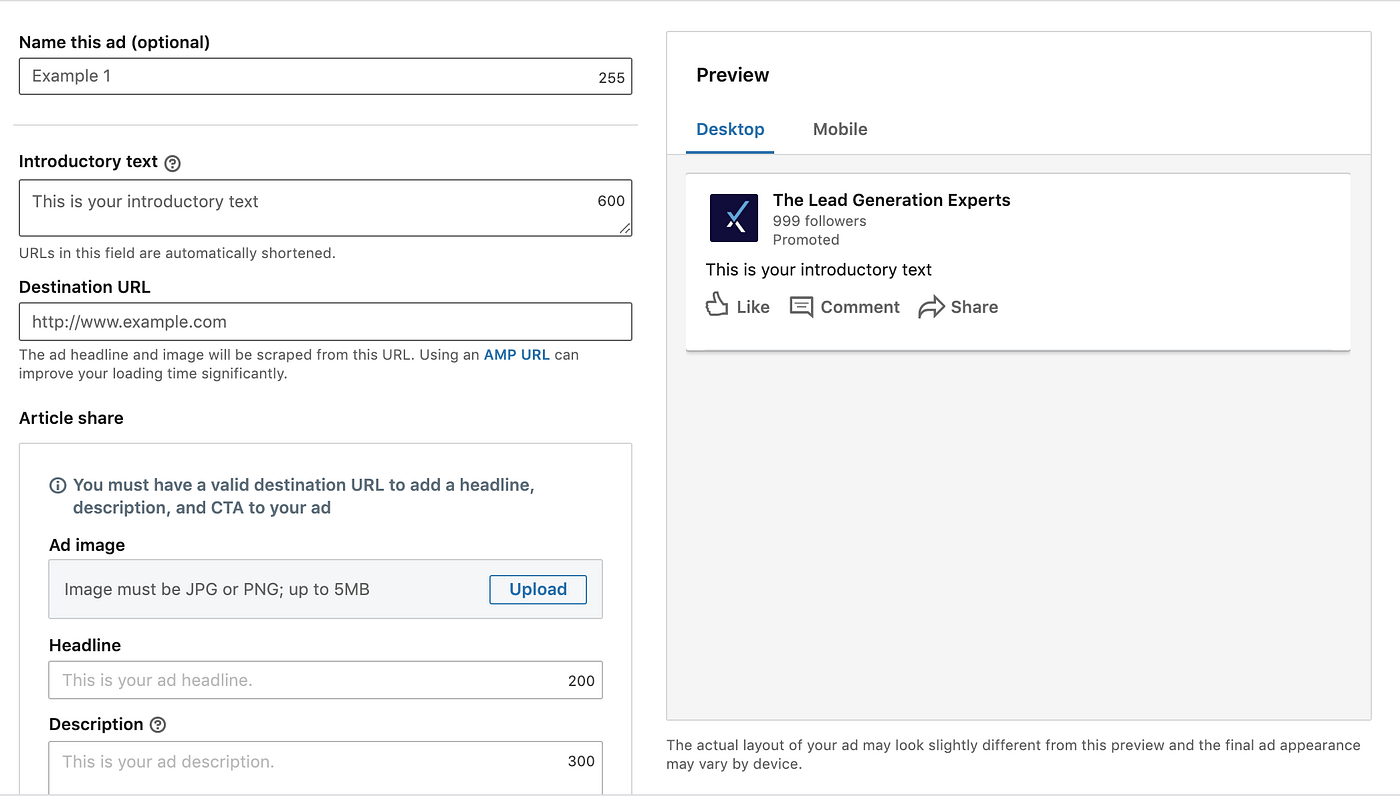 As soon as you've written your post, you can start targeting your audience with the listed criteria. Rule of thumb is to cast a wide net in the beginning, and then focus your search as the algorithm starts working.
Let's take a look at an example: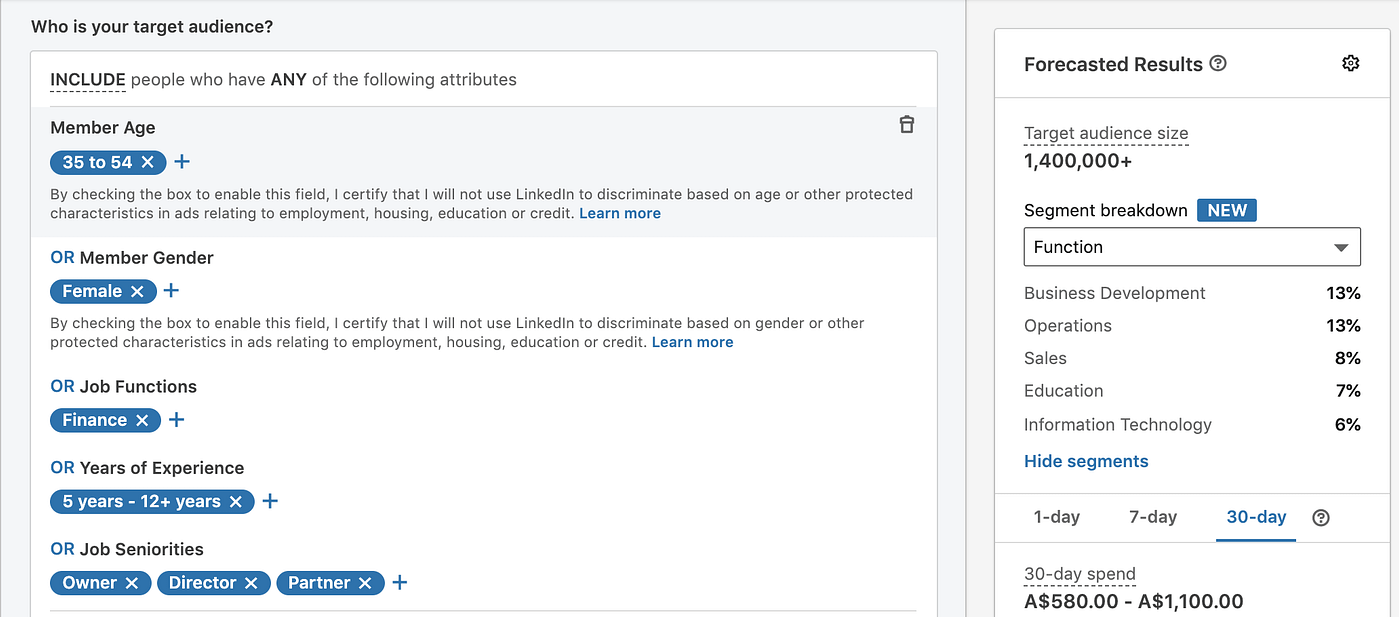 We've decided to target women over 35 – 54 who live in Australia and are in the finance industry. Since we are targeting business owners in particular we have selected job seniority to include owner, director and partner.
LinkedIn has the "Audience Expansion" option that instructs the algorithm to search for people who are similar to the criteria we chose. Also, much like in the Google Display Network, you can increase your reach beyond LinkedIn via the audience partner network.
We now come to choosing the budget. If you're only starting out and want to get clicks, then choose Cost Per Click (CPC) option. You'll only pay when someone clicks on your post. However, if you're interested in more actively promoting your brand, then select the Cost Per Impressions (CPM) option. You aren't charged when someone clicks on the ad, but rather you'll pay when the ad is seen. In other words, you pay for every 1000 impressions, which is an effective way of spreading your message.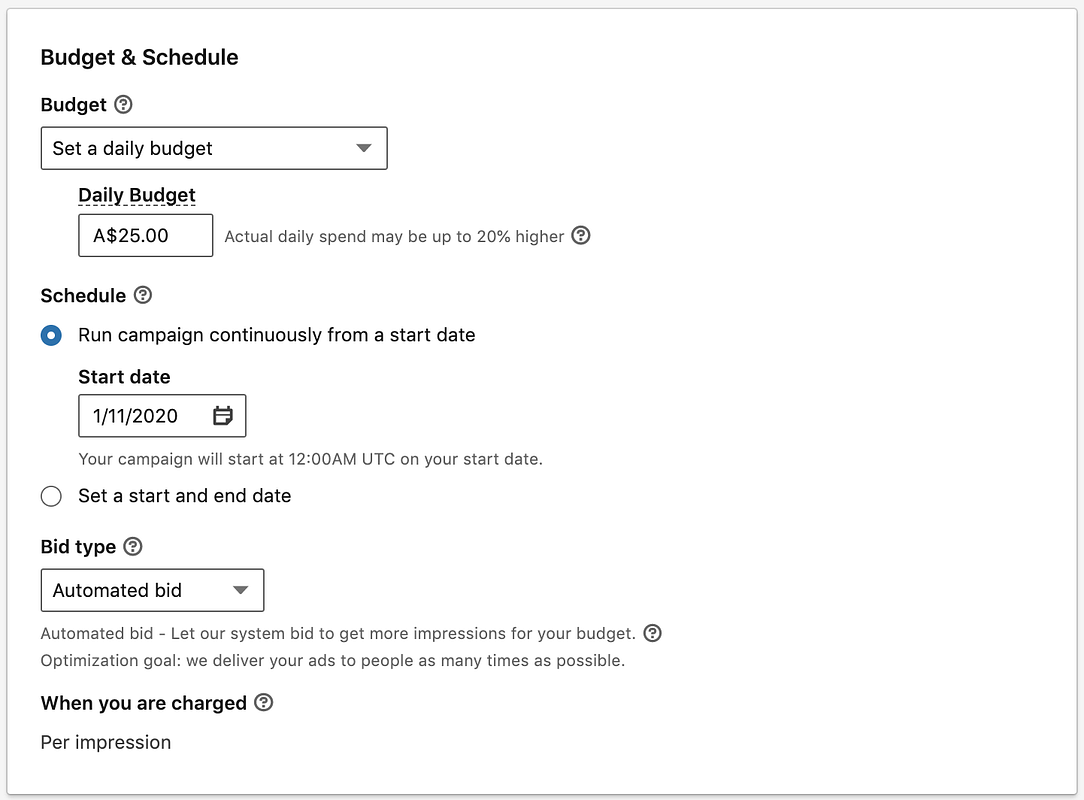 Note that LinkedIn ad campaigns are all manually reviewed by an ad manager. As a result, you may have to wait up to 72 hours before your campaign is approved. So, if you're planning on advertising on a particular date, then you can choose the scheduled start date option to be sure that everything runs smoothly.
Premium Display Advertising
As the name suggests, these types of ads are tailored for businesses with large budgets. The minimum cost of a Premium LinkedIn ad is $25,000 per campaign, which is entirely managed by LinkedIn. They are displayed in banner sizes of 160×600, 300×250, 728×90 and are displayed in the right sidebar.
Self-Service PPC Ads
LinkedIn Ads lets you make and display your ads on salient parts of pages of the website. This robust service lets you choose which LinkedIn users will view your ads – the platform comes with a list of criteria according to which you can select your target audience. Here are some of the criteria you can use:
Job title
Job function
Industry
Location
Age
Company size
However, you have to be extra diligent when using these ads. While the possibilities seem endless, self-service ads have produced modest results for many digital marketers. We still don't know exactly why, but many people don't click on LinkedIn ads that are shown in the same place as Google ads.
But that doesn't mean that you shouldn't use them. It just means that you have to follow some important steps. For example, free software trials work very well with self-service ads. People in certain industries respond well to invitations to workshops. This doesn't include webinars, however.
Also, when targeting senior executives or decision makers in general, you should use whitepapers that discuss ways to improve ROI, productivity, or save money by implementing streamlined processes. Because of this, executives prefer to look at product demos, analyst reports and case studies to name a few.
LinkedIn is actively working on optimizing this service, so we suggest you test your ads with a small budget and see how they perform.
A self-service ad is made up of the following:
Headline: limited to 25 characters
Text description: no more than 75 characters
Your/Company's name
Picture: 50×50 pixel
The URL to your landing page
Self-service ads appear both on the top of the page as text, and then on the right sidebar with an included image: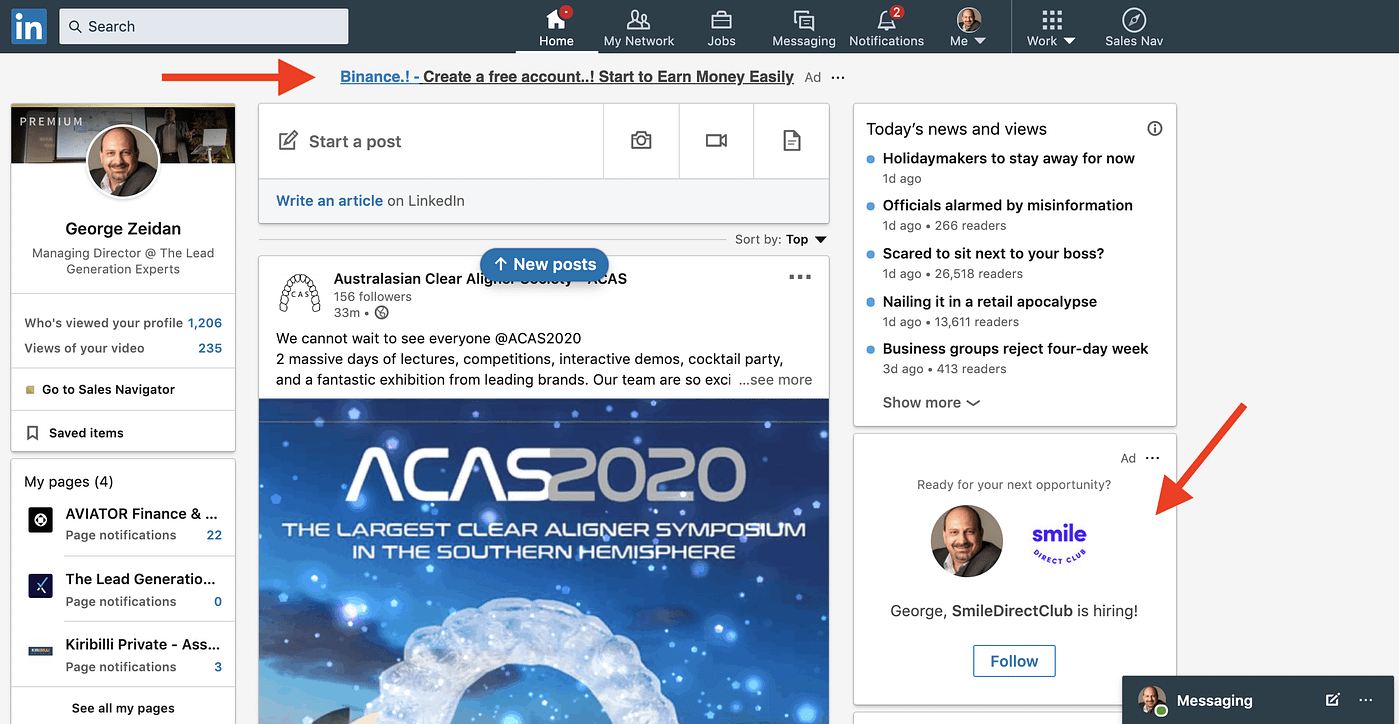 LinkedIn ads are still in their nascent stage, but are developing quickly. What makes LinkedIn such a special social media platform on which to advertise is its B2B targeting options. You have to put together a reasonably sized budget to make advertising on LinkedIn work. And while you'll definitely spend more money on this social media platform than any other, the results will more than makeup for it. It's well worth investing $2000 per month if you generate $20000 during that same period.