What is the aim of your website? It could be more exposure for your brand or perhaps it's just more sales of your product or service. No matter what your end goal, successful campaigns must begin with effective keyword research.
So, it worth asking yourself. What are the best tools that will give you the most powerful keywords?
Here at Zeidan, we've put our on our research hat and come up with 17 of the leading keyword research tools that will maximize your next campaign.
Why do we believe these keyword research tools are the best?
All good research tools should provide you with the right info to make proper decisions. This must include things like search volume, click rate, and keyword difficulty. Not only this, you need a tool that will suggest keywords to assist you to locate effective variants and related keywords.
It's incorrect to believe that there is one keyword research tool that is better than all others. That's because every business is different. The best keyword research tool is the one that is most equipped to suit your business (including your budget) and your specific SEO requirements.
We've looked at a comprehensive list of keyword research tools and collated them according to factors like price and features.
Here is the Complete List of Keyword Research Tools:
Ahrefs Keyword Explorer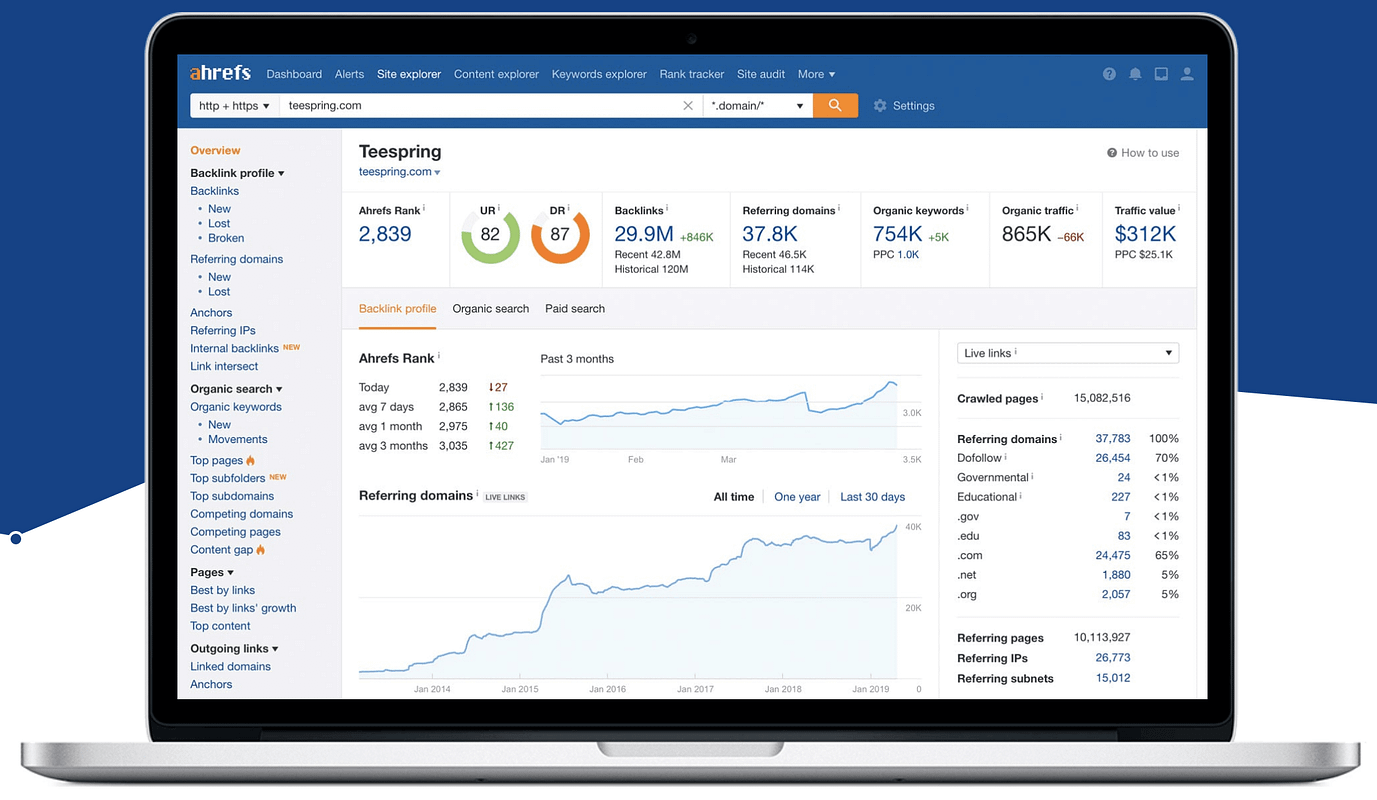 Ahref's Keyword Explorer is one of the leading keyword research tools available. Their system contains a whopping 33 billion keywords that are constantly updated every month. You receive up to date search volume numbers as well as a host of other features. These include keyword difficulty, clicks per search, return rate percentage of clicks.
With Ahref's Keyword Explorer, you can come up with keyword ideas through the following ways:
Phrase Match
Having the Same Terms
Also Rank For
Search Suggestions
Rank Tracker From SEO PowerSuite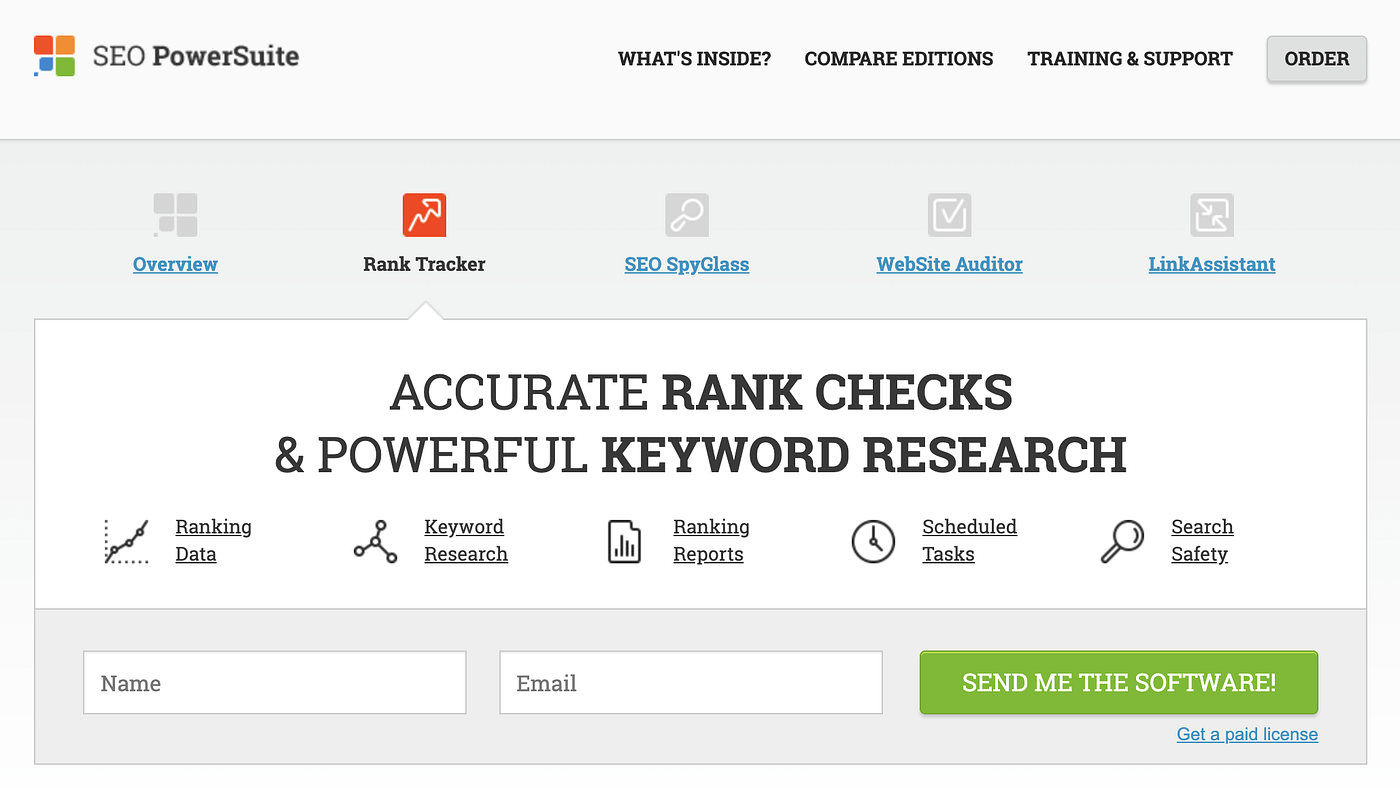 As a part of PowerSuite's collection of tools, Rank Tracker gives you up-to-the-minute ranking data on your SEO campaigns. It also provides you with a staggering 18 keyword suggestion tools that ensure you'll find the most effective keyword variants.
With Rank Tracker, you get:
KEI – Keyword Efficiency Index
Competition
Search Volume
Rank Tracker gives you access to ranking reports, scheduled tasks, search safety features, user agents and human emulation.


Moz Keyword Explorer
The free version of Moz's Keyword Explorer gives you up to 10 queries per month. By upgrading to their paid version, you get unlimited queries.
Moz's Keyword Explorer is simple to use and gives you features that include:
Keyword Difficulty
Search Volume
Priority
Organic Click-Through Rate
SEMrush
SEMrush provides you with a comprehensive tool to help you research your keywords. You get information on organic vs. paid search, search trends, and CPC distribution.
SEMrush's Keyword Magic Tool was awarded the Best Digital Tool at PubCon's 2019 Interactive Marketing Awards. One of the reasons for the product's high standing is that it gives people all the keywords they need to create a profitable campaign.
LongTailPro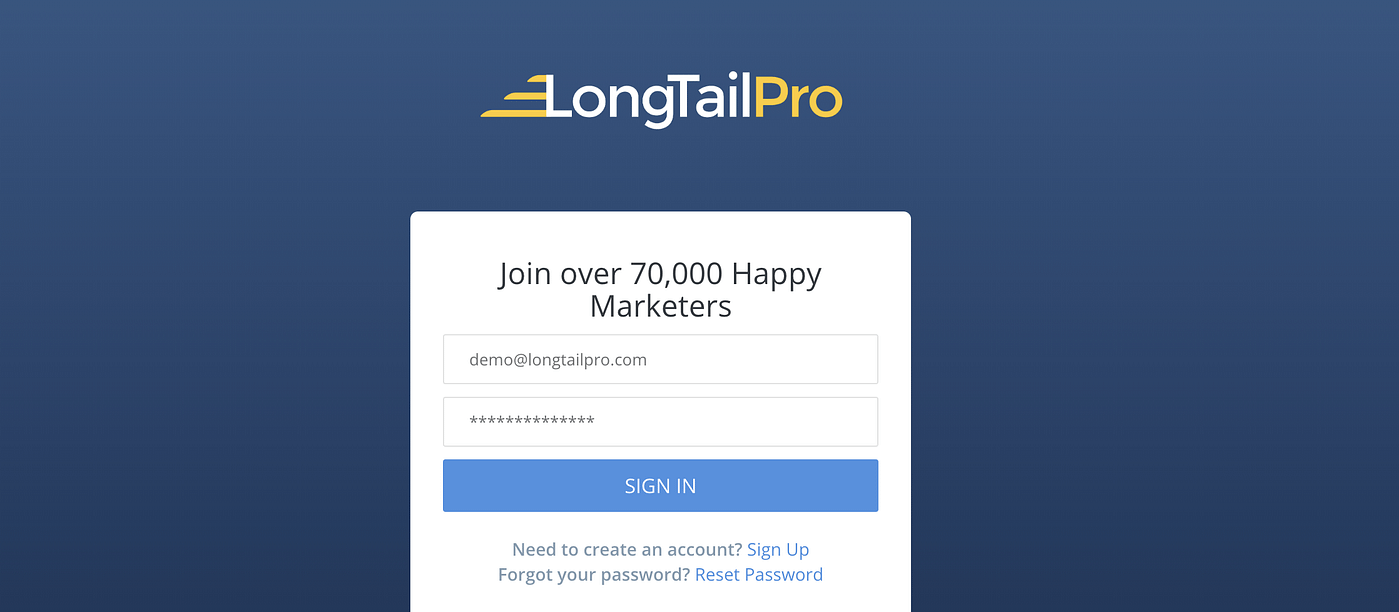 LongTailPro gives customers the opportunity to receive hundreds of long-tail keyword suggestions. It specializes in identifying less competitive keywords that you have a realistic chance of ranking for.
LongTailPro has features that allow you to identify the keyword difficulty, keyword and competitor analysis, and monitor your rankings.
KWFinder by Mangools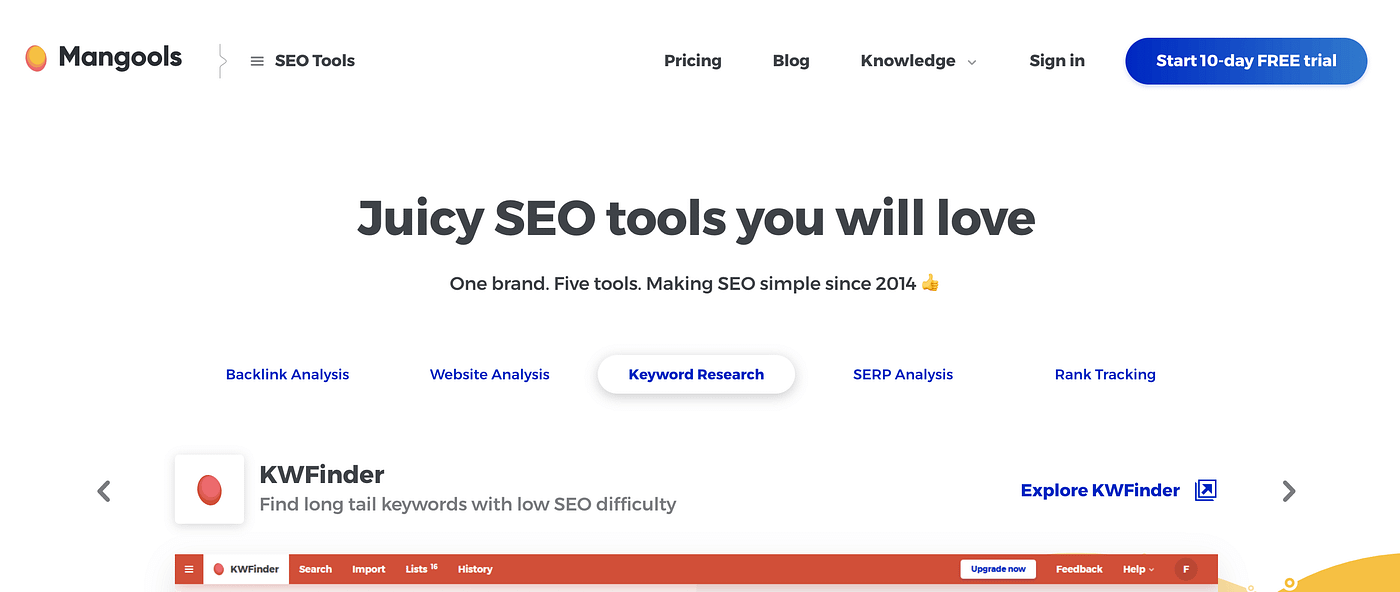 This is a great value product that gives customers many of the same features that you get with more expensive keyword research tools.
Features include:
Search volume for variant keywords
Keyword Difficulty
Local keywords
Keywords that your competitors are missing
SpyFu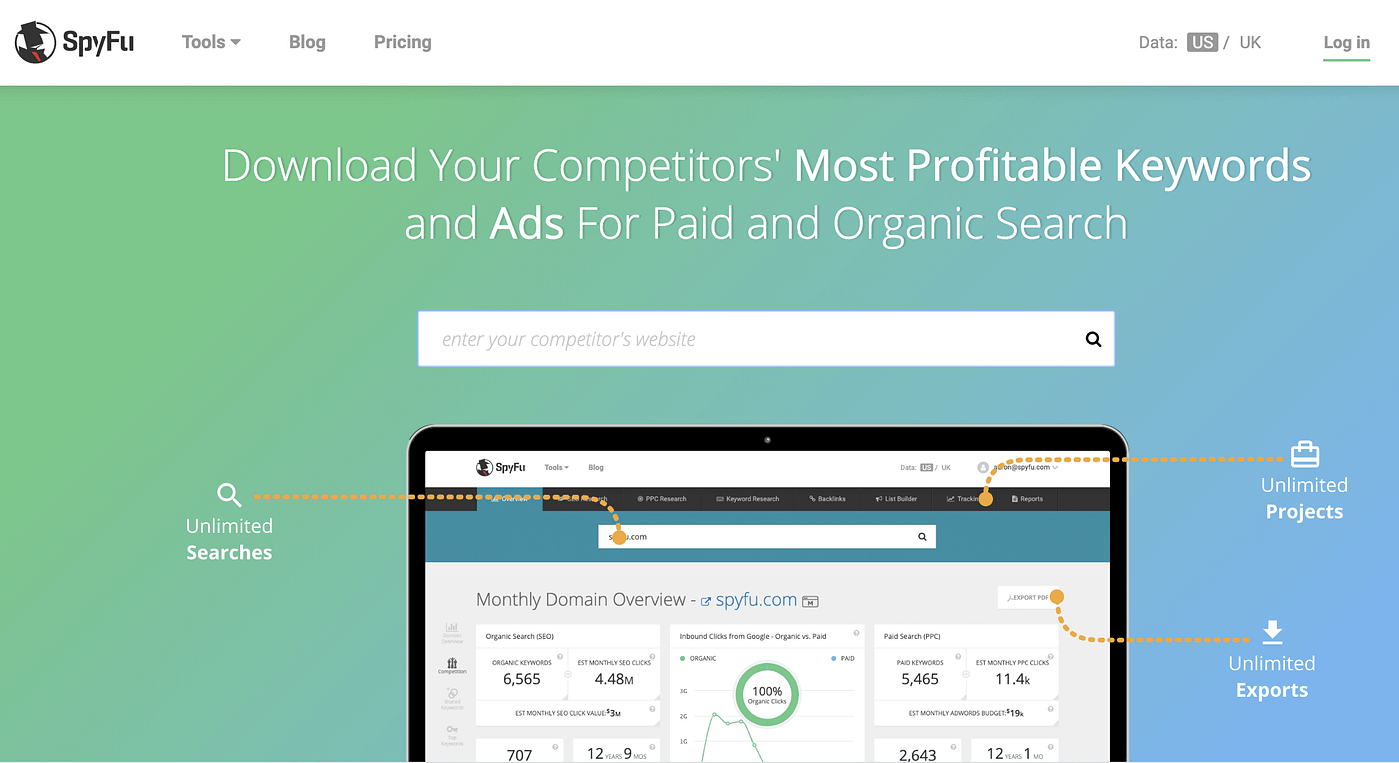 Spyfu is, without doubt, one of the best tools available for competitor research. Spyfu gives customers every resource that is needed to effectively spy on your competitor's SEO and Adwords campaigns. Spyfu gives you access to:
Your competitor's Adwords campaign and ad test history
Adwords competitor keyword
Spyfu's Adwords Advisor
It's important to realize that in online business, it's acceptable to 'spy' on your competitors. After all, this is an approach that is widely utilized to formulate your SEO strategy.
By having an understanding of what your customers are doing, you will be better placed to optimize your own campaigns. This should then correlate to increased traffic and inbound leads.
Jaaxy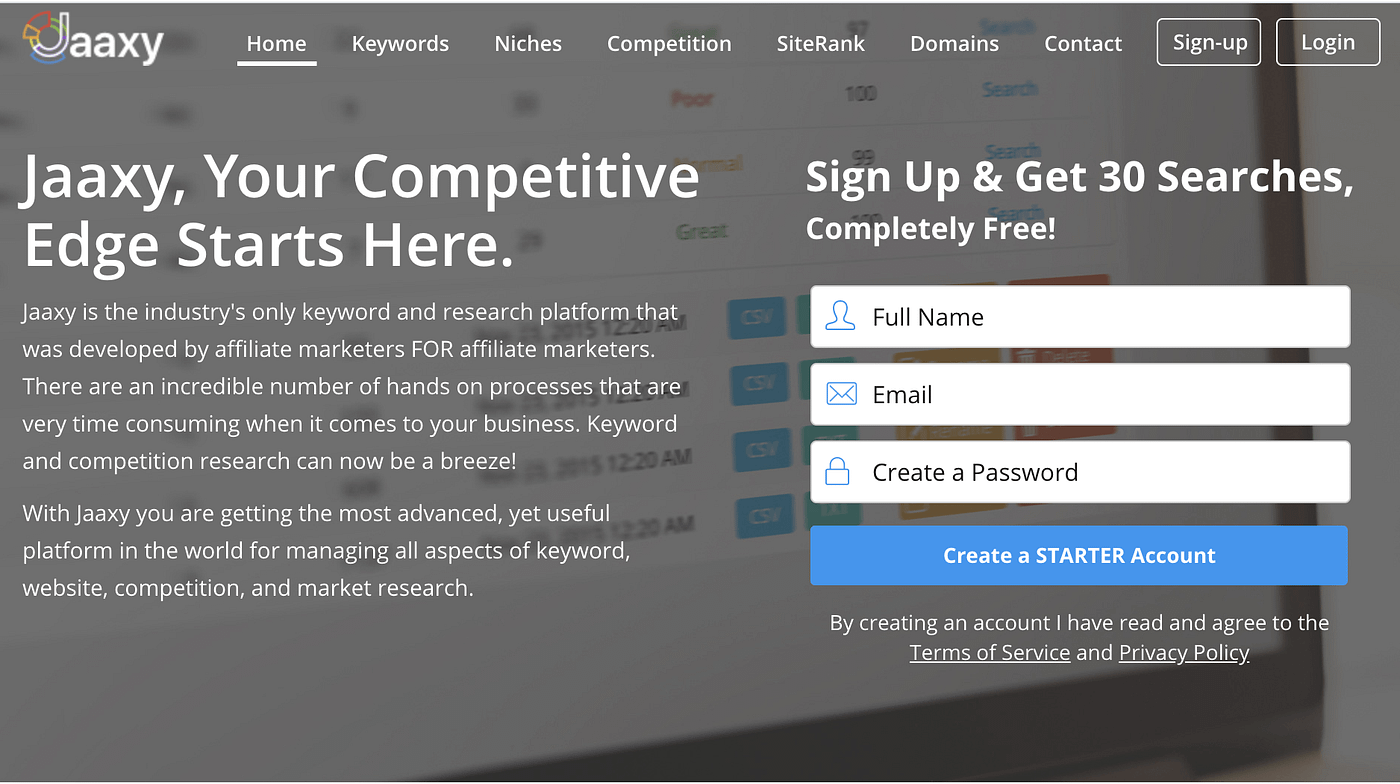 Jaaxy stands apart from its competitors since it was specifically developed by affiliate marketers with other affiliate marketers in mind. Jaaxy enables users to oversee all aspects of research – including keyword, competition, website and market research.
One of the great things about Jaaxy is that it automatically collects information from Google, Yahoo, and Bing. This gives users a massive 99.7% search engine coverage.
Anyone running an online campaign can benefit immeasurably from the keyword research capabilities of Jaaxy.
Market Samurai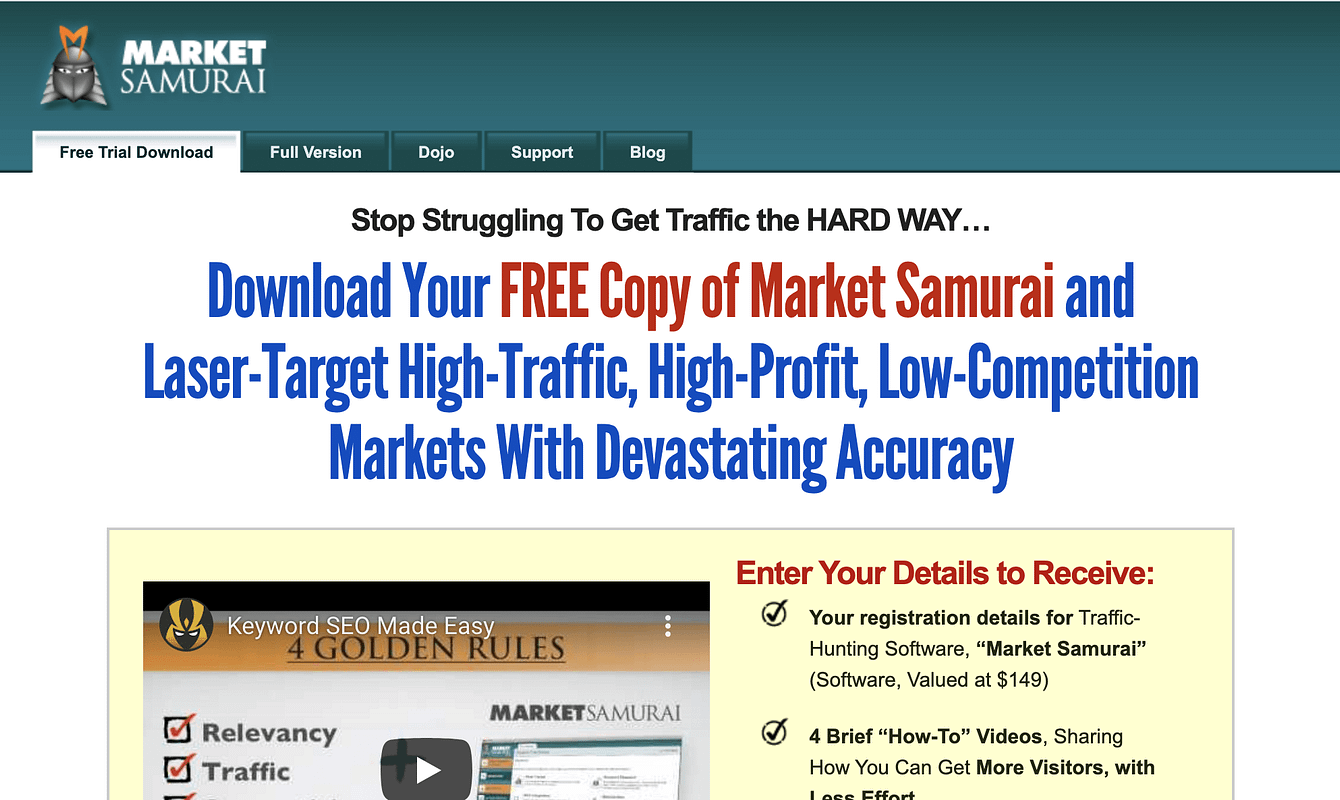 One of the great things about Market Samurai is that it's an exceptionally smart keyword research tool that is suited to all budgets. All you need to do is enter your keyword and click on the generate icon. You will then receive a list of keywords that are optimized to generate high traffic and high profits.
This is an easy to use research tool that is suitable for all types of business. Simply select your keyword and then Market Samurai will assist you to do comprehensive research within your niche. This will allow you to publish high-quality content that will be sure to drive traffic to your website.
Keyword Snatcher

Keyword Snatcher is a nifty tool for digital marketers across all industries. It works by generating an abundance of keywords across multiple search engines like Google, Bing, and Yahoo. It also sources data from platforms like eBay, Amazon, and YouTube.
The most appealing facet of Keyword Snatcher is how easy it is to use – no matter how experienced you are.
Whilst you're not getting comprehensive search volume and keyword difficulty data, Keyword Snatcher remains an ideal choice for people that purely need keyword suggestions.
SERPStat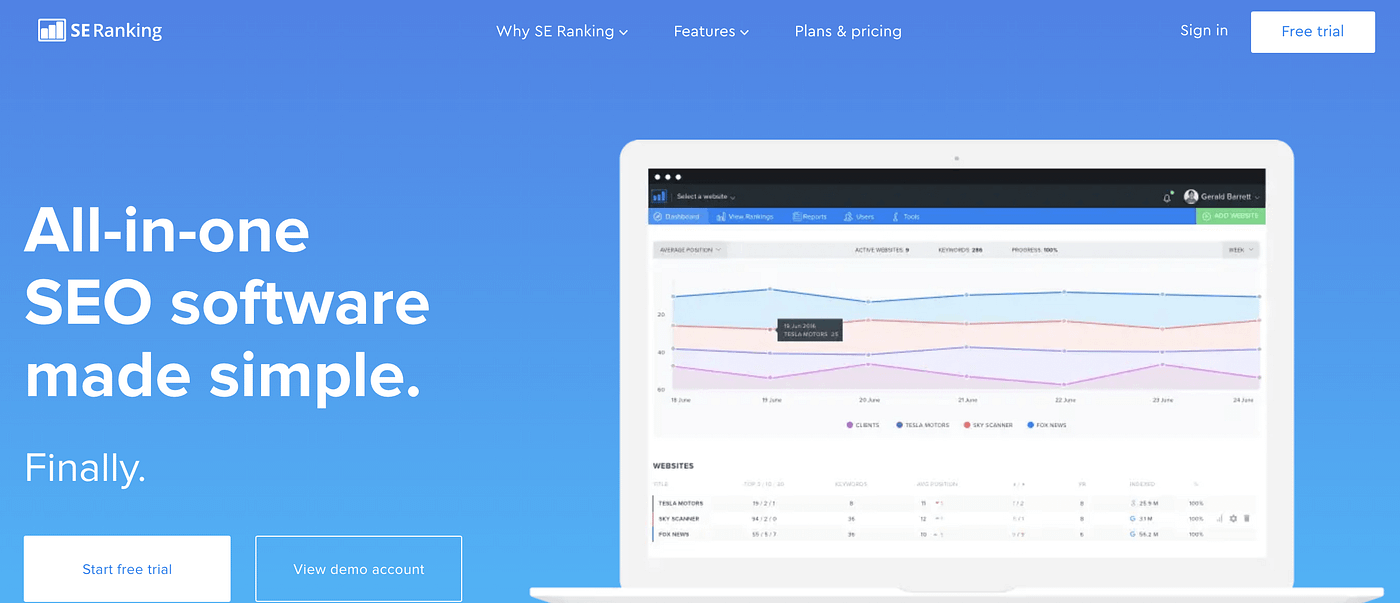 SERPStat works to detect long-tail keywords and keyword variations in your chosen niche. SERPStat also gives customers keyword suggestions and tools that allow you to explore trends.
As an additional feature, SERPStat provides key performance indicators, such as cost per click, search volume, and keyword suggestions.
SERPStat has a free and paid service that gives users access to an impressive 230 Google and 9 Yandex databases.
Ubersuggest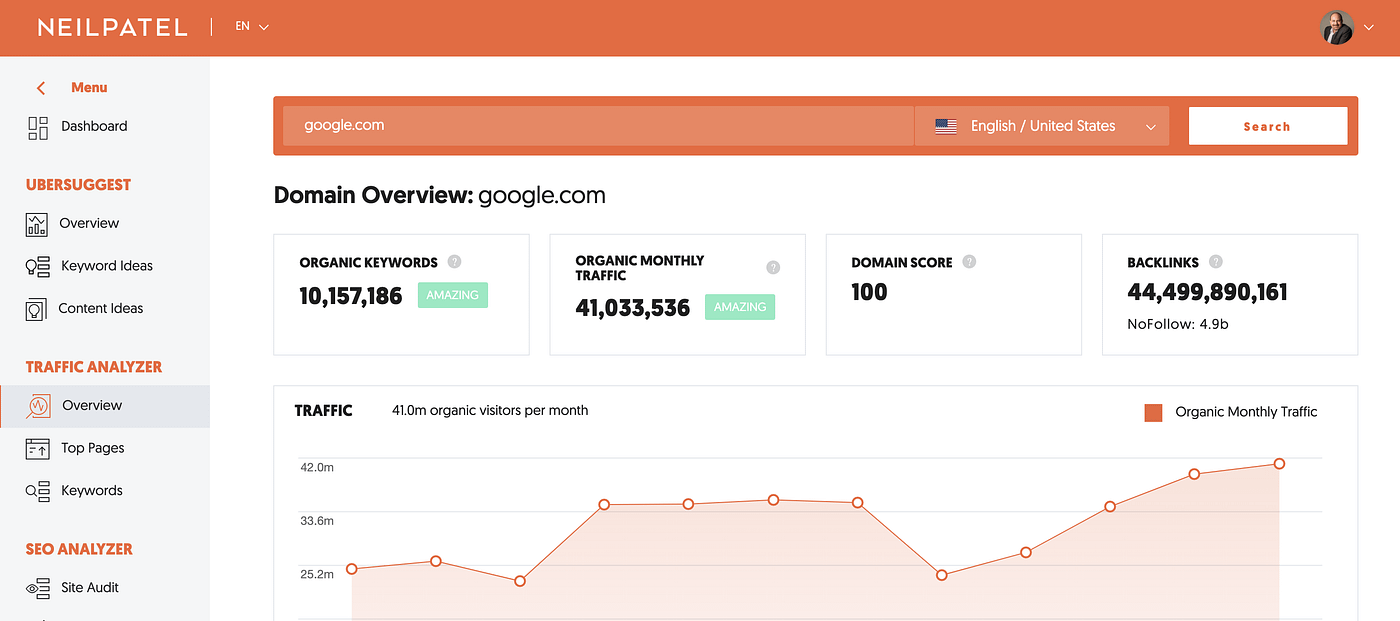 Ubersuggest is perfect for experienced marketers and newbies alike. All you need to do is enter in your domain or seed keyword and you're on your way.
Ubersuggest gives users access to a domain overview, competitive SEO pages, content suggestions, keyword ideas, and backlink data.
As a 100% free service, Ubersuggest is an excellent tool for digital marketers.
Answer The Public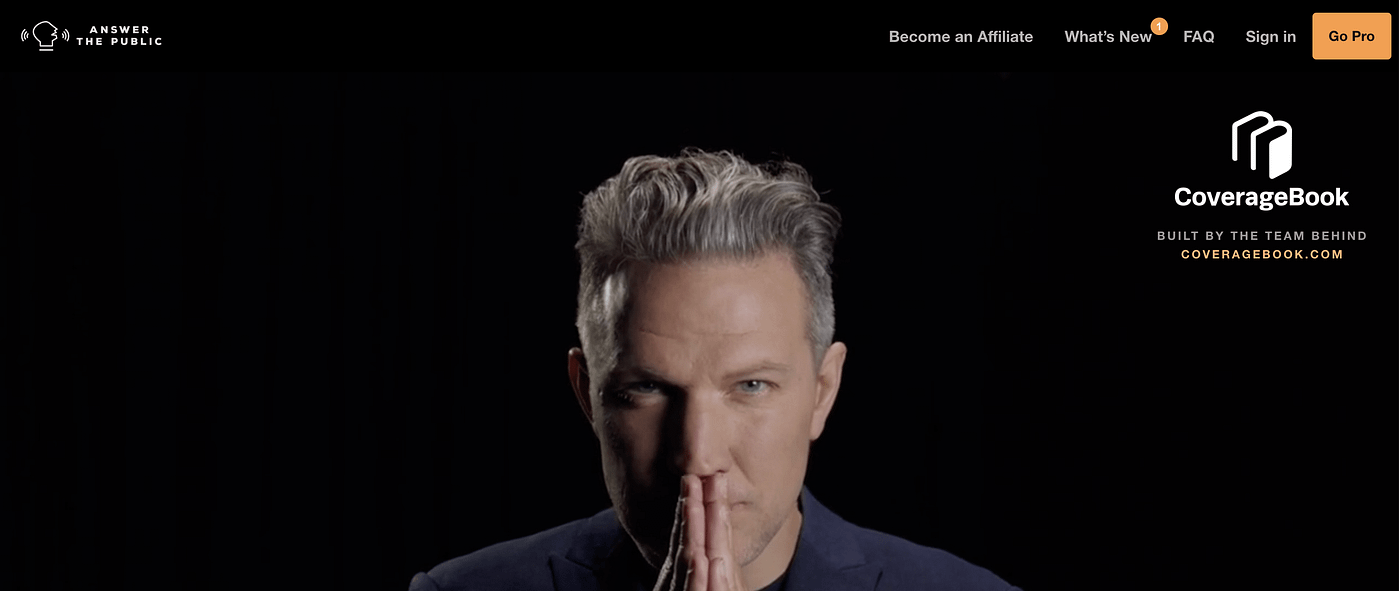 It's not enough to simply know what keywords people are searching for within your niche. To give your business an edge, you need to more about the questions people are asking when searching for a keyword.
Answer the Public goes one step further than simply listing the questions that people are entering in search engines. It arranges them into types of questions.
FAQfox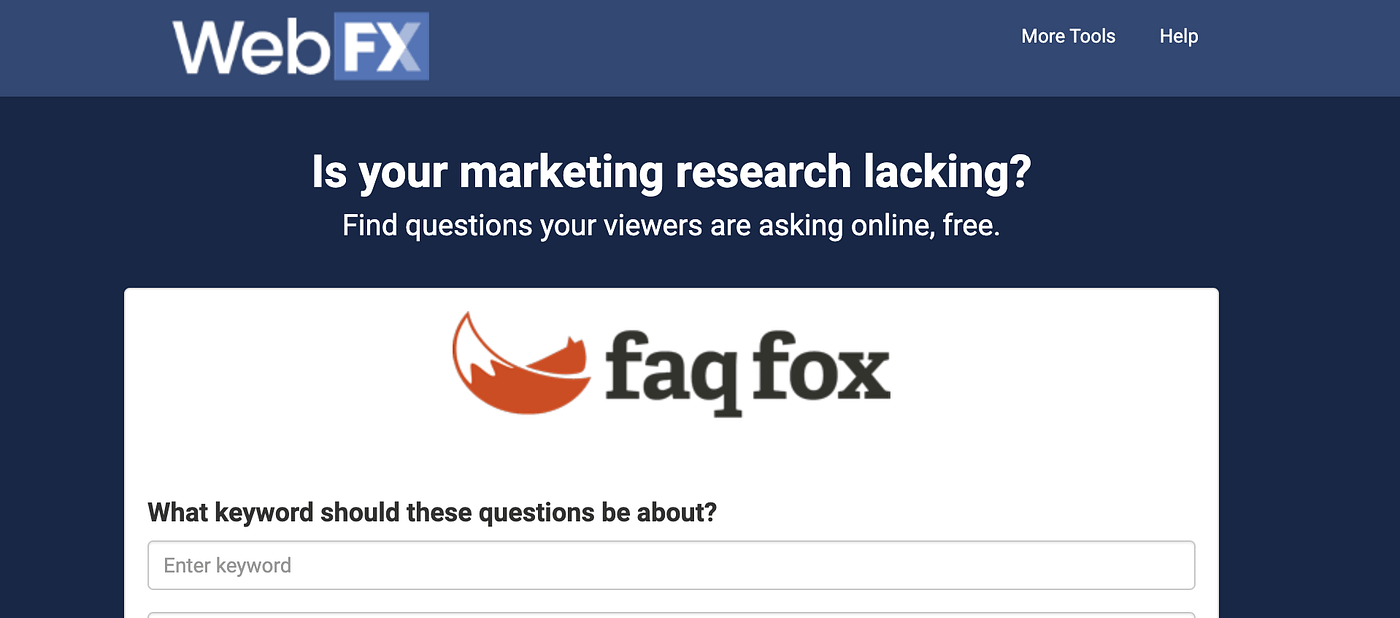 In the same vein as Answer the Public, FAQfox works hard to dig a little further into 'why' people are searching for keywords.
FAQfox works ingeniously to uncover what motivates your customers. Its research methods allow you to then select keywords that are more likely to appeal to your set of customers.
Google Keyword Planner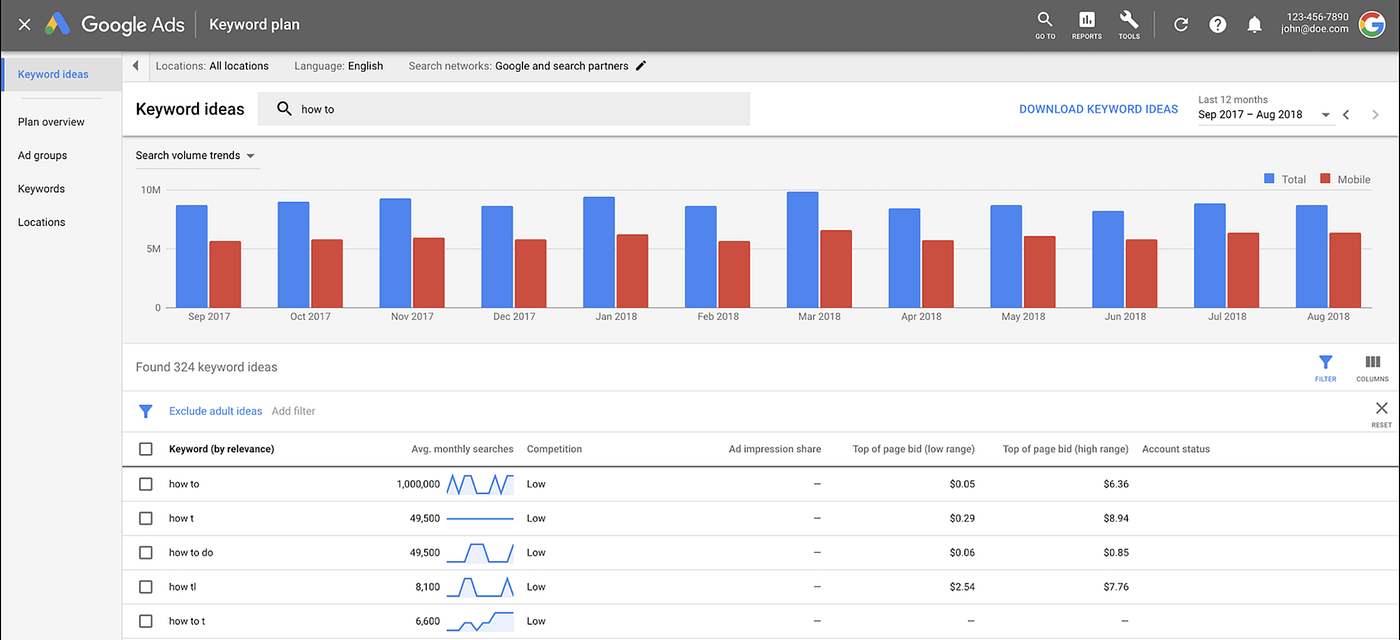 The original keyword planner and the one that many call the best. Google Keyword Planner lets customers discover new keywords and identify how often keywords are searched. In addition, it works to demonstrate how searches have changed over a set period.
When you're armed with these resources, you can then utilize keywords that improve traffic and conversion rates.
Seed Keywords

At the very beginning of a digital campaign, Seed Keywords helps you select and optimize the best keywords in your niche.
Seed Keywords allows people to identify an opportunity in which customers may be searching for their type of product or service. This could be something like, "When looking for the best Mexican food in your city, what do they search for?"
Seed Keywords will then send you a link that you can pass on to your friends and colleagues. They'll be able to provide you with their thoughts and suggestions and you can formulate your strategy based on this.
This straightforward concept – asking what people are searching for – gives accurate and immediate answers to your questions.
Soovle

As a free online tool, Soovle gives anybody the opportunity to find out details about what people are searching for; in relation to their keyword.
It's extremely easy to use – all you need to do is enter your keyword into the search bar. Soovle will then provide you with advanced data that gives you a great insight into your chosen keywords.
Soovle may not give you the refined answers that you're looking for, but as a free tool, it's ideal for newbie digital marketers.
As you've seen demonstrated, there are a plethora of online resources available to assist you in your keyword research.
No matter what type of digital marketer you are, there are a host of keyword research tools that will help you better optimize your campaigns. In addition, you can quickly determine which keywords are the easiest to rank for and alternatively, which keywords are likely to be the most profitable.
And as you can see, there's a keyword research tool that will suit every budget. Even if you're just starting out, there are some excellent free resources will help kick-start your online efforts.