Ever since your grandmother joined Facebook, you've been wondering if you should even consider using the platform anymore. Sure, perhaps Facebook has lost some of its former allure and is no longer the cool social network it once was. And yes, you might have the impression that younger users-especially teens prefer to use other social media platforms, like Instagram or YouTube. And you're right. Over 70% of active users on Facebook are over the age of 25.
But don't let yourself be fooled-Facebook is still bigger than ever. A freshly published report by Statista maintains that Facebook boasts 1.8 billion active users a month. And the numbers are projected to keep rising. So much for the demise of Facebook!
All of this proves that marketing potential of Facebook is huge.
The social media platform is easily one of the best places to invest in your business. If you compare Facebook's cost-per-click (CPC) and Google Adwords, you'll find that Facebook is way more affordable. The average CPC on Google's platform is $2.32 whereas the average cost on Facebook is $0.64 and with a little bit of tinkering you can lower that amount further.
Another added benefit to advertising on Facebook is the many options available to you- you can work on brand awareness, improve engagement or direct traffic to your webpage. Or if you're feeling really confident and ambitious, you can go for the instant conversion.
In other words, marketers are given 3 campaign objectives when establishing a presence on Facebook: brand awareness, consideration and finally conversion.
However, there is more to Facebook than simply buying clicks or impressions; you can set up an effective sales funnel on the platform.
Anyone can use Facebook Ads and post a ton of content in order to sell on the platform. But if you want to actually generate revenue on Facebook, you need to implement a Facebook sales funnel into your overall marketing strategy. A sales funnel on Facebook is a process designed to attract user's attention and delight them with useful and relevant content until they are prepared to buy from you.
The way a sales funnel works on Facebook is by sharing relevant content that appeals to your target audience at different stages of the sales funnel. The content should be tailored for every particular stage of the funnel and must be able to push the prospect ever closer to the point of conversion.
A sales funnel built for Facebook will set you apart from the competition. You'll create demand for your product/service by emphasizing users' pain points and generating desires they weren't aware they had. There are various ways of achieving this, but the tried and tested approach is to use highly targeted Facebook ads made specifically for each stage of the sales funnel.
A properly designed sales funnel will give you the conversions you're looking for.
While literally billons of people are on Facebook, most of them don't log on to be overwhelmed with ads and buy random things. People typically go on Facebook to check their friends' updates, comment on pictures and posts and find out what's going on in their network. In other words, people go there to hang out and not be sold to.
Take a look at this graph that illustrates how people spend time on Facebook:
As this graph shows, there is very low buying intent on Facebook, which begs the question why should you advertise on this platform? In fact, many businesses fail to make a return on their investment from advertising on Facebook despite amassing a large number of followers. The problem doesn't lie in Facebook but in the marketing approach of these businesses.
These businesses want to sell to people who aren't ready to buy. Of course they failed-they acted prematurely. This is why a sales funnel is so important.
While there certainly are people willing to buy, most users on Facebook don't have any intentions of making purchases. However, don't fret! There is still an effective way to nudge potential customers to convert into actual customers on Facebook. The secret lies in developing an intuitive and reasonable sales funnel that accounts for the fact that most people aren't in the spending mood at the moment.
Let's take a detailed look at how to design a Facebook sales funnel that will convert unaware and disinterested users into loyal customers.
#1: Produce Different Types of Content
The first step involves producing several different types of content, which can include a blog post, webinar, eBook or video to only name a few. Regardless of the type of content you choose, you must be certain that what you post is of high-quality, engaging and pertinent to the particular product/service you're advertising.
A popular choice for many marketers is to use some of their best performing blog posts.
Also, make sure that the content is available on your webpage, which will come in use later on when you retarget leads and move them down your funnel.
The reason why you want to have different types of content at your disposal is that you'll need to reach different sections of your target audience. You have to segment your content because there isn't a one-size-fits-all type of content that will be able to engage people who are at the different stages of the sales funnel. If you're trying to appeal to everyone at once, you'll fail miserably.
For instance, some of the people you'll be targeting will have virtually zero interest in buying and only want to be informed about your product/service. On the other hand, some people will be interested in your offer and be willing to buy immediately. By having different forms of content, you'll have something for everyone. The key is to have people consume your content, especially those who've never heard of you. This way you will generate awareness. Once that happens, they're in your sales funnel. But they first need to know that you exist!
#2: Share Your Content With People Who Show Interest
These are the people who are already familiar with your brand or may have already expressed strong interest in your brand. Typically, most of these people will come from your fans on Facebook or people who have signed up for a newsletter on your website.
Test out different types of content with your "warm" audience and analyze which content is leading to most conversions. Once you determine what type of content is performing best with your "warm" audience, chances are it will work well with the unanimated down the road.
#3: Find Lookalike Audiences
This a term coined by Facebook, which describes people who reassemble your existing customers or visitors to your website. Basically, these are people who share the same interests, behaviors as your existing customers. They will very likely react in a similar manner to your content as your current customers. The main difference is that lookalike audiences are much bigger.
Using lookalike audiences is a great way to extend your reach to potential customers. However, the best part of targeting a lookalike audience is that you'll be able to find people who are very similar to your existing clients.
One of the best ways of leveraging this feature is by uploading your customer list to Facebook, and let the algorithm make a custom audience of your buyers. The custom audience shares important and similar characteristics as the people who bought from you.
Facebook has a built-in feature called Create a Lookalike Audience in the Audience part of Facebook Ads.
Once you click on Create a Lookalike Audience button, you're taken to this page: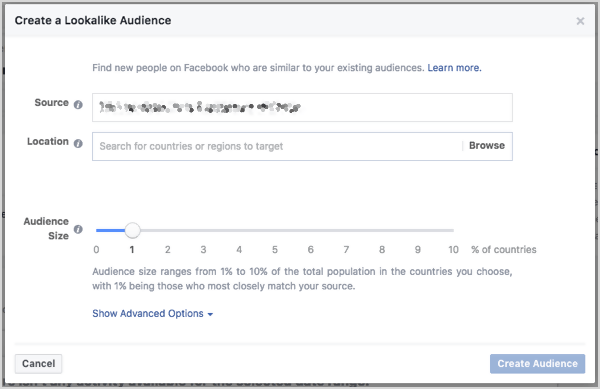 In the source box enter the audience on which the lookalike audience will be based. Then select a location which refers to the country or regions where your custom audience is based. Finally, choose the size of your audience. The audience size option comes with a slider that allows you to choose 1%, 2%, etc. of the total population in the countries of your choice. Just remember that the smaller the percentage size of your lookalike audience, the more it will resemble your actual customers.
Also, there is an advanced option that allows you to make several versions of a lookalike audience size.
#4: Share Your Best Stuff
Here is when you promote your best performing content to your "cold" audience. It can be whichever format you wish, as long as it garnered a positive reaction from your customers. The idea here is to push a good portion of your cold audience down your sales funnel that ultimately leads to their conversion.
However, at this stage, they should not only be made aware of your business but should also be somewhat interested in buying your product/service.
#5: Remarketing
In the majority of cases, your cold audience will have to consume your content several times before they're actually ready to buy something from you. The idea that you'll be able to "warm them up" in a single try is make-believe.
The only surefire way to move your prospects down the funnel on Facebook is through remarketing.
#6: Facebook Pixel
What's a Facebook pixel? It's the code that you put on your webpage that gathers data and helps you keep track of conversions from your ads. It works by installing a cookie that follows users as they engage with your webpage and ads. It gives you a way of analyzing how people behave after your Facebook ad.
By adding a Facebook pixel to your webpage, you will be able to remarket and bring back visitors to complete their purchase.
Facebook pixel is a great tool for remarketing because the data it collects gives you the ability to display targeted ads to people who have already visited your webpage. It also gives you an option to display an ad for the exact product/service the visitor was looking at on your webpage before they left.
Creating your Facebook pixel is relatively straightforward. First, go to Facebook Events Manager and select Pixels from the hamburger icon in the top left corner.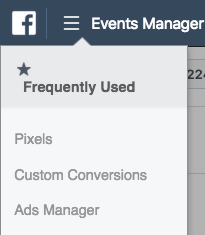 Then go ahead and click on the Create a Pixel button: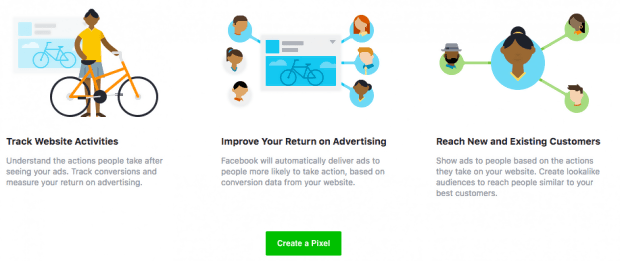 Then you'll see this: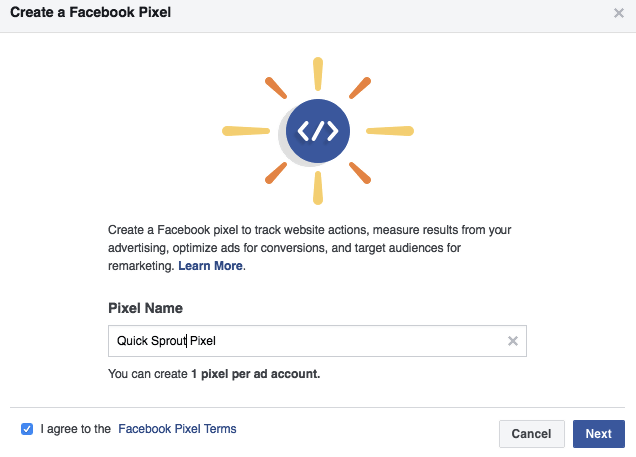 Keep in mind that when choosing a name for your pixel that you'll only get one pixel for each ad account. So, give a name to the pixel that is related to your business.
Once you've clicked next, it's time to add the pixel to your website. There are a couple of ways of doing this you can use a Tag Manager or you can manually copy paste the code yourself to the website. Please note that copy pasting the code can be somewhat tricky for people with little code experience. Take a look at Facebook's tutorial on how to do this correctly.
#7: Remarketing Using a Video
While there many good remarketing techniques available, video content seems to push users down the sales funnel on Facebook very well.
When you're remarketing, your prospects have already been introduced to your business. Therefore, using a video can deepen the link and motivate them to check out your landing page. In other words, video can personalize your brand by showing an actual person who's addressing the prospect.
You should thank your prospect for taking the time to look at your content, and inform them that there is more information on the topic on your website. Avoid being too pushy or salesy-simply tell them where they can find more useful content.
#8: Repeat the Process
At this stage, you've certainly gotten some conversions. But not all of your prospects have decided to make a purchase.
Make another remarketing ad targeting the prospects that didn't convert. Try to get them to join your email list by offering a free eBook or webinar or anything along those lines. But whatever your offer them, just make sure it has value. A good number will op-in to your email list.
Once you have their emails, keep engaging them and warming them up!
#9: Turn On the Heat
Let's imagine that a prospect consumed your valuable content from the previous stage but still didn't convert. What should you do?
The best course of action is make an ad demonstrating all the benefits of your product/service and addressing any potential concerns by providing testimonials or going into further detail about your offer.
The idea here is to increase the credibility of your brand in their eyes.
#10: The Hard Sell
The hard sell stage is reserved for all the people who looked at all your content, received all of your remarketing ads, and yet continuously and stubbornly refused to convert.
The only thing to do at this stage is be perfectly frank. Thank them for giving your business a serious consideration, and then explain to them why they should buy right now. They're already familiar with your business and what you can offer them. They're as ready as they'll ever be.
So be upfront and ask them to make a purchase.
Recap 
A properly executed Facebook sales funnel will slowly but surely turn prospects into customers. A funnel is an important model because it outlines at each stage what type of content is needed for the prospect to keep moving towards their destination.
It's important that you are patient and cognizant of the fact that people don't use Facebook to be sold to. Therefore, you need to let the sale funnel do its job.